A few weeks ago, I read Dare You To which was my first Katy McGarry book,  since the I sort of binge read the rest  of the Pushing the Limits series.  And decided to do binge read the rest of the series.
Yes, binge read.  I have to say, since I started blogging I haven't read a series in one setting in a long, long time.  And technically, I didn't read this series in one read since I read Dare You To, about a month ago.  But even though this wasn't a complete series binge read, I do think by reading most of the books in the series back to back, I learned a lot more about why and why not this series works.
For a binge review, what I'm going to do is give a brief review for each book in the series and then at the end of the review, I'll give my overall thoughts.
Before I start the review, if you're interested in my thoughts on Dare You To click here.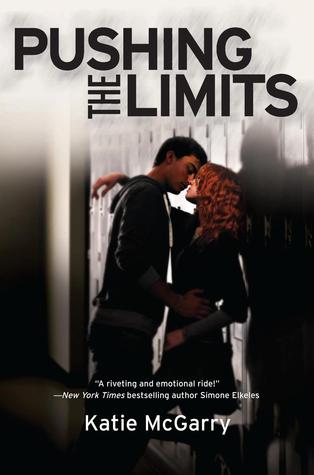 So wrong for each other …and yet so right.

No one knows what happened the night Echo Emerson went from popular girl with jock boyfriend to gossiped-about outsider with "freaky" scars on her arms. Even Echo can't remember the whole truth of that horrible night. All she knows is that she wants everything to go back to normal.

But when Noah Hutchins, the smoking-hot, girl-using loner in the black leather jacket, explodes into her life with his tough attitude and surprising understanding, Echo's world shifts in ways she could never have imagined. They should have nothing in common. And with the secrets they both keep, being together is pretty much impossible.

Yet the crazy attraction between them refuses to go away. And Echo has to ask herself just how far they can push the limits and what she'll risk for the one guy who might teach her how to love again.

Source: GoodReads
Besides, Dare You To, this book is the strongest out of the series.  If not the strongest.
The characters in Pushing the Limits aren't cookie cutter.  And the plot isn't that cliche.
Grant it, this is the first book in the series.  So the cliches that I'm going to note as the binge review continues, aren't going to be so much as an annoying roll your eyes moment cliche as they were later on.
The problems that Echo and Noah face seem to be handled with relative realism.  I also like how the problems aren't one dimensional and how everything isn't perfectly resolved by the end of the book.
There's a feeling of realism to Pushing the Limits  and I could almost buy Echo and Noah as a real couple.
Like with Dare You To, there melodramatic bits to Pushing the Limits, but like with Dare You To, the melodrama actually helped the book.  It's an odd thing to say, since usually melodrama is what kills a book.  But I think in McGarry's work it actually helps her writing (for the most parts).
Yes, the drama factor with the court appointed social worker/therapist, was a bit cheesy but once again.  Worked.  At least for the most part.  Though I did get annoyed with how the social worker obviously manipulated Noah concerning the custody of his brothers (lady, I would of ripped you into shreds).
I felt really odd after reading this one,  because I really shouldn't have liked it as much as I did.  It was cheesy.  While Noah and Echo were a bit more fully formed than Beth and Ryan, they were still a bit of a walking cliche.  But somehow how it worked.  And I still haven't figured out quite why I liked it.
Overall Rating: B+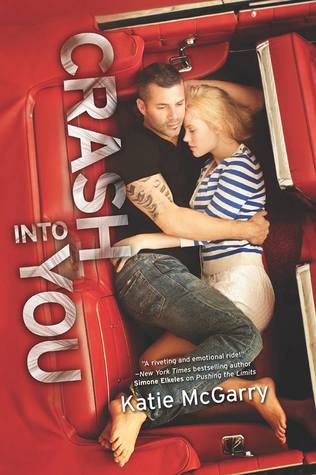 The girl with straight As, designer clothes and the perfect life—that's who people expect Rachel Young to be. So the private-school junior keeps secrets from her wealthy parents and overbearing brothers…and she's just added two more to the list. One involves racing strangers down dark country roads in her Mustang GT. The other? Seventeen-year-old Isaiah Walker-a guy she has no business even talking to. But when the foster kid with the tattoos and intense gray eyes comes to her rescue, she can't get him out of her mind.

Isaiah has secrets, too. About where he lives, and how he really feels about Rachel. The last thing he needs is to get tangled up with a rich girl who wants to slum it on the south side for kicks-no matter how angelic she might look.

But when their shared love of street racing puts both their lives in jeopardy, they have six weeks to come up with a way out. Six weeks to discover just how far they'll go to save each other.

Source: GoodReads
Meh.
As much as the melodrama from the previous installments works.  It just doesn't here.  Maybe because McGarry went a little too far here (really that ending).
The whole plot is a little ridiculous.  And let's not start on those panic attacks.  Having have the displeasure of having an anxiety attack or two, I can tell you while bad it's not as dramatic as Rachel makes them out to be.
There were some good things about this installment though.  As much as the insta love relationship between Rachel and Isaiah annoyed me, they were cute together.  This is a good girl/bad boy relationship I could get behind.  Mostly because Isaiah isn't that much of a bad boy.
Rachel, however, is a bit bland.  Unlike Beth or Echo, I didn't really feel so much for her.  Isaiah too, was not doing it for me that much which surprised me because in Dare You To,  I actually wanted a spinoff with him starring in it.
I think the weakest thing about Crash Into You was that its more than a little obvious now that McGarry is working from a formula.  While Pushing the Limits and Dare You To had some original aspects about them to make them interesting, Crash Into You just seemed tired.
Yes, I'm calling an in-animated object tired.
The tropes have been played out.  And honestly, Rachel and Isaiah's bad home life isn't that compelling.  Neither is the "cool" adult that gives Isaiah advice.
Then there's the drama that's in this book.
God..
So unnecessary and then that ending…No just no.
However, I still liked Crashed Into You unlike…the next installment.
Overall Rating: C+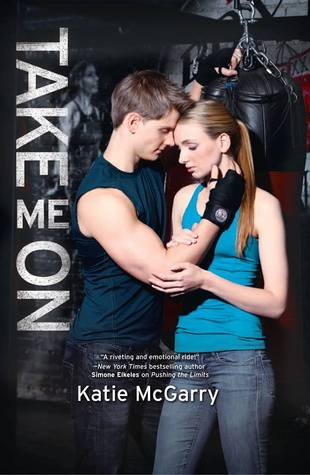 Acclaimed author Katie McGarry returns with the knockout new story of two high school seniors who are about to learn what winning really means.

Champion kickboxer Haley swore she'd never set foot in the ring again after one tragic night. But then the guy she can't stop thinking about accepts a mixed martial arts fight in her honor. Suddenly, Haley has to train West Young. All attitude, West is everything Haley promised herself she'd stay away from. Yet he won't last five seconds in the ring without her help.

West is keeping a big secret from Haley. About who he really is. But helping her-fighting for her-is a shot at redemption. Especially since it's his fault his family is falling apart. He can't change the past, but maybe he can change Haley's future.

Hayley and West have agreed to keep their relationship strictly in the ring. But as an unexpected bond forms between them and attraction mocks their best intentions, they'll face their darkest fears and discover love is worth fighting for.

Source: GoodReads
Boo.
This is just a disappointment.
Honestly, I really wish that this would've been Abby's story.  Haley is just a drip. As for West…well, again I think I would've preferred another Young brother (Ethan) than him.  But he's not terrible.
To be honest, this book feels like it was written in a rush.  As cliche as Crash Into You was, at least it didn't seem half hearted.
Yes, I said Take Me On seemed half hearted.  All the McGarry tropes were used, but failed miserably.
Probably because I've seen the tropes used several times already in the past week, and used better.
I really don't know why it's so hard for McGarry to do something new.  Yes, I know that contemporary romances will always rely on some tropes but she could ditch some of them.  Or at the very least have a heroine who's actually interesting.
God I hated Haley.
Probably because Abby was just sitting there waiting in the wings waiting to have her own story written with Ethan (hopefully) or Logan being her other half.  Heck, I'd even be willing to deal with a love triangle because that's how much I wanted Abby's story.
Because she's interesting.
Haley.
Well, she's nice.  She fights (used to).  And she's homeless with a dick of an ex-boyfriend.  That's really it.
And while I understood why Echo, Beth, and Rachel had problems dealing with their issues not so much with Haley.
As for West, he's not that great either.  He's doable enough though.  I think had Haley been a stronger character he might've came off better than he did.
Overall Rating: C
Overall Thoughts:
The Pushing the Limits series is a guilty pleasure.  I think if I didn't binge read the series, I would've enjoyed the last two installments more.
Binge reading made me see how repetitive the themes in this series are.  You have:
1) Two broken messed up characters that are the leads (and of course they fall in love with each other).
2) Both have dark secrets. That are completely unrealistic and filled completely with melodrama.
3) There are two types of adults: 1) complete dicks or 2) lame adults that despite being totally weird and uncool are really right.
4) You will only be attracted to someone of a different socioeconomic class.  Rich boys get with poor girls (or in Beth's case formerly poor girls) and rich girls get with poor boys.
5) Your deep dark secret will be seemingly resolved throughout the entire book.
As much as McGarry's work was having me roll my eyes towards the end, I have to say I do like her writing style and probably will be continuing with this series or any new series she has in the near future.