Note: If you're interested in joining in on this feature.  Please, sign up for the meme on the Do Judge a Book By Its Cover Meme page I made. Or just click here.
This month's theme is in honor of the dog days of summer.  So, essentially, all the covers or summaries had to be pooch related.  To make this theme more authentic, I decided to have Patty Beagle write the feature this month.
What Patty Thinks: It's a crazy Cesar Millan wannabe who's walking like thirty dogs.  How degrading.  And claustrophobic.  Not to mention the guy with the ponytail should try to watch where he's going I bet that bulldog left him a present.  Note, when I go on a walk I only go by myself.  I refuse to walk in a pack.  It's soooo humiliating.  I guess Ponytail Poo Boy and the Cesar Millan wannabe will probably get together by the way they're eyeing each other.  And maybe Poo Boy has a treat in his pocket.  I mean, why else would his hands be in there?
What the Cover Says:
Romance can be ruff….

Alana loves her dog-walking job, but it blows her mind to see how pampered these pooches are. Her newest clients actually feed their poodle steak and treat her to massages at a doggie spa! Alana can't make heads or tails of why anyone would do this—or why she complains to hunky handyman Connor and not her boyfriend, Sammy.

When Sammy starts keeping her on an awfully tight leash, Alana wonders whether Connor might be a better match for her. But Alana's puppy love comes to a screeching halt when she learns that Connor isn't who she thought he was. Is Alana barking up the wrong tree with him, too?

Source: GoodReads
Patty's Verdict: Um, no.  Cartoons are better on TV.  And seriously, as a dog this book is no bueno.
What Patty Thinks:  Grant Dane, Ferdinand, is annoyed at his owner, Holly.  She refuses to take his to KFC.  Instead, they have to go the park and sit there like they're in a rom com.  Only guess what, Mr. Wonderful isn't there.  If Holly would have some common sense she'd just go knock on the door next store.  The Boy Next Door has KFC and therefore, in Ferdinand's  opinion he's Mr. Right.
What the Book Is Really About:
To: You (you)
From: Human Resources (human.resources@thenyjournal.com)
Subject: This Book

Dear Reader,

This is an automated message from the Human Resources Division of the New York Journal, New York City's leading photo-newspaper. Please be aware that according to our records you have not yet read this book. What exactly are you waiting for? This book has it all:

*Humor
*Romance
*Cooking tips
*Great Danes
*Heroine in peril
*Dolphin-shaped driftwood sculptures

If you wish to read about any of the above, please do not hesitate to head to the checkout counter, where you will be paired with a sales associate who will work to help you buy this book.

We here at the New York Journal are a team. We win as a team, and lose as one as well. Don't you want to be on the winning team?

Sincerely,

Human Resources Division
New York Journal

Please note that failure to read this book may result in suspension or dismissal from this store.

*********This e-mail is confidential and should not be used by anyone who is not the original intended recipient. If you have received this e-mail in error please inform the sender and delete it from your mailbox or any other storage mechanism.*********

Source: GoodReads
Patty's Verdict: I like Ferdinand.  Not so much Holly.  I don't know what they're suppose to be looking at.
What Patty Thinks: There have been murders by a supposed wolf pact made by wolves.  But the fantastic who done it solver, Patricia C Beagle, knows better.  She is now going to solve the case with her faithful sidekick, MJ, and figured out who murdered the red headed lady. Hopefully, there will be no Milkbones to distract her.
What the Book is Really About:
From the bestselling author of Blue Bloods, comes a series that will reinvent the myth of the werewolf in the same way that Blue Bloods did with vampires—with style and NYC flair!

Lawson and his brothers escaped from the underworld and now lead desperate, dangerous lives. They're pursued by the Hounds of Hell from one town to the next, never calling any place home. But when the hounds finally catch up with them and capture the girl Lawson loves, the hunters become the hunted. Lawson will stop at nothing to track down the hounds, even if the chances of saving Tala are slim…

The only hope he has lies in Bliss Llewellyn. Bliss, too, has lost someone to the beasts and will do anything to get them back—even if it means joining forces with the insolent, dangerously good-looking boy with a wolf's soul.

Source: GoodReads
Patty's Verdict: Seriously, that red hair is fake.  And I would so solve that case within three pages.  I am an ace detective beagle after all.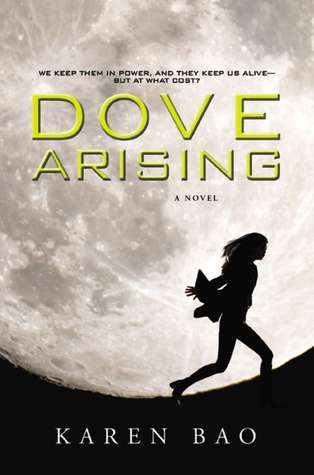 What Patty Thinks: There's something about the moon that just makes me vocal.  You know, why?  Moon people.  And that so is a moon person there.  Moon people are weird.  And evil.  That's why  we bark to warn you.  Someone needs to do something about this moon person.  Where's Underdog when you need him?
What the Books Is Actually About:
Phaet Theta has lived her whole life in a colony on the Moon. She's barely spoken since her father died in an accident nine years ago. She cultivates the plants in Greenhouse 22, lets her best friend talk for her, and stays off the government's radar.

Then her mother is arrested.

The only way to save her younger siblings from the degrading Shelter is by enlisting in the Militia, the faceless army that polices the Lunar bases and protects them from attacks by desperate Earth-dwellers. Training is brutal, but it's where Phaet forms an uneasy but meaningful alliance with the preternaturally accomplished Wes, a fellow outsider.

Rank high, save her siblings, free her mom:  that's the plan. Until Phaet's logically ordered world begins to crumble…

Suspenseful, intelligent, and hauntingly prescient, Dove Arising stands on the shoulders of our greatest tales of the future to tell a story that is all too relevant today.

Source: GoodReads
Patty's Verdict: See.  Moon people.
What Patty Thinks: A brave Beagle must battle an evil murderous Yorkie set on pushing her off of her pink pool floatie and drowning her to death.  Will brave little Patricia Cakes survive (of course I will) and I kick some Yorkie butt while I'm at it.
What the Book Is Actually About:
 Success hasn't spoiled screenwriter Lou Calabrese — it's just given her a taste for luxury. And it's put her in some bizarre situations — like in a helicopter en route to the wilds of Alaska, sharing too-close quarters with the last man she wants to be with: Jack Townsend! Once a sexy nobody whom Lou helped make a somebody, Jack's just been dumped by a high-profile Hollywood airhead — who's eloped with Lou's longtime love! So what else could go wrong?

Well…

Their pilot could try to shoot the most adored man in America. They could crash land in the icy, mountainous middle of nowhere. And at the worst possible moment, when survival should be their only consideration, Jack could start wondering if maybe he wasn't a wee bit too hasty for not giving this sexy screenwriter a second look — while Lou could start noticing how superstar Jack is kind of hot after all …

Source: GoodReads
Verdict: This cover really scares me.  I've had bad experiences with Yorkies so even though MJ thinks they're just downright adorable I'd rather hang out with a Rat Terrier and that's saying something since Dolly really scares me.
Coming in September: Top Fall Covers.