I cleaned out my bookshelves (again) the other day.  Which means, I get to talk about more goodies that bought back when Borders was still in business and I thought going to law school was a good idea.
Game?
Well, if your not you probably want to skip this post.  Otherwise, let's get going down memory lane.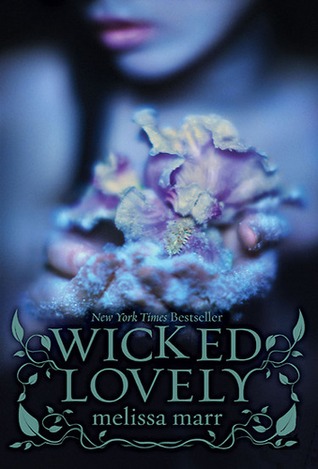 Rule #3: Don't stare at invisible faeries.
Aislinn has always seen faeries. Powerful and dangerous, they walk hidden in the mortal world. Aislinn fears their cruelty – especially if they learn of her Sight – and wishes she were as blind to their presence as other teens.

Rule #2: Don't speak to invisible faeries.
Now faeries are stalking her. One of them, Keenan, who is equal parts terrifying and alluring, is trying to talk to her, asking questions Aislinn is afraid to answer.

Rule #1: Don't ever attract their attention.
But it's too late. Keenan is the Summer King, who has sought his queen for nine centuries. Without her, summer itself will perish. He is determined that Aislinn will become the Summer Queen at any cost — regardless of her plans or desires.

Suddenly none of the rules that have kept Aislinn safe are working anymore, and everything is on the line: her freedom; her best friend, Seth; her life; everything.

Faery intrigue, mortal love, and the clash of ancient rules and modern expectations swirl together in Melissa Marr's stunning twenty-first-century faery tale.

Source: GoodReads
Okay, so this one really isn't that old.  But I forgot I had it.  I usually don't do faeries so it really surprised me when I found it sitting in a box.  I think it was the cover. Way back in the day, my mom and I sort of were obsessed with Irises so I probably bought it because of that.  You know, I really should read it.  One of these days.
Complete text of Witch and Curse in a single volume.

Holly Cathers's world shatters when her parents are killed in a terrible accident. Wrenched from her home in San Francisco, she is sent to Seattle to live with her relatives, Aunt Marie-Claire and her twin cousins, Amanda and Nicole.

In her new home, Holly's sorrow and grief soon give way to bewilderment at the strange incidents going on around her. Such as how any wish she whispers to her cat seems to come true. Or the way a friend is injured after a freak attack from a vicious falcon. And there's the undeniable, magnetic attraction to a boy Holly barely knows.

Holly, Amanda, and Nicole are about to be launced into a dark legacy of witches, secrets, and alliances, where ancient magics yield dangerous results. The girls will assume their roles in an intergenerational feud beyond their wildest imaginations…and in doing so, will attempt to fulfill their shared destiny.

Source: GoodReads
This is actually two books bundled into one volume and I think I have the second bundle too.  I remember at the time I bought it I was on a witch hunt-a hunt for witch books.  And I was working on this really lame manuscript that involving witches that's how obsessed I was.  Obviously, it did not work out.  I think I ended up hating my main character and having her get hit by a truck and the love interest decide to join the villain in a bad boy.  The point is, at one time in my life I'd buy anything if it had witches in it and this was one of those books.
"Corpus Bones! I utterly loathe my life."

Catherine feels trapped. Her father is determined to marry her off to a rich man–any rich man, no matter how awful.

But by wit, trickery, and luck, Catherine manages to send several would-be husbands packing. Then a shaggy-bearded suitor from the north comes to call–by far the oldest, ugliest, most revolting suitor of them all.

Unfortunately, he is also the richest.

Can a sharp-tongued, high-spirited, clever young maiden with a mind of her own actually lose the battle against an ill-mannered, piglike lord and an unimaginative, greedy toad of a father?

Deus! Not if Catherine has anything to say about it!

Source: GoodReads
Is this even YA?  We had to read this I remember when I was in middle school when were were studying the middle ages.  It was a pretty decent historical even though there were no hot guys in it.
Everything is changing around Lucy Loverling, and a turning point is exactly what she does NOT need. Suddenly she has to make all sorts of decisions including what she wants to be. And it seems that everyone else knows who and what she wants to be except her. Izzie has become friends with the glamorous Nesta, and Lucy isn't certain she likes a threesome. Nesta and Izzie look sixteen, but Lucy, at fourteen, can still pass for a twelve-year-old.

But then one day Lucy sees the most wonderful boy crossing the street, and things do start to change — in all areas of her life…

Source: GoodReads
This book seemed so cool back when I was in its targeted age group.  Bridget Jones's Diary had just come out in theaters and being obsessed with Colin Firth I was ready to read and watch anything British.  The book now though…well, seems very cliche.  The series does have a lot going for it though, I mean the girls are diverse enough and I feel like there are some good stories.  But yeah, cliche.
Manhattan meets Verona in this time-bending twist on Shakespeare.

When Mimi is magically thrust into the middle of Shakespeare's Verona, she must find a way to help Juliet fight for her future happiness. Will she be able to give this classic tragedy a happy ending?

Source: GoodReads
Was the bubblegum and sunglasses really necessary?  Apparently, the cover artist thought so.  Though to me it makes me not want to take the book seriously. Which is probably why it collected dust.  It looks like it should be interesting though.  I do like Shakespeare retellings, even though almost everyone fucks them up.
Fifteen-year-old Callie buys a pair of real Prada pumps to impress the cool crowd on a school trip to London. Goodbye, Callie the clumsy geek-girl, hello popularity! But before she knows what's hit her, Callie wobbles, trips, conks her head…and wakes up in the year 1815!

She stumbles about until she meets the kind-hearted Emily, who takes Callie in, mistaking her for a long-lost friend. Sparks soon fly between Callie and Emily's cousin, Alex, the maddeningly handsome – though totally arrogant – Duke of Harksbury. Too bad he seems to have something sinister up his ruffled sleeve…

From face-planting off velvet piano benches and hiding behind claw-foot couches to streaking through the estate halls wearing nothing but an itchy blanket, Callie's curiosity about Alex creates all kinds of trouble.
But the grandfather clock is ticking on her 19th Century shenanigans. Can Callie save Emily from a dire engagement, win a kiss from Alex, and prove to herself that she's more than just a loud-mouth klutz before her time there is up?

Source: GoodReads
That pose.  Seriously?  You know what, not going to judge.  The shoes look okay.  Though a little too chunky for my taste.  Then again, not really a Prada girl.  I sort of like Choos better.  They come in better colors.  Though I can't afford either, so who am I to judge?  The book itself I remember sort of being bland and cliche.
Thrill Ride!

One-day admission: $15Summer job:

Pros:
Living on my own (plus roommates)
Rides are free (but avoid the roller coasters—too scary!)
Super-hot coworker . . .

Cons:
Periodic homesickness
Dressing like Gretel for job in fairyland gift shop
Super-hot coworker . . . and boyfriend back home. Too thrilling!
This is the equivalent of a YA Harlequin, but man did I eat it up back in the day.  Once again, flat character.  An obvious HEA.  But still, eat it up worthy.
Are you predator or prey?
CLASSIFIED ADS: RESTAURANTS
SANGUINI'S: A VERY RARE RESTAURANT IS HIRING A CHEF DE CUISINE. DINNERS ONLY.
APPLY IN PERSON BETWEEN 2:00 AND 4:00 PM.
Quincie Morris has never felt more alone. Her parents are dead, and her hybrid-werewolf first love is threatening to embark on a rite of passage that will separate them forever. Then, as she and her uncle are about to unveil their hot vampire-themed restaurant, a brutal murder leaves them scrambling for a chef. Can Quincie transform their new hire into a culinary Dark Lord before opening night? Can he wow the crowd in his fake fangs, cheap cape, and red contact lenses — or is there more to this earnest face than meets the eye? As human and preternatural forces clash, a deadly love triangle forms, and the line between predator and prey begins to blur. Who's playing whom? And how long can Quincie play along before she loses everything? TANTALIZE marks Cynthia Leitich Smith's delicious debut as a preeminent author of dark fantasy.
This one.  Sigh guys.  It was bought when I was on the Twilight high and well.. it was back when I didn't know how to say no to series.
Do you want to be popular? Everyone wants to be popular or at least, Stephanie Landry does. Steph's been the least popular girl in her class since a certain cherry Super Big Gulp catastrophe five years earlier. Does being popular matter? It matters very much to Steph. That's why this year, she has a plan to get in with the It Crowd in no time flat. She's got a secret weapon: an old book called what else? How to Be Popular. What does it take to be popular? All Steph has to do is follow the instructions in The Book, and soon she'll be partying with the It Crowd (including school quarterback Mark Finley) instead of sitting on The Hill Saturday nights, stargazing with her nerdy best pal Becca, and even nerdier Jason (now kind of hot, but still), whose passion for astronomy Steph once shared. Who needs red dwarves when you're invited to the hottest parties in town? But don't forget the most important thing about popularity! It's easy to become popular. What isn't so easy? Staying that way.
Yes, it's a Meg Cabot look on my lost book shelfs.  Surprising, I know.  But this one was one of her more bland additions.  While the book is cute, it wasn't that memorable.  In fact, until I read the blurb I sort of forgot about what it was about.  Which means reread.  And since there are no Cabot releases this year, I need a reread.
Ten Things is about Jamie, a teenage girl from Sydney's south west who lives two lives: at school and in the outside world she is 'Jamie', a bottle-blonde with an apparently Anglo Aussie background; at home she is 'Jamilah' a Lebanese-Muslim who is proud of her cultural identity. Jamie struggles to maintain her two personas as the rules of her over-protective father collide with the normal adolescence she perceives other teenagers to have and which she so desires.Life appears to be looking up for Jamie when the most popular boy in school begins to show an interest in her. Added to that she gets an after-school job and makes an email friend, John, the only person with whom she can be completely honest. However her fate as a social outcast appears sealed when her father's Stone Age Charter of Curfew Rights threatens to prevent her attending the much-anticipated Year 10 formal and her Arabic band is hired to play at the formal.
I bought this book excited that it had diversity in it.  Then I remember reading the reviews about how it was preachy and it just sat in the shelf until I moved it to the unit.  I saw it at the library today though.  So, I might decided to try it.  I really do wish we had more books that featured Muslim teens since it is one of the world's largest religions.  However, I really don't want preachy.