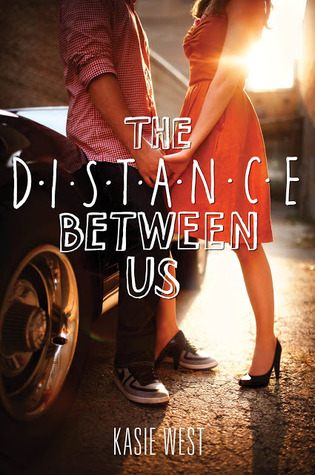 Seventeen-year-old Caymen Meyers studies the rich like her own personal science experiment, and after years of observation she's pretty sure they're only good for one thing—spending money on useless stuff, like the porcelain dolls in her mother's shop.

So when Xander Spence walks into the store to pick up a doll for his grandmother, it only takes one glance for Caymen to figure out he's oozing rich. Despite his charming ways and that he's one of the first people who actually gets her, she's smart enough to know his interest won't last. Because if there's one thing she's learned from her mother's warnings, it's that the rich have a short attention span. But Xander keeps coming around, despite her best efforts to scare him off. And much to her dismay, she's beginning to enjoy his company.

She knows her mom can't find out—she wouldn't approve. She'd much rather Caymen hang out with the local rocker who hasn't been raised by money. But just when Xander's attention and loyalty are about to convince Caymen that being rich isn't a character flaw, she finds out that money is a much bigger part of their relationship than she'd ever realized. And that Xander's not the only one she should've been worried about.

Source: GoodReads
In the mood for some fluff, you might want to give this one a try.
Surprisingly, this is my first Kasie West book.  A lot of my friends in the blogsphere recommend her stuff, so I decided to give one of her books  a chance.
The result: I really, really, liked The Distance Between Us, almost loved it. The reason why I didn't full out love it, the pacing at the end was a bit off.  However, it didn't hamper my overall enjoyment of the book.
What worked for this book:
I really loved almost all of the characters in this book.
The main character, Caymen, was particularly endearing to me.  Probably because I'm used to people staring at me after I make a joke.  Yes, Caymen shares my sense of humor and West managed to make her snarky without having any true squeam inducing moments.  She's also just not a one note character.  West makes her complex by giving her insecurities as well.
The love interest is also tolerable.  If you know me, you know that I usually have a lot of issues with YA love interests, but Xander is not a jerk which is a big plus since he's rich.  Oh yeah, Cayman thinks he might be a jerk, but I love how West twists the cliche to make him not a jerk.
The love triangle, if you could even call it that, is also tolerable.  The other guy isn't underdeveloped or demonized, and Cayman doesn't lead him on (much).  Or at least they never really get to the point where it got to where she was really leading them on.
Some of the more minor characters, like the best friend character, the mother, and the grandparents, could've been in the book more, but their appearances weren't insufferable.
Even Cayman's mom, who I got annoyed with big time, was tolerable for the most part because there were reasons for her actions.
The plot itself was very cute.  Not that complex-it's a contemporary.  But made for some easy reading.  I really loved how it took place in a doll store of all places.  I think that's the first time I've ever seen such a place be used in a YA book.  It gave me a nostalgia feel about being back into my childhood where my grandma would buy me a porcelain doll every Christmas and I'd sort of be a brat about it then because I wanted an American girl doll.  But now, I love those porcelain dolls more.
What issues did I have with this book?
Well, the pacing was off with really the last third of the book.  All that build up we had lead to a too easy resolution.  I wanted more time with these characters.  Everything just seemed to snap together too fast.
To be fair, I think the ending could've worked if it would've been expanded on.  There was nothing that had me cringing, but I wanted more.  I wanted to see more interactions with the grandparents.  I wanted more build up for Xander and Cayman to get back together.  I wanted more resolution with the financial difficulties.
Despite these grievances, I am going to recommend this one.  It's not often that I find a cute contemporary that I think most everyone will enjoy, but The Distance Between Us is just that.  If you're a West virgin like I was, this might not be a bad place to start.
Overall Rating: B.  Very, very solid and enjoyable.