Do Judge a Book by Its Cover is a feature I do once a month around the fifteenth on my blog.  If anyone is interested in joining, they're more than welcome too.  You can click on the following link to see how.
This month's theme is scary covers-because it's Halloween.  Every cover I'm featuring here has some element of fear.
What the Cover Conveys:
Bobbing  for apples is a tradition that Farley Dashwood really isn't into that much.
It's a festering pot full of germs, in her opinion.  Which is why she didn't die the night that every single one of her friends did.
However, she was the only one meant to die. But Farley is not going to take that sitting down nicely.  She's going to play detective even if that means getting her hands dirty-okay, maybe she'll wear some gloves.
The Scary Truth:
An edgy fairy tale retelling of "Snow White" set in the world of Kill Me Softly for fans of Once Upon a Time and Grimm.

Faced with a possible loophole to her "Snow White" curse, Viv goes underground, literally, to find the prince who's fated to rescue her. But is life safe in the Underworld worth the price of sacrficing the love that might kill her?

POP CULTURE CAN'T GET ENOUGH OF TWISTING FAIRY TALES: ABC's Once Upon a Time and NBC's Grimm continue to pull in high ratings. And with the anticipated Angelina Jolie Maleficent (2014), the film adaptation of Stephen Sondheim's Into the Woods (2014), and Kenneth Branagh's Cinderella (2015), Hollywood is infected with fairy tale fever.

CAMEOS FROM FAVORITE CHARACTERS: Viv, who first appeared in Kill Me Softly trailed by her brooding boy-toy Henley, takes center stage in this new Beau Rivage tale. Other familiar characters including Blue and Jewel are back to help her defy her destiny.

TEENS LOVE THIS FAIRY TALE WORLD: Kill Me Soflty was a 2013 YALSA Teens' Top 10. Readers have been clamoring for a sequel.

A FRESH TAKE ON THE FAMILIAR: Drawing on "Snow White," "The Twelve Dancing Princesses," and "Rumpelstiltskin," Tear You Apart is very conscious of the way these stories have pervaded pop culture, twisting known tropes into an exciting new story that can stand on its own.

Source: GoodReads
Trick or Treat:
Trick. On the spooky level it's not really that scary.  I mean, I think the red stuff is supposed to be blood, but it could very well be that cinnamon goop they put on candy apples.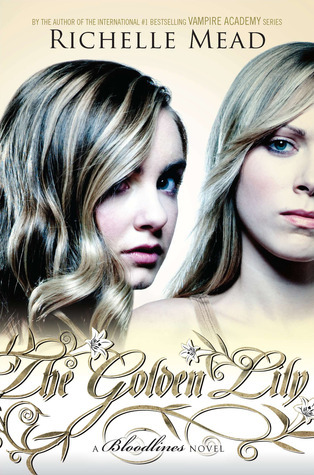 What the Cover Conveys:
She's only a spare to the heir. And not even a real spare.
Lily Gold has trained her entire life to take over should her sister, Lydia, meet with with a grisly end.  Endless training, but no rewards.  And it really sucks acting like you don't exist for 99% of the time.  Unless…or course, Lydia has a head cold and Lily has to make an appearance.  One day a mysterious boy (because there's always a mysterious boy in these books) tells Lily he can completely change her life.  Make her the heir and Lydia the spare.  Will she take him up on his offer?  And if she does just how much will things change?
The Scary Truth:
Sydney Sage is an Alchemist, one of a group of humans who dabble in magic and serve to bridge the worlds of humans and vampires. They protect vampire secrets—and human lives.

Sydney would love to go to college, but instead, she's been sent into hiding at a posh boarding school in Palm Springs, California–tasked with protecting Moroi princess Jill Dragomir from assassins who want to throw the Moroi court into civil war. Formerly in disgrace, Sydney is now praised for her loyalty and obedience, and held up as the model of an exemplary Alchemist.

But the closer she grows to Jill, Eddie, and especially Adrian, the more she finds herself questioning her age–old Alchemist beliefs, her idea of family, and the sense of what it means to truly belong. Her world becomes even more complicated when magical experiments show Sydney may hold the key to prevent becoming Strigoi—the fiercest vampires, the ones who don't die. But it's her fear of being just that—special, magical, powerful—that scares her more than anything. Equally daunting is her new romance with Brayden, a cute, brainy guy who seems to be her match in every way. Yet, as perfect as he seems, Sydney finds herself being drawn to someone else—someone forbidden to her.

When a shocking secret threatens to tear the vampire world apart, Sydney's loyalties are suddenly tested more than ever before. She wonders how she's supposed to strike a balance between the principles and dogmas she's been taught, and what her instincts are now telling her.

Should she trust the Alchemists—or her heart?

Source: GoodReads
Trick or Treat:
Trick.  Mead has awful luck when it comes to covers, and this one in no exception.  Honestly, the girls on the cover sort of remind me of those girls in The Shining.  Shudders.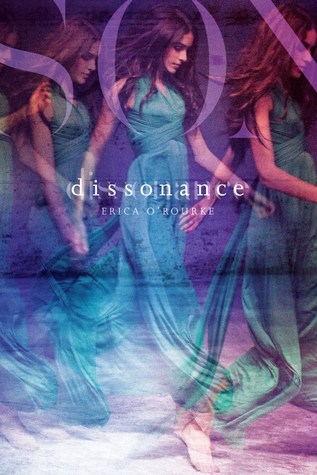 What the Cover Conveys:
Alternate realities are a reality, at least in Lish's world.  Imagine when she finds out that in one reality she's a serial killer.  And she's sent into that reality by said serial killer to take the fall.  While Serial Killer Lish, is planning to make some major collateral in Lish's world, Real Lish (as she calls herself) is trying to figure out a way home so she can save the ones she loves.  The only thing, is to get home she has to rely on the help of her worst enemy.
The Scary Truth:
Some decisions have unimaginable consequences.

Every time someone makes a choice, a new parallel world is spun off the existing one. Eating breakfast or skipping it, sneaking out instead of staying in bed—every decision creates an alternate universe in which an Echo self takes the road not travelled. As a Walker who can navigate between these realities, Del is training to help keep the dimensions in harmony.

When Del secretly starts to investigate other dissonant worlds, she get tangled up with an Echo of her longtime crush. She knows she shouldn't keep seeing him. But as Del persists, she uncovers a truth that the Council of Walkers is trying to hide—a secret that threatens the entire multiverse.

Source: GoodReads
Trick or Treat:
Treat.  As far as scary is concerned, it doesn't look that scary at least not initially.  But when you think of all those duplicates on the page starring at you it starts getting a little creepy. But creepiness aside, it really is a pretty cover.
What the Cover Conveys:
Millie wants to forget May 26, 2012.
She has done everything to put that awful date behind her.  Even moved halfway across the country with her dad and stepmom to try to start over.
However, there's no way you can escape the past when there's the internet even if you changed your name and appearance.  And someone knows the truth that Millie isn't Millie at all.  But Morgan, the girl who totally made an ass of herself and then had everyone in the world know she made an ass of herself by someone posting it on Youtube.
Millie is insistant that her perfect life will not be ruined though and makes plans to get rid of her blackmailer or else.
The Scary Truth:
Maggie Dempsey is tired of moving all over the country. Her parents are second-generation hippies who uproot her every year or so to move to a new city. When Maggie was younger, she thought it was fun and adventurous. Now that she's a teenager, she hates it. When she moved after her freshman year, she left behind good friends, a great school, and a real feeling of belonging. When she moved her sophomore year, she left behind a boyfriend, too. Now that they've moved to Austin, she knows better. She's not going to make friends. She's not going to fit in. Anything to prevent her from liking this new place and them from liking her. Only . . . things don't go exactly as planned.

Source: GoodReads
Trick or Treat:
Trick.  Well, it is a cover from hell.  I really feel for Ziegler she didn't even get a pretty cover to help this less than stellar book.  Grant it, pretty covers really don't make that big of a difference in whether a book succeeds or fails, but it probably does effect sales.
What the Cover Conveys:
Belle is dead.
Well, undead.  Imagine how it was for her waking up in a box with a bell string tied around her finger.
Horrifying doesn't describe the experience.
It was almost as horrifying as her death-strangliation by a caller no less.
Fortunately, for Belle she's rescued from her underground prison.  Or maybe unfortunately when she realizes that her life is on longer hers.  She now is forced to work for what can only be described as a mafia organization that employs the undead.  And if she escapes, well, then she'll be dead dead.
The Scary Truth:
Olivia Mead is a headstrong, independent girl—a suffragist—in an age that prefers its girls to be docile. It's 1900 in Oregon, and Olivia's father, concerned that she's headed for trouble, convinces a stage mesmerist to try to hypnotize the rebellion out of her. But the hypnotist, an intriguing young man named Henri Reverie, gives her a terrible gift instead: she's able to see people's true natures, manifesting as visions of darkness and goodness, while also unable to speak her true thoughts out loud. These supernatural challenges only make Olivia more determined to speak her mind, and so she's drawn into a dangerous relationship with the hypnotist and his mysterious motives, all while secretly fighting for the rights of women. Winters breathes new life into history once again with an atmospheric, vividly real story, including archival photos and art from the period throughout.

Source: GoodReads
Trick or Treat:
Treat.  Pretty darn creepy.  And I like it.