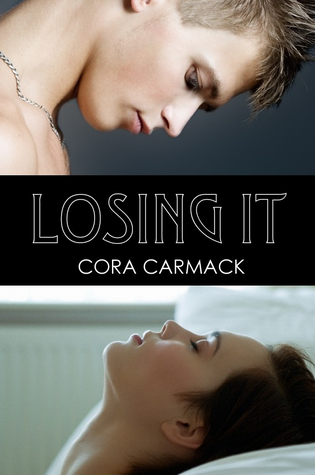 Sick of being the only virgin among her friends, Bliss Edwards decides the best way to deal with the problem is to lose it as quickly and simply as possible – a one-night stand. But her plan turns out to be anything but simple when she freaks out and leaves a gorgeous guy alone and naked in her bed with an excuse that no one with half-a-brain would ever believe. And as if that weren't embarrassing enough, when she arrives for her first class of her last college semester, she recognizes her new theatre professor. She'd left him naked in her bed about 8 hours earlier.

Source: GoodReads
First of all that cover.
Yeah, no bueno.
I'm sorry but out of all the stock cover images….
Yeah.
But it's not time to be shallow even though this book would totally want you to be-shallow that is.  I have to review a book.
Let me say, I should've drank when I read this book and wrote the review.  It would've made the experience sooo much better.
However, I like to torture myself and keep my liver intact so no booze for MJ.  Instead, you get to deal with the annoyed sober version of me that forced themselves to read about half of this book before finally DNF-ing some book.
I should've know based on the summary that this one was going to annoy me.  I mean, it was about some idiot obsessing over their virginity.  Never mind that this is the twenty-first century and most women's hymens are broken way before they actually have sex (I know, horseback riding causes you to loose your V-Card or at least your hymen).  That aside though, I still read this one mainly because I have been reading a lot of fan fics where with the awful teacher/student relationship and I thought, well, maybe it's actually more bearable if the book is published.
It's not.
It's still creepy.  And I can't even imagine a hot actor playing Garrick (though I tried imaging a young Cary Elwes-it only worked halfway I still had that creepy cover depiction of Garrick to deal with), so I don't even get that thrill.
No Garrick's just creepy.
Really, dude, it didn't occur to you that dumb as rocks Bliss was a student.
Well, maybe he thought she was too stupid to be a student.
That's actually logical.
But both of them live in an apartment building that is dominated by students.  It really shouldn't be difficult for the idiot to put two and two together.
That aside…then there's Bliss.
Stupid, stupid, Bliss.
Who only adopts a cat to validate a lie.
That's not cure, in my opinion it's animal abuse.
But I should probably backup a little bit first? You're probably like what's she talking about.
The gist of Bliss's lies or should I say the gist of this book is that Bliss is obsessed with her virginity.  I don't lie.  Read the summary.  But somehow or another she always freaks out before she loses her V-card enter the awkward scene about having a cat and having to get one to cover her tracks with Garrick.
Yeah, that's the sort of stupid stuff that happens in this book.
But it's a-okay because Bliss is cute and perfect ya'll.  And like everyone loves her.  And she's really this great actress even though she doesn't realize it.  And like she's such a Sue.
Yes, I said it.
Bliss you are a Mary Sue. You're pretty and don't realize it, have multiple hot men in love with you, a perky best friend, and you are oodles and noodles talented.  And guess what? Anyone with a lick of sense hates you.
Yep, I said it.
Of course, no one hates you in your world.
How could they?
You are a special snowflake after all.
To be honest, I might've had the stomach to finish this one if I hadn't read a bad NA book before it.  This is just one of those genres you can only take in small doses.  And even though I want to really enjoy it, I really can't.
No plot.
Bad characters.
= Negative Review.
Overall Rating: DNF.  I tried, but I couldn't connect with Miss Mary Sue  Bliss.  And as for Garrick not even imagining him as Wesley can make up for his douchiness.