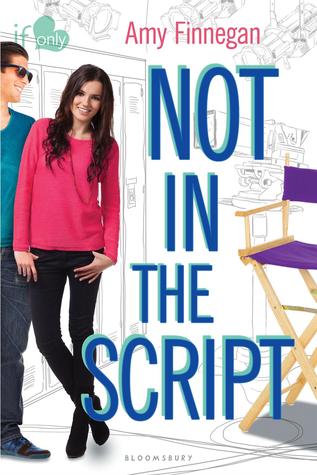 Millions of people witnessed Emma Taylor's first kiss—a kiss that needed twelve takes and four camera angles to get right. After spending nearly all of her teen years performing on cue, Emma wonders if any part of her life is real anymore . . . particularly her relationships.

Jake Elliott's face is on magazine ads around the world, but his lucrative modeling deals were a poor substitute for what he had to leave behind. Now acting is offering Jake everything he wants: close proximity to home; an opportunity to finally start school; and plenty of time with the smart and irresistible Emma Taylor . . . if she would just give him a chance.

When Jake takes Emma behind the scenes of his real life, she begins to see how genuine he is, but on-set relationships always end badly. Don't they? Toss in Hollywood's most notorious heartthrob and a resident diva who may or may not be as evil as she seems, and the production of Coyote Hills heats up in unexpected—and romantic—ways.

This novel in the deliciously fun If Only romance line proves that the best kinds of love stories don't follow a script.

Source: GoodReads
Confession: I like cheesy celebrity YA books.  I can't help it.  Maybe it's because these books provide the only decent excuse for having the love interest look like one of the Hemsworth's long lost but hotter brothers, but I lap these books up like they're princesses books.  Sad thing is, often they are kind of bad.
Good news though: there's a thing called the library.  And that's where I picked up Not in the Script.
Let me be frank, in any other genre in the age group it probably would've been a complete flop.  But as a Hollywood book it's kind of meh.  The book isn't the worst of it's kind.  But it sort of had the cliches that make me weary to actually buy these books. Therefore, when contemplating the format of this review (because you know I do that).  I decided that I was going to write a How To guide using Not In the Script as my go to source material.  Note, this how to guide reflects my opinion only and  should viewed at best as supremely bad satire.  At worst…well, a sad how to guide. Amy Finnegan had nothing to do with it.  I'm just using her book to illustrate what frustrates me about this sub-genre of books.
MJ's Guide to How to Write an Extremely Cliche Hollywood Centric YA Book
Introduction:
Ever wish you could create that on screen magic with five thousand cliches and readers who can predict your every twist?  Look no further, this blog post is your guide.   Using illustrated examples from pristine cliche novels, I will show you How to Write a Cliche Hollywood Themed YA Novel.
Ingredients:
A drippy main character (pouty lips are a must, hair color can vary, she must be cute but not overtly sexy)
A leading man who rivals the Hemsworth brothers.  Bonus points, if they poised in their underwear for Armani like Beckham-note, it's no longer Bend it Like Beckham it's Pose it like Beckham.
A new hit TV show or movie that looks like it's a cross between One Tree Hill, Save by the Bell, and The O.C.
Side characters whose personality is like cardboard.
A plot that looks like Lifetime could handle it.
Procedure:
1) Introduce Drippy Main Character: Make sure she's relatable by making her a non-smoking, non-drinking, non-personality virgin.  Props if she has a non-existant cruddy romantic life.
2) She gets a big break.  If you're trying to be original like Amy Finnegan (author of our go to piece) did then you'll have your star be semi-established and have the male lead be new.  Otherwise, have a complete neophyte get their big break.
3) Have a momager side plot that goes nowhere other than adding a bit to the family dynamics which makes you cool because….side plot.
4) Have a director/producer character that might as well be Rumpelstiltskin from Once Upon a Time sans  the leather pants or you know any big Hollywood type that you're wild about working with.  Have this guy be known as ruthless because all producers/directors who are big are and then have him just shrug whenever you have teenage angst.
5) Throw in the Long Lost Hemsworth brother, and boring side characters as costars.  Bonus points if you make one of these costars a really hot guy so you can have a loooove triangle 'cause you know love triangles are the best plot device ever since Bella gave birth.
6) Have crush on no personality hot guy while develop the relationship with the Hemsworth brother.
7) Have character wise up to who she truly loves….but it it too late?
8) Have some incoherent mess that's ridiculous occur so we can get a climax in this.  Include an almost career disaster, everyone hating Ms. Drippy and have it miraculously resolve with no music-becuase this is a book.
9) And they all live happily ever after.
Those are the essential plot elements to having a successful Hollywood themed book.  Don't worry about originality, character development, or annoyed readers who wonder….why?  Why? Why can't the author add anything remotely original to a subject matter that could be interesting.
Protips:
1) If you give your character any sort of backstory remember we want her to be America's sweetheart all those starlets who drink, have premarital sex are EVIL.  Your character should not suffer from the usual problems that someone with so much freedom and money at a young age would.
2) Have that best friend be jealous and proceed to slut slam her, so that it's okay that the main character decided to go for the guy she knew her friend had the huge crush on.
3) Have a love triangle even though the book is written in two points of view and it's obvious who's going to win.
And Now Back to Our Regular Review….
Okay, so my how too gave away the very boring plot.  But to be honest, it was pretty predictable.  There was nothing original about this book and I think that's one of the reasons I almost didn't finish it.  With this genre of books, I think you have to do something original and have really  compelling characters.  Unfortunately, Not in the Script  had neither.
One of the things I will say about Not In the Script was that for the most part it was so vanilla it didn't offend me.  So, that's good I guess.
Overall Rating: C.  If you want something light, by all means give this one a try.  Just don't expect…magic.