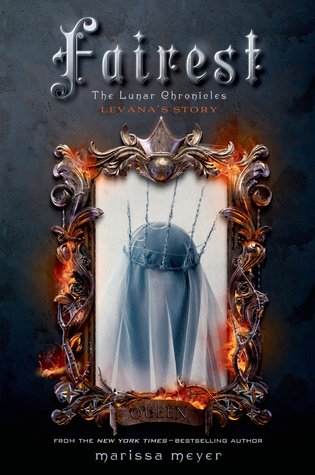 In this stunning bridge book between Cress and Winter in the bestselling Lunar Chronicles, Queen Levana's story is finally told.

Mirror, mirror on the wall,
Who is the fairest of them all?

Fans of the Lunar Chronicles know Queen Levana as a ruler who uses her "glamour" to gain power. But long before she crossed paths with Cinder, Scarlet, and Cress, Levana lived a very different story – a story that has never been told . . . until now.

Marissa Meyer spins yet another unforgettable tale about love and war, deceit and death. This extraordinary book includes full-color art and an excerpt from Winter, the next book in the Lunar Chronicles series.

Source: GoodReads
I kind of had it in for Fairest, I'll be honest. I wanted my Winter, but it grew on me.  For one thing it was the story of one of the best formed villains in YA, and for another it was the story of an Evil Queen.
Fairest does not disappoint.  In fact, it impressed me.  One thing I will give Marissa Meyer is every time I doubt her abilities, she proves me wrong.
What was I worried about with Fairest?  Well, having an empathetic villain for one thing.
It's not that I didn't get a better grasp of who Levana was after reading this, rather Meyer didn't make excuses for her behavior.  She told the story where you could sympathize for Levana, but at the end of the day you weren't going to give her a pass for her actions.
That's a good thing, since that's one thing that bothers me of other villain oriented stories  (cough, Once Upon a Time's treatment of Regina, cough). There's no pass here for Levana.  While we get to know her side of the story, it does not change her into an antiheroine.  Her actions aren't condoned or white washed.   Rather, it's more or less that the audience gets to see the inner working of a sociopath.
And since I like to get dark and twisty, it was sort of my thing.
I liked how Levana tried to justify everything she did.  How she used people like pawns.  It really gave depth to her character, and I sort of hope we get to see more of her in Winter.
I also liked the small nods to the main cast.  We get to see glimpse of some of the characters as children.  Particularly, Winter and Cinder.  I was  interested in seeing more of Winter, since we know so little about her.  I felt like this volume was a nice introduction to her as it was for Levana in a lot of ways.  As for Cinder, I was surprised with how her birth family was.  It was interesting how evil and  flippant Channary was, in comparison to her daughter.  It makes you wonder how Cinder would be if she was born on Luna.  I also like how even though Meyer gave background to the characters origins, she left enough threads hanging for readers to have questions.
In addition to character background, we also get to see more of Luna.  The place is fascinatingly dark and I can't wait to explore more of it in Winter.
Reading Fairest is probably not required for people who read this story, but it is a pleasant treat. My most common complaints about extra books are that they feel gimmicky.  However, Fairest did not have this feel.
The one issue I did have with Fairest was that certain aspects of the plot could've been fleshed out a bit further.  While I felt like I had a good grasp on Levana and her story, if a little bit was added here and there it would've been better.
Overall Rating: A solid A.  While I might have a few sections of the book that I'm nitpicking about, I really enjoyed it overall.  I liked how it was a villain's POV story without resorting to bashing or heavily changing cannon.   And now I just have to sit and wait for Winter.