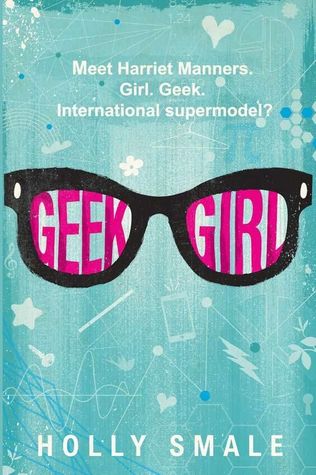 Geek + runway = a hilarious runaway hit! This bestselling UK debut is full of humor and high-fashion hijinks—and now it's coming to America.

Harriet Manners is tired of being labeled a geek. So when she's discovered by a modeling agent, she seizes the chance to reinvent herself. There's only one problem: Harriet is the definition of awkward. Does she have what it takes to transform from geek to chic?

Geek Girl is the first book in a hilarious new trilogy. It was also the #1 bestselling YA debut of 2013 in the UK, where it was shortlisted for the Roald Dahl Funny Prize and won the Waterstones Children's Book Prize for Best Book for Teens. With all the humor and fabulous shenanigans of Louise Rennison's Confessions of Georgia Nicolson and Meg Cabot's The Princess Diaries, Geek Girl is about to become an international superstar.

Source: GoodReads
I hate to say this, but I was reluctant about Geek Girl.
I totally judged it that it was written by a former model.  To be far, books by models that I've read before have been sort of a wash-anyone remember Modelland? But Geek Girl, damn it was good.
It was the perfect MJ book.  And the comparison to The Princess Diaries series was pretty spot on, though I'm sure Harriet would correct Mia on some of her WebMD information.
Harriet is completely engaging, awkward (in the not cringe worthy way), and adorable beyond words.  Her voice while catchy, was maybe a little borderline too quirky. I could see this maybe becoming a problem in the future, but for now it worked.
I also liked how the book focused more on family and friends than romance.  While the romance is still there, very light (mind you) there is more focus these other relationships which is refreshing.  I especially liked the relationship that Harriet had with her parents.
Her relationship with both parents, her stepmom and father, are well defined and unique.  They sort of remind me of a grown up Ron and Hermione-except much more tolerable than that ill fated couple.  I really like that there is such a strong relationship with a step parent in this book.  Usually, step parents are treated like the evil on non-participatory entities in YA.  However, that's not the case here.
I also liked the portrayal of Harriet's friendship with Nat. It seemed realistic.  Both of them make mistakes and they both admit it when they screw up.  And yay for Nat for standing up for her friend in such a big way.
In addition to strong relationships, Geek Girl also has a unique quirky-ish vibe that gives it it's own identity.  In addition to Harriet's geek-isms other characters such as her father, Wilbur, and Toby have their own quirks that add to the book as well.
As I previously said, the quirkiness can get a little bothersome at some points, but in moderation it really works.
The plot that Geek Girl has is pretty simple and I think that's one of the things about it that works for it.  While you're expecting the ridiculous Tyra-ish makeover that turns Harriet from blah to beautiful, Smale does it in a way that's tolerable and not too reminiscent of other books.
I will also say that I'm glad about how small the love interest's role is in this book.  In future installments, I'd like to see more of Nick, but I think for this one  the brief appearances that we got of him were okay and just enough.
Overall, if you're looking for something light and fluffy I recommend Geek Girl.  I am concerned about how the series might develop in the future, but it's one of those books I'll will definitely be picking up again.
A-