Remember, last February.  Polar vortex? Well, there hasn't been that many polar vortex's this year.  But in the spirit of winter, I'm going to be judging covers with the theme of being snowed in.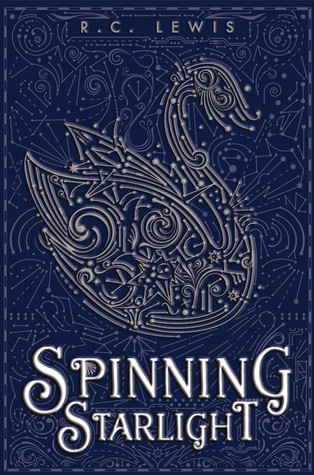 What the Cover Says:
What happens to Swan Lake in the winter?  This book explores how those swan maidens walked around in those flimsy ball gowns in polar vortex temperatures.  It also features swan parkas as well.
What the Book is Really About:
Sixteen-year-old heiress and paparazzi darling Liddi Jantzen hates the spotlight. But as the only daughter in the most powerful tech family in the galaxy, it's hard to escape it. So when a group of men show up at her house uninvited, she assumes it's just the usual media-grubs. That is, until shots are fired.

Liddi escapes, only to be pulled into an interplanetary conspiracy more complex than she ever could have imagined. Her older brothers have been caught as well, trapped in the conduits between the planets. And when their captor implants a device in Liddi's vocal cords to monitor her speech, their lives are in her hands: One word and her brothers are dead.

Desperate to save her family from a desolate future, Liddi travels to another world, where she meets the one person who might have the skills to help her bring her eight brothers home-a handsome dignitary named Tiav. But without her voice, Liddi must use every bit of her strength and wit to convince Tiav that her mission is true. With the tenuous balance of the planets deeply intertwined with her brothers' survival, just how much is Liddi willing to sacrifice to bring them back?

Haunting and mesmerizing, this retelling of Hans Christian Andersen'sThe Wild Swans strings the heart of the classic with a stunning, imaginative world as a star-crossed family fights for survival in this companion to Stitching Snow.

Source: GoodReads
Verdict: Pretty.  While I had mixed feelings on Stitching Snow, the book sort of grew on me after I read it.  And the cover was just divine in real life.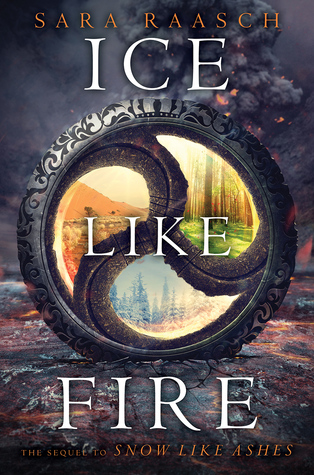 What the Cover Says:
Helena is one of the last remaining humans, after a global plague killed the population on six of the seven continents.  It was just a good thing that Helena was visiting her dad who studied penguins in Antarctica that fateful summer.  However, now the new colony that Helena calls home is threatened by a volcano.  Will Helena and more importantly the penguins survive?
What the Book is Really About:
It's been three months since the Winterians were freed and Spring's king, Angra, disappeared—thanks largely to the help of Cordell.

Meira just wants her people to be safe. When Cordellan debt forces the Winterians to dig their mines for payment, they unearth something powerful and possibly dangerous: Primoria's lost chasm of magic. Theron sees this find as an opportunity—with this much magic, the world can finally stand against threats like Angra. But Meira fears the danger the chasm poses—the last time the world had access to so much magic, it spawned the Decay. So when the king of Cordell orders the two on a mission across the kingdoms of Primoria to discover the chasm's secrets, Meira plans to use the trip to garner support to keep the chasm shut and Winter safe—even if it means clashing with Theron. But can she do so without endangering the people she loves?

Mather just wants to be free. The horrors inflicted on the Winterians hang fresh and raw in Januari—leaving Winter vulnerable to Cordell's growing oppression. When Meira leaves to search for allies, he decides to take Winter's security into his own hands. Can he rebuild his broken kingdom and protect them from new threats?

As the web of power and deception weaves tighter, Theron fights for magic, Mather fights for freedom—and Meira starts to wonder if she should be fighting not just for Winter, but for the world.

Source: GoodReads
Verdict: Disappointing.  It looks like the first one, with a slightly different background.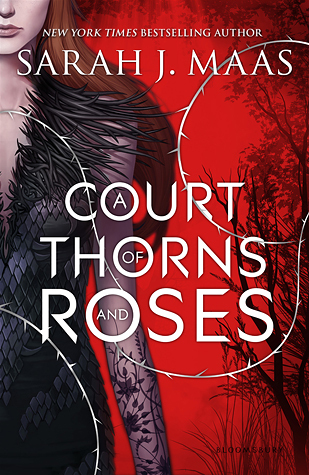 What the Cover Says to Me:
She is a beast and damn proud of it.
Aya hates man.  She never has understood them and their wants and needs.  And when one comes begging to her in the dead of winter to save him and his family.  She's willing to deal.
At least for now.
What the Book is Really About:
A thrilling, seductive new series from New York Timesbestselling author Sarah J. Maas, blending Beauty and the Beast with faerie lore.

When nineteen-year-old huntress Feyre kills a wolf in the woods, a beast-like creature arrives to demand retribution for it. Dragged to a treacherous magical land she only knows about from legends, Feyre discovers that her captor is not an animal, but Tamlin—one of the lethal, immortal faeries who once ruled their world.

As she dwells on his estate, her feelings for Tamlin transform from icy hostility into a fiery passion that burns through every lie and warning she's been told about the beautiful, dangerous world of the Fae. But an ancient, wicked shadow grows over the faerie lands, and Feyre must find a way to stop it . . . or doom Tamlin—and his world—forever.

Perfect for fans of Kristin Cashore and George R. R. Martin, this first book in a sexy and action-packed new series is impossible to put down!

Source: GoodReads
Verdict: Gorgeous.  But the outfit looks uncomfortable and borderline beastly.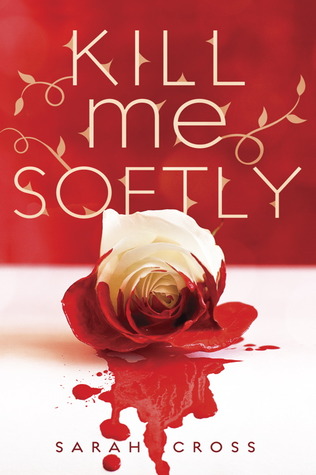 What the Cover Says:
She likes painting her roses red.  And she's determined to catch Alice.  A sequel to Alice in Wonderland starring the Queen of Hearts on a revenge trip.
What the Books is Really About:
Mirabelle's past is shrouded in secrecy, from her parents' tragic deaths to her guardians' half-truths about why she can't return to her birthplace, Beau Rivage. Desperate to see the town, Mira runs away a week before her sixteenth birthday—and discovers a world she never could have imagined.

In Beau Rivage, nothing is what it seems—the strangely pale girl with a morbid interest in apples, the obnoxious playboy who's a beast to everyone he meets, and the chivalrous guy who has a thing for damsels in distress. Here, fairy tales come to life, curses are awakened, and ancient stories are played out again and again.

But fairy tales aren't pretty things, and they don't always end in happily ever after. Mira has a role to play, a fairy tale destiny to embrace or resist. As she struggles to take control of her fate, Mira is drawn into the lives of two brothers with fairy tale curses of their own . . . brothers who share a dark secret. And she'll find that love, just like fairy tales, can have sharp edges and hidden thorns.

Source: GoodReads
Verdict: Well, the blood looks more realistic here than the sequel.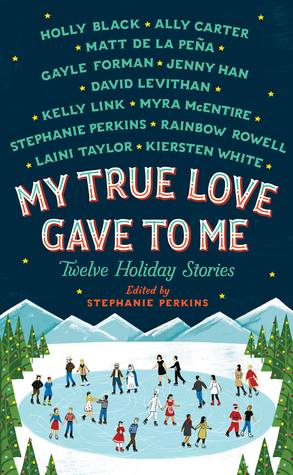 What the Cover Says:
Avery is in desperate need of money.  That's the only reason she's working at Holiday Park-the amusement park that is 100% Christmas 100% of the time even in July.  Personally, Aves, can't stand hearing "Jingle Bells" and eating candy canes.  The only Christmas movie she likes is Die Hard, and that's because of the explosions.  However, a handsome elf might get her into the Christmas spirit-even though, it's like July.
What the Book is Really About:
If you love holiday stories, holiday movies, made-for-TV-holiday specials, holiday episodes of your favorite sitcoms and, especially, if you love holiday anthologies, you're going to fall in love with My True Love Gave To Me: Twelve Holiday Stories by twelve bestselling young adult writers, edited by international bestselling author Stephanie Perkins. Whether you enjoy celebrating Christmas or Hanukkah, Winter Solstice or New Year's there's something here for everyone. So curl up by the fireplace and get cozy. You have twelve reasons this season to stay indoors and fall in love.

Source: GoodReads
Verdict: Cute.  I like this cover and you know how I feel about cartoony covers.  I think what works for me about this  cover is that it's not an outright cartoon, the faces are blurred.