Spring is almost here.  Honestly, I'm a fall and winter girl.  But there are still some fantastic books to read as the weather gets hotter and the humidity becomes unbearable: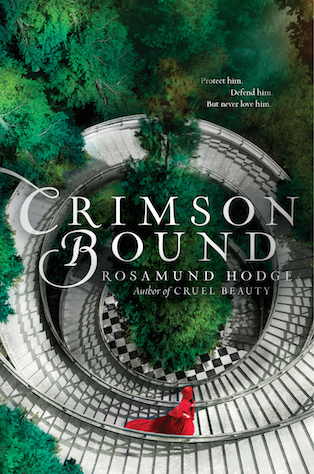 What the Cover Says:
Esme is a heart.  Which is the privilege class in Wonderland.  She's nowhere near royalty and a lower heart is just as bad as being a spade or dare she say a club.  However, one day the Jack of Hearts–the queen's son eyes Esme, the lowly four.  And her life will change forever.  Croquet games, unbirthday parties, and the future mother in-law from hell.  This is one royal wedding that will have you guessing if Esme gets her fairytale ending or if the queen cuts her head off.
What the Book is Really About:
When Rachelle was fifteen she was good—apprenticed to her aunt and in training to protect her village from dark magic. But she was also reckless— straying from the forest path in search of a way to free her world from the threat of eternal darkness. After an illicit meeting goes dreadfully wrong, Rachelle is forced to make a terrible choice that binds her to the very evil she had hoped to defeat.

Three years later, Rachelle has given her life to serving the realm, fighting deadly creatures in an effort to atone. When the king orders her to guard his son Armand—the man she hates most—Rachelle forces Armand to help her find the legendary sword that might save their world. As the two become unexpected allies, they uncover far-reaching conspiracies, hidden magic, and a love that may be their undoing. In a palace built on unbelievable wealth and dangerous secrets, can Rachelle discover the truth and stop the fall of endless night?

Inspired by the classic fairy tale Little Red Riding Hood, Crimson Bound is an exhilarating tale of darkness, love, and redemption.

Source: GoodReads
Spring or Sprung:  Spring.  Though the cover designer might've wanted to do something a bit different because it really does scream companion to Cruel Beauty when it's not.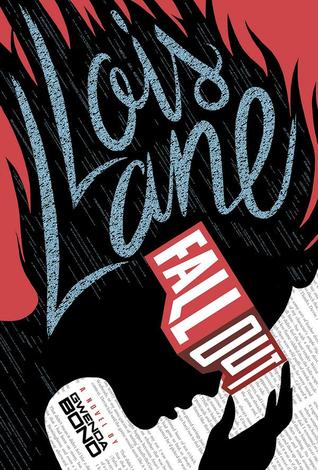 What the Cover Says:
Lois Lane is having one bad hair day.  It's from falling out of way too many buildings.  That is a worse evil than Lex Luthor in her opinion.  Especially when she is trying to get Bruce Wayne's attention.  Yes, Bruce Wayne.  Because everyone knows Batman does it better than Superman.
What the Book Is Really About:
Lois Lane is starting a new life in Metropolis. An Army brat, Lois has lived all over—and seen all kinds of things. (Some of them defy explanation, like the near-disaster she witnessed in Kansas in the middle of one night.) But now her family is putting down roots in the big city, and Lois is determined to fit in. Stay quiet. Fly straight. As soon as she steps into her new high school, though, she can see it won't be that easy. A group known as the Warheads is making life miserable for another girl at school. They're messing with her mind, somehow, via the high-tech immersive videogame they all play. Not cool. Armed with her wit and her new snazzy job as a reporter, Lois has her sights set on solving this mystery. But sometimes it's all a bit much. Thank goodness for her maybe-more-than-a friend, a guy she knows only by his screenname, SmallvilleGuy. 

Source: GoodReads
Spring or Sprung: Spring.  But what is up with Lois's hair?  Maybe it's from being pushed out of a building one too many times.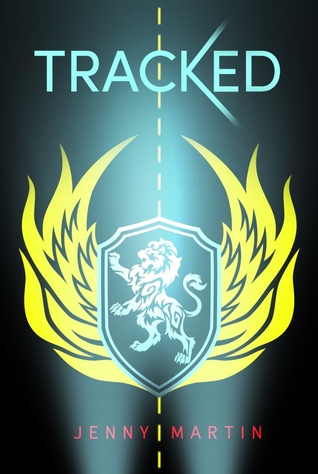 What the Cover Says:
You've heard of quiditch, but there's also broom drag racing.  Not that most people  know about it.  Until now.  Now follow Oliver Wood as he finds himself involved in this new dangerous world and makes seven sequels of the Fast and the Broom-licious.
What the Books Is Really About:
The Fast and the Furious gets a futuristic twist in this action-packed debut!

On corporately controlled Castra, rally racing is a high-stakes game that seventeen-year-old Phoebe Van Zant knows all too well. Phee's legendary racer father disappeared mysteriously, but that hasn't stopped her from speeding headlong into trouble. When she and her best friend, Bear, attract the attention of Charles Benroyal, they are blackmailed into racing for Benroyal Corp, a company that represents everything Phee detests. Worse, Phee risks losing Bear as she falls for Cash, her charming new teammate. But when she discovers that Benroyal is controlling more than a corporation, Phee realizes she has a much bigger role in Castra's future than she could ever have imagined. It's up to Phee to take Benroyal down. But even with the help of her team, can a street-rat destroy an empire?

Source: GoodReads
Spring or Sprung: Eh, sprung.  Not very cohesive.  You have a bit of futuristic meets King Richard the Lionhearted.  A weird mix indeed.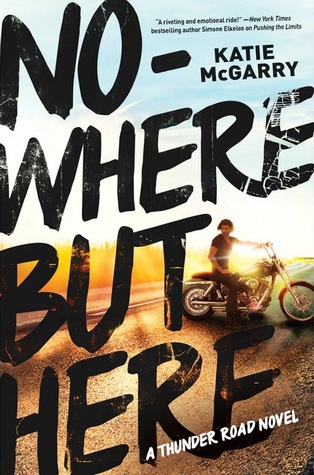 What the Cover Says:
Dane Peters can not stand motorcycle gangs.  Probably because his father got arrested at the local Russell Stover's  because his so called gang decided to have a meet and  greet.  Plus, it's bad for the environment.  But somehow, this tree hugger gets roped into spending the summer with his father and his gang and learns the beauty of riding with the wind in his hair.  And invading the Blue Bell Ice Cream factory.
What the Book is Really About:
An unforgettable new series from acclaimed author Katie McGarry about taking risks, opening your heart and ending up in a place you never imagined possible.

Seventeen-year-old Emily likes her life the way it is: doting parents, good friends, good school in a safe neighborhood. Sure, she's curious about her biological father—the one who chose life in a motorcycle club, the Reign of Terror, over being a parent—but that doesn't mean she wants to be a part of his world. But when a reluctant visit turns to an extended summer vacation among relatives she never knew she had, one thing becomes clear: nothing is what it seems. Not the club, not her secret-keeping father and not Oz, a guy with suck-me-in blue eyes who can help her understand them both.

Oz wants one thing: to join the Reign of Terror. They're the good guys. They protect people. They're…family. And while Emily—the gorgeous and sheltered daughter of the club's most respected member—is in town, he's gonna prove it to her. So when her father asks him to keep her safe from a rival club with a score to settle, Oz knows it's his shot at his dream. What he doesn't count on is that Emily just might turn that dream upside down.

No one wants them to be together. But sometimes the right person is the one you least expect, and the road you fear the most is the one that leads you home.

Source: GoodReads
Spring or Sprung: Sprung.  Though better than the Pushing the Limits series.  That series just wants you to get snickered at.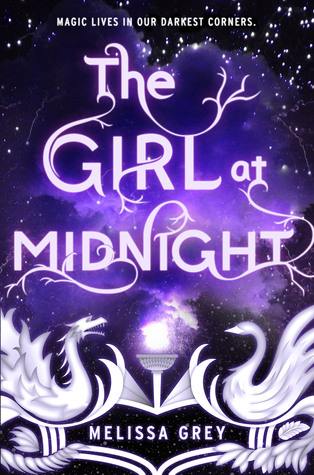 What the Cover Says:
Okay, to be honest when I saw this cover I was like Once Upon a Time  is getting a YA spinoff  series made out of it-a la Charmed and Sabrina the Teenage Witch.  See the Swan totally represents Emma and the Dragon can represent Balefire I guess.  Or maybe Emma fought a dragon  in her teen years but forgot, the way continuity on that show is it so could happen.
What the Book is Really About:
For readers of Cassandra Clare's City of Bones and Leigh Bardugo'sShadow and Bone, The Girl at Midnight is the story of a modern girl caught in an ancient war.

Beneath the streets of New York City live the Avicen, an ancient race of people with feathers for hair and magic running through their veins. Age-old enchantments keep them hidden from humans. All but one. Echo is a runaway pickpocket who survives by selling stolen treasures on the black market, and the Avicen are the only family she's ever known.

Echo is clever and daring, and at times she can be brash, but above all else she's fiercely loyal. So when a centuries-old war crests on the borders of her home, she decides it's time to act.

Legend has it that there is a way to end the conflict once and for all: find the Firebird, a mythical entity believed to possess power the likes of which the world has never seen. It will be no easy task, but if life as a thief has taught Echo anything, it's how to hunt down what she wants . . . and how to take it.

But some jobs aren't as straightforward as they seem. And this one might just set the world on fire.

Source: GoodReads
Spring or Sprung: Spring.  I  like the abstract design and the color.  You can take it out in public that's always a good thing.