Announcement there will be no April TBR post
Um, yeah, April Fool's.
Okay, I know sort of lame.  But I had to do something.  Let's look at the planned reading list shall we:
Preordered/Ordered:
Remember, how last month I said I got my March orders confused with May.  I meant April.  This is a bad, bad, month of  book buying for me.  But since I'm an hour plus way to a book store, I don't feel that bad. Okay, I feel bad when looking at the list here.  But I have to tell myself May isn't that bad and things sort of taper off in the summer-until I go browsing on GoodReads and hit the stupid buy button on Amazon.
Library:
The good news is I found a library AND got a card.  The bad news is they have a checkout limit-fifteen books.  And they're no Harris County Public Library.  They do have enough books though where I won't complain and I'll be abusing the heck out of the interlibrary loans.  Another bad thing about this branch is there's no auto check out.  The good news is that checkout time is three weeks rather than two, so maybe I'll actually read them this time.
Gilt by Kateherine Longshore: The Tudors.
Demonosity by Amanda Ashby: The premises looks like it could go either of two ways.
Glass Arrow by Kristen Simmons: I really don't know if I'm going to get to this one.  I'm burnt out of fantasies and this looks like one with a stupid Handmaidens' Tale twist
The Last Time We Say Goodbye by Cynthia Hand: I've been into contemporaries lately.  But this might be a little on the dark side for me.
Planned Reads that I Own:
Um, finish up my To Be Read Shelf like every month.  I'll probably be working off of a lot of my March orders.  While I've been getting my UPS stuff, USPS has been even shittier than it is in Texas.  Apparently, they won't deliver if your box is ON your house.  You have to have a box by the street.  Even if a package is being delivered that won't fit in SAID mailbox. Oh, yes, I got into it with them.  And they helped zilch.  I probably wouldn't be that pissed if say they gave me notice and allowed me to pick up my packages from the post office.
But no.
Sent back to Texas. And I had to wait two weeks to get it back.
Whatever.
Most Looked Forward to April Read: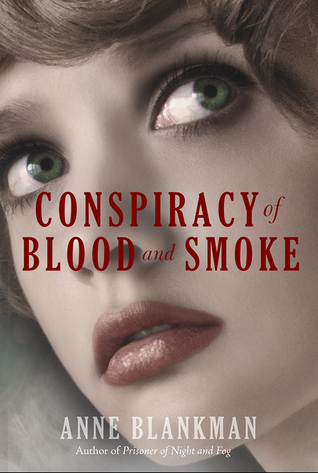 Yeah, yeah, I know.  I've been pimping this one out a lot lately.  But I have such high hopes for it.  Hopefully, it will be good.