I recently did a post about books that involved travel-alas, the post was sadly confined to Europe, look for future posts to focus on other great travel spots in the remaining six continents in the world.  I decided to continue my traveling theme by doing destination covers.  Meaning, there has to be something travel-y about the covers I'm analyzing.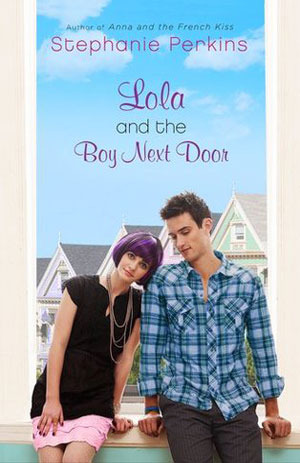 Destination: San Franscisco where John Stamos's twin boys are causing a heck of a lot of trouble in that  house that's filled with so many people it's sure to be a health violation.  In this fun, unauthorized book sequel to the hit 90's sitcom,  Alex Kastopolis falls in love with Kimmy Gibbler's long lost sister and of course this has everyone in that house in a tizzy because Lola, that's Kimmy's sister, is a love child and not from a legit marriage or even sanctioned relationship since Mr. G was cheating on Mrs. G at that time.  It of course has twenty something Michelle asking where babies come from again, and of course there's Stephanie and her pesky recurring meth problem.  Aunt Becky is determined to help her, even if it means having the Tanner family be on an episode of Intervention.  Where the root of her problems (a.k.a. Uncle Joey) will be found out.  Meanwhile, will Alex and Lola be able to fall in love?  Or will his evil twin brother with the better hair get in the way?
What the Book Is Really About:
Lola Nolan is a budding costume designer, and for her, the more outrageous, sparkly, and fun the outfit, the better. And everything is pretty perfect in her life (right down to her hot rocker boyfriend) until the Bell twins, Calliope and Cricket, return to the neighborhood. When Cricket, a gifted inventor, steps out from his twin sister's shadow and back into Lola's life, she must finally reconcile a lifetime of feelings for the boy next door. 

Source: GoodReads
Verdict: I am so glad this got a cover redesign.  But I like the painted lady houses in the background, I'll give you that.  And I really imagined Lola living in the Tanners' house.  As much as I make fun of that show (and I make fun of it a lot) it has had a lasting impressing on my opinion of San Francisco.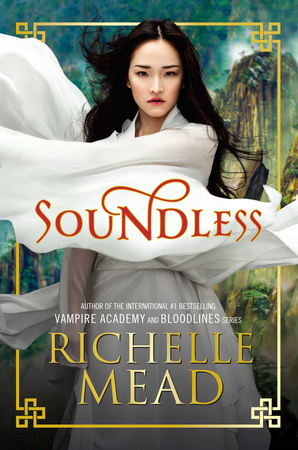 Destination: China. You know Mulan's story, but what about her twin sister's?  This look into rural China explores the life after Ju's sister went to war.  How her family handles her sister's choice and how Ju saves her village and falls in love with a handsome deserter.  Big points for this story is that Eddie Murphy's annoying dragon character does not make an appearance.
What the Book is Really About:
From Richelle Mead, the #1 internationally bestselling author of Vampire Academy and Bloodlines, comes a breathtaking new fantasy steeped in Chinese folklore.

For as long as Fei can remember, there has been no sound in her village, where rocky terrain and frequent avalanches prevent residents from self-sustaining. Fei and her people are at the mercy of a zipline that carries food up the treacherous cliffs from Beiguo, a mysterious faraway kingdom.

When villagers begin to lose their sight, deliveries from the zipline shrink and many go hungry. Fei's home, the people she loves, and her entire existence is plunged into crisis, under threat of darkness and starvation.

But soon Fei is awoken in the night by a searing noise, and sound becomes her weapon.

Richelle Mead takes readers on a triumphant journey from the peak of Fei's jagged mountain village to the valley of Beiugo, where a startling truth and an unlikely romance will change her life forever…

Source: GoodReads
Verdict: Love.  I think this is the best cover I've seen for a Mead book.  I love the background.  I love the way  the model is dressed and that she is a POC.  This is how book covers with model's should be done.
Destination: Pakistan.  A complex tale about a girl torn between tradition and the Western world.  A life of tradition for Amal means acceptance from her family, and stability.  However, there's something about the Western world that draws Amal in despite all its vices.  Given her family's contemptuous  background, deciding to go to school to pursue her goals.  Let alone, school in the West. is a very dangerous path.  Will Amal be brave enough to pursue her dreams, or will she resign to a fate that is said to be written in the stars?
What the Book Is Really About:
This heart-wrenching novel explores what it is like to be thrust into an unwanted marriage. Has Naila's fate been written in the stars? Or can she still make her own destiny?

Naila's conservative immigrant parents have always said the same thing: She may choose what to study, how to wear her hair, and what to be when she grows up—but they will choose her husband. Following their cultural tradition, they will plan an arranged marriage for her. And until then, dating—even friendship with a boy—is forbidden. When Naila breaks their rule by falling in love with Saif, her parents are livid. Convinced she has forgotten who she truly is, they travel to Pakistan to visit relatives and explore their roots. But Naila's vacation turns into a nightmare when she learns that plans have changed—her parents have found her a husband and they want her to marry him, now! Despite her greatest efforts, Naila is aghast to find herself cut off from everything and everyone she once knew. Her only hope of escape is Saif . . . if he can find her before it's too late.

Source: GoodReads
Verdict:  I like this one.  The figure isn't large enough to be obtrusive, and I like the background and style of the writing.  What I don't like is the title.  It seems a little too dreamy and romantic for a book that appears to be dealing with some pretty deep stuff.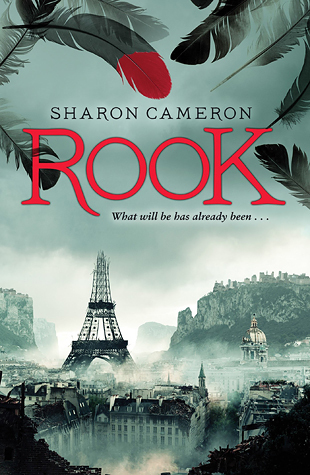 Destination: Paris.  In the misery that is World War II, Madeline joins the resistance in hopes that she can help her country gain independence from the Nazis.  Soon Madeline finds herself working undercover pretending to be a young Nazi youth.  While she is under this brutal regime trying to find intel, she finds herself falling for her sergeant.  Hans might be the enemy, but there is something about him that Madeline can't help but find attractive.  And sometimes she wonders if he really believes in his regimes values…
What the Book is Really About:
History has a way of repeating itself. In the Sunken City that was once Paris, all who oppose the new revolution are being put to the blade. Except for those who disappear from their prison cells, a red-tipped rook feather left in their place. Is the mysterious Red Rook a savior of the innocent or a criminal?

Meanwhile, across the sea in the Commonwealth, Sophia Bellamy's arranged marriage to the wealthy René Hasard is the last chance to save her family from ruin. But when the search for the Red Rook comes straight to her doorstep, Sophia discovers that her fiancé is not all he seems. Which is only fair, because neither is she.

As the Red Rook grows bolder and the stakes grow higher, Sophia and René find themselves locked in a tantalizing game of cat and mouse.

Source: GoodReads
Verdict: I love this cover.  It really has a feeling of despair to it, but being Paris it still retains an elegant and regal facade.
Destination: America (well, the cover shows the skyline of Washington DC and a map of the east coast). Ally has grown up as a Washington insider.  She's known three first kids.  One of them is her best friend, one is her mortal enemy, and the current one is her forbidden crush.  Because there's no way the first kid is dating the help's daughter.  Though they use the term staff, not help.  When you are inside 1600 Pennsylvania  all the time but NOT inside life is tough.
What the Book is Really About:
Fans of Sarah Dessen and Huntley Fitzpatrick will enjoy this smart debut young adult novel, equal parts My Life Next Door and The Princess Diaries—plus a dash of Aaron Sorkin.

Kate Quinn's mom died last year, leaving Kate parentless and reeling. So when the unexpected shows up in her living room, Kate must confront another reality she never thought possible—or thought of at all. Kate does have a father. He's a powerful politician. And he's running for U.S. President. Suddenly, Kate's moving in with a family she never knew she had, joining a campaign in support of a man she hardly knows, and falling for a rebellious boy who may not have the purest motives. This is Kate's new life. But who is Kate? When what she truly believes flies in the face of the campaign's talking points, she must decide. Does she turn to the family she barely knows, the boy she knows but doesn't necessarily trust, or face a third, even scarier option?

Set against a backdrop of politics, family, and first love, this is a story of personal responsibility, complicated romance, and trying to discover who you are even as everyone tells you who you should be

Source: GoodReads
Verdict: Very presentable.  I can take this out in public and not get the ew you're reading that look.