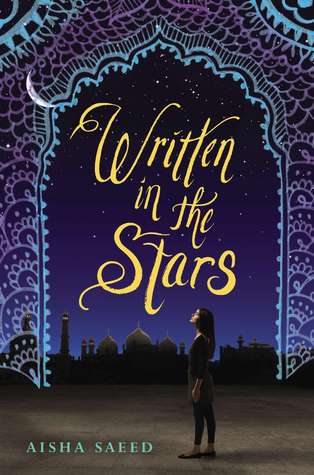 This heart-wrenching novel explores what it is like to be thrust into an unwanted marriage. Has Naila's fate been written in the stars? Or can she still make her own destiny?

Naila's conservative immigrant parents have always said the same thing: She may choose what to study, how to wear her hair, and what to be when she grows up—but they will choose her husband. Following their cultural tradition, they will plan an arranged marriage for her. And until then, dating—even friendship with a boy—is forbidden. When Naila breaks their rule by falling in love with Saif, her parents are livid. Convinced she has forgotten who she truly is, they travel to Pakistan to visit relatives and explore their roots. But Naila's vacation turns into a nightmare when she learns that plans have changed—her parents have found her a husband and they want her to marry him, now! Despite her greatest efforts, Naila is aghast to find herself cut off from everything and everyone she once knew. Her only hope of escape is Saif . . . if he can find her before it's too late.

Source: GoodReads
This book is brutal.
And you should read it.
It's the sort of book that makes me so glad thankful that more diverse books are getting published.  I'll let you in on a little secret, the reason I love diverse books so much is because I like to emerge myself into people's lives who are completely different than mine.  And I especially like diverse contemporaries like Written in the Stars because these characters live in my world but at the same time live completely different lives.
This book especially touched my heart because of a seminar class I took on Human Trafficking in law school.  While the book discusses forced marriage, not trafficking, it shares some of the same aspects-and you could even make a valid argument that Naila's family trafficked her.
God did I want Liam Neeson's character from Taken to come in this book and kick these bad YA parents' asses to the Moon.
They are that horrible.  And upon reflecting on it, I don't know which one I disliked more.  The mother was annoying beyond belief and needed to be shaken, stirred, and then booed off Jerry Springer seven or eight times but the dad is just as bad in a different way.  But the thing is Saeed wrote them in such a way where they actually feel realistic.  And in the beginning of the book, you could almost buy them as misguided.
But then you totally want to hire some action star like Liam Nesson or Chuck Norris to come save Naila from them and bring them some good old fashion Lifetime justice or something.
I have to say that was one of my issues with this book, I didn't get the resolution I wanted with the parents that I wanted.  I don't think really any resolution would've been okay, given the circumstances.  But I was sort of meh with how that relationship was resolved.
Besides the arrange marriage drama that this story evolves around, it brings up several other issues like the rights of women.
Women's rights are very limited in parts of the world and I like how this book sort of goes about showing this.
Even though, I loved this book for the most part I couldn't help that maybe it would've benefited being fleshed out in certain parts a bit more.
For such heavy themes it's a short book.  I like the fast pace, but I felt that parts of the book could've been more gut wrenching if certain characters and scenes were developed further.
If you want a contemporary that discusses real word issues that are often overlooked read this book.  While I wish some things were fleshed out more it was very thought provoking.
Overall Rating: A-