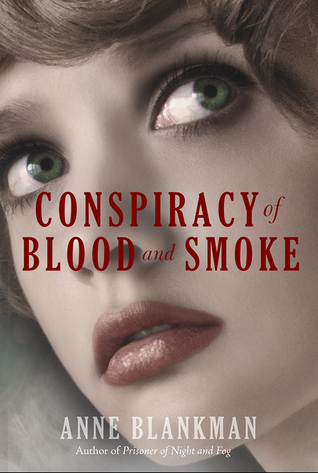 The girl known as Gretchen Whitestone has a secret: She used to be part of Adolf Hitler's inner circle. More than a year after she made an enemy of her old family friend and fled Munich, she lives with a kindly English family, posing as an ordinary German immigrant, and is preparing to graduate from high school. Her love, Daniel Cohen, is a reporter in town. For the first time in her life, Gretchen is content.

But then, Daniel gets a telegram that sends him back to Germany, and Gretchen's world turns upside-down. And when she receives word that Daniel is wanted for murder, she has to face the danger she thought she'd escaped-and return to her homeland.

Gretchen must do everything she can to avoid capture and recognition, even though saving Daniel will mean consorting with her former friends, the Nazi elite. And as they work to clear Daniel's name, Gretchen and Daniel discover a deadly conspiracy stretching from the slums of Berlin to the Reichstag itself. Can they dig up the explosive truth and get out in time-or will Hitler discover them first?

Source: GoodReads
I was really excited for this sequel,but when I started reading it I was like…
There's no reason why a sequel was needed.
Seriously, everything was wrapped up nice enough, and when the catalyst was moved forward for this book I was just kind of like you stupid people.
It reminded me a lot of the whole Natalie and Aaron situation on The Winds of War, which if you haven't seen it is this eighteen or so hour miniseries that takes place prior to World War II.  Just like this book.  And just like this book there are character that could've gotten out of danger  but they still our dumb enough put themselves in danger time after time again until they almost get killed.
To be fair, I should've known as much when I opened the book.  But I was really hoping that Blankman would've had a better explanation for these characters heading back to Hitler's viper nest than they did. Prisoner of Night and Fog was really my favorite dark horse read of 2014.  This not so much.
It doesn't mean that the writing suffered.  It was quite good.  The book was also well researched and I did feel like I learned a lot from it. The thing is, it wasn't necessary.
Plus, I just grew tired of the relationship.
I've honestly never shipped these two together.
But the romance was tolerable in the first one.  Here it might be a little too on the innocent side.  I get that people weren't as open with PDA and that there would less likely be anything beyond (if they even got there) second base with these two before marriage, but I didn't even feel like these too emotionally were connected.
Or for that matter felt really any chemistry.  Their relationship, if anything was a plot point.  Which is a shame because I wanted to love this ship.
I just didn't though.
I think in the end Conspiracy of Blood and Smoke isn't a bad book, but it just didn't do it for me. I blame it partially on how much it's predecessor wowed me.  It's not a book, the core elements are there, but it was just sort of a meh.
Overall Rating: A solid B.