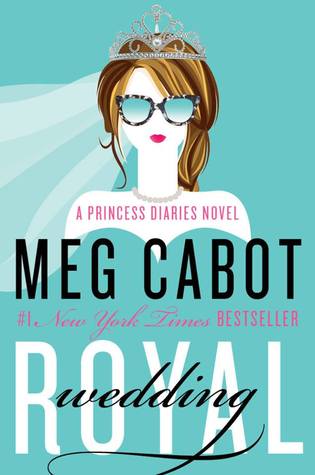 From the #1 New York Times bestselling author of the Princess Diaries series, comes the very first adult installment, which follows Princess Mia and her Prince Charming as they plan their fairy tale wedding–but a few poisoned apples could turn this happily-ever-after into a royal nightmare.

For Princess Mia, the past five years since college graduation have been a whirlwind of activity, what with living in New York City, running her new teen community center, being madly in love, and attending royal engagements. And speaking of engagements. Mia's gorgeous longtime boyfriend Michael managed to clear both their schedules just long enough for an exotic (and very private) Caribbean island interlude where he popped the question! Of course Mia didn't need to consult her diary to know that her answer was a royal oui.

But now Mia has a scandal of majestic proportions to contend with: Her grandmother's leaked "fake" wedding plans to the press that could cause even normally calm Michael to become a runaway groom. Worse, a scheming politico is trying to force Mia's father from the throne, all because of a royal secret that could leave Genovia without a monarch. Can Mia prove to everyone–especially herself–that she's not only ready to wed, but ready to rule as well

Source: GoodReads
For anyone who wants to a do a sequel starring their YA characters in the adult world, you need to read this book.  Meg Cabot does what other authors have failed to do.  She ages her characters up, but they are still themselves and its refreshing rather than painful again if you read the books growing up you NEED to read this book.
Royal Wedding is not a perfect book, but to fans it is as close as perfect as you get.  Well, for this fan anyway.  Aside from a few nitpicks that I had about the handing some legal things (since I am an attorney and get cranky about those sorts of things) I loved this book.
Though, I do approve of Lilly becoming an attorney.  It's a good career for her.  She's nasty enough, though it actually seems that law school might've been good for the soul for her (she's probably the only person in the world that I can say this to, since law school AND studying for the bar usually turns someone into a horrible person).  And if I was Lilly I probably wouldn't have been so nice to Mia about her wedding date, you just don't do anything other than study the week before the bar.  Really, once you begin BARBRI you don't want to be around people and practically grow mad skills over night at giving people the stink eye.
Okay, little law school/lawyer rant done now to the more important things (discussing the book).
It was sooo wonderful.
I really enjoyed seeing the gang at this point in their lives and would love to see more.  A part of me would like to see some of Mia's friends get their own stories published like maybe Tina and Lilly.  I would love to see more of Lilly especially with her possible new relationship, and that sounds really weird given how I felt about her in previous installments.
Michael is even more awesome than I remembered.  He grows better in age like fine wine.  Seeing him and Mia as adults was refreshing.  There's no talk about her precious gift (thank God) anymore and instead they are being quite cute and sexy together.  I really wish they would've had "Tall Drink of Water" as their first dance though.  I liked their playlist.  But man, that song defined their relationship in the YA series.  Oh, and "Princess of My Heart".
Michael…… Smells his fictional neck.
The scenes in the island were done quite well.  Note, Stephenie Meyer this is how island romance is suppose to be.  Not some deranged vampire that beats his virgin bride here, Michael and Mia's relationship is healthy and their island getaway is romantic.
And just so magical.
I'll probably keep saying that phrase throughout this review.
The rest of the plot was good too.  Mia's family is just as wacky as I remembered.  While less attention is paid to her Mom and Rocky than in previous installments (RIP Mr. G), her paternal relatives are in center stage.
I sort of had some issues with Mia's dad in this one.  Mainly because he seemed so OOC in this installment in comparison to the earliest installments.  Seriously, it felt like Phillipe was having a bit of a mental meltdown and it did make some sort of sense as the book progressed.  But I almost felt as if his recovery might've been a bit more sudden.
Just my two cents.
Olivia was adorable.  Reading her story in conjunction with Royal Wedding really gives another dimension to this book since we're looking outside Mia's head for once.
While Royal Wedding for the most part was predictable, there were some parts that weren't that predictable coming in-though there were some rather anvil sized hints but I still was a bit surprised that Meg went there.
Would I feel the same elation about Royal Wedding had I not read the original series, I really don't know.  However, as a long time fan of this series it really did work for me.
Overall Rating: A solid A.
Wait…the binge reading of Meg Cabot books isn't done yet.  Starting this fall I'm going to be rereading The Mediator series in preparation for it's February 2016 release.