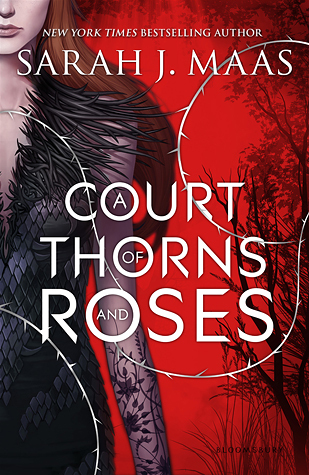 A thrilling, seductive new series from New York Timesbestselling author Sarah J. Maas, blending Beauty and the Beast with faerie lore.

When nineteen-year-old huntress Feyre kills a wolf in the woods, a beast-like creature arrives to demand retribution for it. Dragged to a treacherous magical land she only knows about from legends, Feyre discovers that her captor is not an animal, but Tamlin—one of the lethal, immortal faeries who once ruled their world.

As she dwells on his estate, her feelings for Tamlin transform from icy hostility into a fiery passion that burns through every lie and warning she's been told about the beautiful, dangerous world of the Fae. But an ancient, wicked shadow grows over the faerie lands, and Feyre must find a way to stop it . . . or doom Tamlin—and his world—forever.

Perfect for fans of Kristin Cashore and George R. R. Martin, this first book in a sexy and action-packed new series is impossible to put down!

Source: GoodReads
Probably one of my favorites so far this year.
Well, that's a way to start a review.
But this book…
I will be fangilring a lot in this review and that's not like me, but this book was just so wonderful.  Yes, it had some faults.  But I think the faults worked with the book and it really was so magical, wonderful, sensual, and ridiculously sexy and…
I'm in love.
Which surprised me since I wasn't a huge fan of Throne of Glass.  I never got the hype of that series (I've only read one book), but it really is wonderful.
I know, that I said that Cruel Beauty is probably my favorite YA retelling of Beauty and the Beast, but this book beats it.  And it involves fae and I'm normally not a fae person.  But the way that Mass immerses the reader slowly into the fae world, it really works.
To where I dare say it, I sort of want to give fae in general another chance.
I'll probably be taking things slow.
But I will definitely be reading this book's sequel.
Yes, sequel.
It has a sequel.
Or will.  And I oddly want one, even though you'd think that a Beauty and the Beast retelling would be squeezed into one book.
And well, yeah, the fairytale aspect sort of was done in this installment but there's so much more to explore.
I think one of my favorite things about this book was its characters.  I loved almost all of the characters in this book.  The leads were developed.  Even though Feyre got on my nerves at times, Mass at least addressed the fact that she was annoying.
And the men in this book.
Fans self.
I want them all.
Give them to me.
Tamlin was the perfect dark mysterious lord of the manor-or high lord if you want to get techical.  The character sort of has that whole Darcy growing effect on you.
And then there's Lucien who is just downright delicious, especially since he's firmly in non-romantic zone.  And I really liked that in the book.
And then there's Rhys.
I am surprised with how much I like Rhys in the dark and creepy type of way.  He's a character I really can't wait to see what Mass does in future installments.
The villainess in this installment was positively bat shit insane evil and I loved her because she was just so evil.  Really, the last third of the book is such a departure from the first two thirds.  While the first two thirds of the novel works on relationship building and character building, things totally pick up towards the end.  The book went from feeling seductive and sensual, to being over the top filled with intense action.
It has a little bit of everything in it.
As I said before, if I had to pick on anything if would be Feyre's sometime stupidity.  I like the fact it's addressed though, rather than pushed under the rug.  And she's not stating to be the world's greatest assassin  so there's a plus for her there.
The action, again is somewhat similar to Throne of Glass too, but there's enough differences there where Crown of Thorns and Roses is truly its own.
Overall Rating: An A. Very, very, enjoyable.