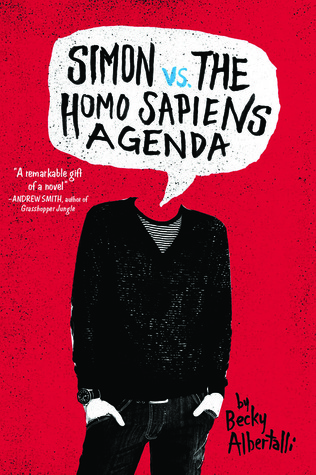 Sixteen-year-old and not-so-openly gay Simon Spier prefers to save his drama for the school musical. But when an email falls into the wrong hands, his secret is at risk of being thrust into the spotlight. Now Simon is actually being blackmailed: if he doesn't play wingman for class clown Martin, his sexual identity will become everyone's business. Worse, the privacy of Blue, the pen name of the boy he's been emailing, will be compromised.

With some messy dynamics emerging in his once tight-knit group of friends, and his email correspondence with Blue growing more flirtatious every day, Simon's junior year has suddenly gotten all kinds of complicated. Now, change-averse Simon has to find a way to step out of his comfort zone before he's pushed out—without alienating his friends, compromising himself, or fumbling a shot at happiness with the most confusing, adorable guy he's never met.

Source: GoodReads
If you can't eat Oreos you might want to avoid reading this book because they're referenced so much that after you read it that's all you'll want to do eat Oreos and watch You've Got Mail (which reminds this book a lot.  Except this book is better because it features diversity in multi-facets.
Let's talk about Simon.  While the story dealt with him coming out to his friends and families, it wasn't a message book by any means.  That's a huge thing for me in finding good diverse books.  I don't want them to be message books because honestly, I don't want to be taught some grand lesson.  I just want a book that explores someone's life who's not a WASP.   Although, occasionally I have read a couple of good message books.
The thing is Simon vs the Homo Sapiens Agenda is at it's heart a fluffy contemporary.  And it's so hard trying to find a light and fluffy book starring non-straight characters.  So, having something like this available in stores is huge.
And it's so good.  Simon's voice shines through throughout the entire book.  He's hilarious.  Endearing.   And I like how while there is a romance, the focus of the story is on finding yourself and friendship.  In fact, the romance might've been the books weakest element even though it was pretty cute.  I really liked the set up on the romance and how you had to guess who Blue was.  As I said before if they were having one of those damn comparison blurbs they'd probably say that this book was like You've Got Mail. 
However, the actual interactions outside of the email relationship were a bit weird and while fairly realistic there was just something about it that felt a little off-I'm not going to go into much more for spoiler reasons.
As I said before, the strong points of the novel involved the relationship between Simon and his family and friends.  It all felt very realistic and put together, and I enjoyed the fact that the friends had relationship drama that did not involve Simon.
If you want to read something that's a little different and fluffy, I recommend giving this one a read.
Overall Rating: A B+