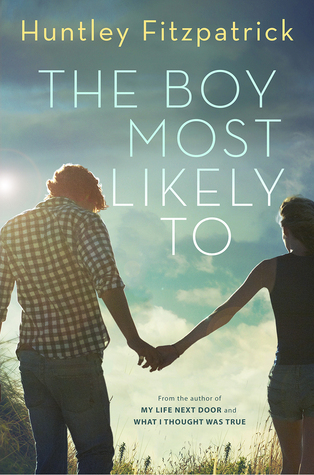 Surprises abound and sparks ignite in the highly anticipated, utterly romantic companion to My Life Next Door

Tim Mason was The Boy Most Likely To:
– find the liquor cabinet blindfolded
– need a liver transplant
– drive his car into a house

Alice Garrett was The Girl Most Likely To:
– well, not date her little brother's baggage-burdened best friend, for starters.

For Tim, it wouldn't be smart to fall for Alice. For Alice, nothing could be scarier than falling for Tim. But Tim has never been known for making the smart choice, and Alice is starting to wonder if the "smart" choice is always the right one. When these two crash into each other, they crash hard.

Then the unexpected consequences of Tim's wild days come back to shock him. He finds himself in a situation that isn't all it appears to be, that he never could have predicted . . . but maybe should have.

And Alice is caught in the middle.

Told in Tim's and Alice's distinctive, disarming, entirely compelling voices, this return to the world of My Life Next Door is a story about failing first, trying again, and having to decide whether to risk it all once more. 

Source: GoodReads
I don't like babies in YA.
I'm sorry.  Even if you're an amazing author, which Huntley Fitzpatrick pretty much is.  If you have a YA book about teens with babies and I don't know about it until I'm like a hundred pages into the book, it's pretty obvious I'm going to DNF you.
Freaking babies.
I had been looking forward to The Boy Most Likely To since I heard it was actually going to be a thing.  I enjoyed the Tim and Alice subplot in My Life Next Door and was interesting to see how their story would play out.
I did not think it would involve a baby.
To be fair to the book, if this sort of plot is your thing it's a decent book.  True, I wasn't engaged as I was with My Life Next Door and to a degree What I Thought Was True, the writing wasn't bad.  It still flowed very nicely, even though Fitzpatrick decided to change up her narration by using dual protagonists.
And to be fair,  I thought that Tim sounded like a fairly realistic teenage boy.  Though, that probably slightly diminished the swoon factor on his part-just saying.  Though, the baby really made the swoonage pretty much  non-existant.
Damn babies.
Yeah, I'm going to keep mentioning how much I disliked the babies in this DNF review because it was the straw that broke the camel's back.  I think if I had some warning going in, I wouldn't have been disgusted enough to set the book down. Also, it would've helped if maybe I got to know Tim and Alice as leads a little bit more before throwing in a damn baby.
Really, other than Alice being exhausted and a bit of a jerk I really didn't know that much more about her than I did in My Life Next Door.
I blame the stupid baby for that.
Everyone has their tropes that they dislike, and this in mine.
Grumbles.
It really took this book and ruined it like a lead balloon. And I snuck a peak at the end, so I know I'm really not missing anything worth while.
As for a DNF, I'm giving this one a tad bit higher rating because it was well written.  It just had a very stupid trope in it that ruined it for me.  And these days, I just don't have time to read anything that I know I'm going to force myself to read.