Fall is coming up and haven't done this feature in a few months.  So I thought, since we're getting into a new season I should look at some covers that give the audience an autumn-y feel.
What the Cover Says:
It's a retelling of Mary Poppins!  Where Mary and Bert actually get together.  Which is the most important part, obviously.  But for the retelling bits, Mary is a UK transplant working in NYC as a nanny to pay her tuition.  Bert of course is no longer sweeping chimneys, but is the Banks oldest son that was conceived before George's first wife died of botched plastic surgery.  But Mary and Bert, KISSING.
What the Book Really Is About:
Pretty and popular track star Marijke Monti is confident about almost everything – she's got great friends, a great family, and she's on her way to the State Track Championship. In fact, the only thing Marijke isn't confident about is her relationship with Tommy Lawson.

Lily Spencer has spent her entire high school career preparing for the future – she's participated in every extracurricular activity and volunteer committee she could. But, at home, she watches her mother go on date after date with dud-dudes, still searching for "the one." Lily realizes that she's about to graduate and still hasn't even had a boyfriend.

While they live on each other's periphery at school, Lily and Marijke never seemed to have much in common; but, after a coincidental meeting at the movie theater, Lily gets an idea – why can't life be like a movie? Why can't they set up their perfect romantic situations, just in time for their senior prom, using movie techniques?

Once the girls come up with the perfect plans, they commit themselves to being secret cohorts and, just like in the movies, drama ensues.

Source: GoodReads
Rise or Fall:
Fall.  I usually don't like taking kissing couple books out in public.  And what's up with the umbrella?  That's more spiring-ish, BUT the leaves on that tree clearly state fall.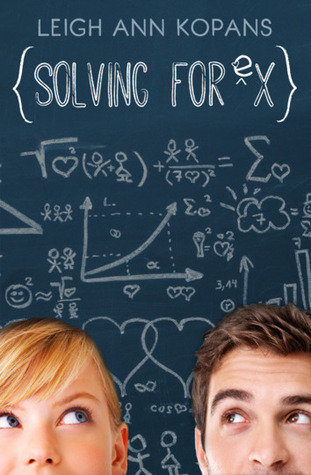 What the Cover Says:
Ellie has a crush on Will, who happens to be her Math teacher.  Her very young, very hot math teacher.  But…what occurs is a painful read of pining, badly behaved teachers, and a groan worthy PSA themed ending.
What the Book is Really About:
1 crush on your best friend +
1 gorgeous, scheming new girl +
1 Mathletics competition =
1 big mess

SIMPLIFY.

Ashley Price doesn't have much in life after being bullied so hard she had to leave her old school to live with her aunt and uncle in Pittsburgh. But the camera she borrowed from her best friend and secret crush Brendan, and her off the charts math abilities, make things a lot more bearable. Plus, since Brendan is the captain, making the school Mathletes team should be easy.

But when gorgeous new girl Sofia rolls in and steals Brendan, Ashley's place on the team, and her fragile foothold on the Mansfield Park Prep social totem pole, it's on. Sofia is everything Ashley left her old school to escape. The only thing Ashley didn't count on is Sofia's sexy twin brother Vincent.

Vincent is not only the hottest boy in school, he's charming, sweet, and he's got his eye on Ashley. He's also not taking no for an answer. There's no real reason Ashley shouldn't like Vincent, but with the
battle lines being drawn between her and Sofia, Ashley's not sure which side he's on. Or which side she wants him to be on.

She does know Sofia is trouble with a capital T, and she's determined to make Brendan see it.

SOLVING FOR EX is a YA contemporary romance that remixes Mansfield Park as Clueless meets Mean Girls in a crazy mix of high school society, mathletic competition, and teenage romance.

Source: GoodReads
Rise or Fall: 
Falls big time.  Yes, it does fit the fall theme with going back to school and the backboard.  But that guy looks sort of creepy, i.e. with the way his eyebrow is being raised.  And you could almost, almost say that he's the girl's young teacher.  And can I just say ew.
What the Cover Says:
Gabriella has had a crush on her best friend Erin for years, but never acted like it.  Until she finds out that Erin is moving in three days.  In three days a lot of things can happen, but what happens after Erin moves? Will it even matter?
What the Book is Really About:
Reagan Forrester wants out—out of her trailer park, out of reach of her freeloading mother, and out of the shadow of the relationship that made her the pariah of Charytan, Kansas.

Victoria Reyes wants in—in to a fashion design program, in to the arms of a cute guy who doesn't go to Charytan High, and in to a city where she won't stand out for being Mexican.

One thing the polar-opposite best friends do agree on is that wherever they go, they're staying together. But when they set off on a series of college visits at the start of their senior year, they quickly see that the future doesn't look quite like they expected. After two years of near-solitude following the betrayal of the ex-boyfriend who broke her heart, Reagan falls hard and fast for a Battlestar Galactica-loving, brilliant smile-sporting pre-med prospective… only to learn she's set herself up for heartbreak all over again. Meanwhile, Victoria runs full-speed toward all the things she thinks she wants… only to realize everything she's looking for might be in the very place they've sworn to leave.

As both Reagan and Victoria struggle to learn who they are and what they want in the present, they discover just how much they don't know about each other's pasts. And when each learns what the other's been hiding, they'll have to decide whether their friendship has a future.

Source: GoodReads
Rise or Fall:
Rise.  I like this cover.  It really conveys a mood, but there's still an element of mystery.  Plus, I feel there's a bit of fall to it.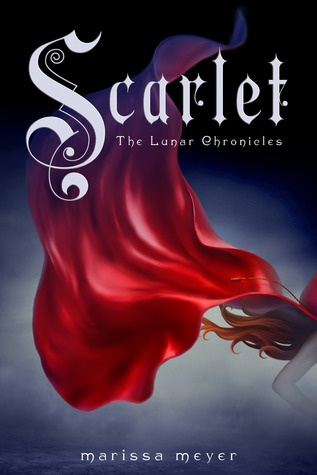 What the Cover is About:
Red is investigating a serial character that goes by the name Wolf.  Her best bet is to become one of his victim's.  Of course, complications arise.
What the Book is Really About:
Cinder, the cyborg mechanic, returns in the second thrilling installment of the bestselling Lunar Chronicles. She's trying to break out of prison–even though if she succeeds, she'll be the Commonwealth's most wanted fugitive.

Halfway around the world, Scarlet Benoit's grandmother is missing. It turns out there are many things Scarlet doesn't know about her grandmother or the grave danger she has lived in her whole life. When Scarlet encounters Wolf, a street fighter who may have information as to her grandmother's whereabouts, she is loath to trust this stranger, but is inexplicably drawn to him, and he to her. As Scarlet and Wolf unravel one mystery, they encounter another when they meet Cinder. Now, all of them must stay one step ahead of the vicious Lunar Queen Levana, who will do anything for the handsome Prince Kai to become her husband, her king, her prisoner.

Source: GoodReads
Rise or Fall:
Sort of a rise.  The cover is probably my least favorite for the series, but it fits.  Enough.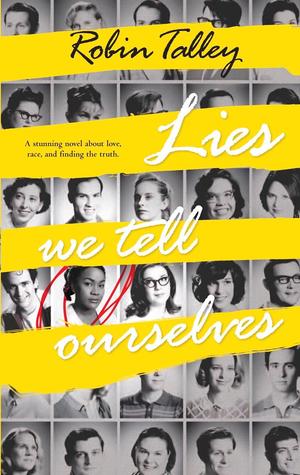 What is the Cover About:
It's Gossip Girl 1960's style.  Where social change is happening in more than one way.  This book is the beginning of a series explores the way that one school explores these changes throughout this decade.
What the Book is Really About:
In 1959 Virginia, the lives of two girls on opposite sides of the battle for civil rights will be changed forever.

Sarah Dunbar is one of the first black students to attend the previously all-white Jefferson High School. An honors student at her old school, she is put into remedial classes, spit on and tormented daily.

Linda Hairston is the daughter of one of the town's most vocal opponents of school integration. She has been taught all her life that the races should be kept separate but equal.

Forced to work together on a school project, Sarah and Linda must confront harsh truths about race, power and how they really feel about one another.

Boldly realistic and emotionally compelling, Lies We Tell Ourselves is a brave and stunning novel about finding truth amid the lies, and finding your voice even when others are determined to silence it.

Source: GoodReads
Rise or Fall:
Rise.  It really does have that back to school sort of feel with the yearbook photos.