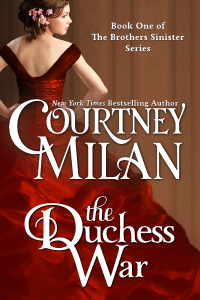 Sometimes love is an accident.

This time, it's a strategy.

Miss Minerva Lane is a quiet, bespectacled wallflower, and she wants to keep it that way. After all, the last time she was the center of attention, it ended badly–so badly that she changed her name to escape her scandalous past. Wallflowers may not be the prettiest of blooms, but at least they don't get trampled. So when a handsome duke comes to town, the last thing she wants is his attention.

But that is precisely what she gets.

Because Robert Blaisdell, the Duke of Clermont, is not fooled. When Minnie figures out what he's up to, he realizes there is more to than her spectacles and her quiet ways. And he's determined to lay her every secret bare before she can discover his. But this time, one shy miss may prove to be more than his match…

Source: GoodReads
I first came across Courtney Milan's name when reading about the Ellora's Cave/Dear Author case.  Her legal analysis on the case were pretty much on the ball and entertaining to read (something that's difficult to do when it comes to talking about law stuff).  So, I decided that, hey, if she can make boring old law interesting, she can probably write a mean book.
When browsing through her catalogue, The Duchess War really caught my eye for a lot of different reasons and I had to give it a shot.
To be frank, I haven't read a lot of historical romances published in the past few years.  Most of my historical romances are from my mom's catalogue and it includes a lot of 80's bodice rippers that arent' very smart.
This book is smart.  When it comes to the time period and its characters.  It has it down pact.  Especially in the first half of the book.  The depiction of the characters was my favorite thing about this book.  I loved how the attraction that Robert had towards Minnie wasn't one of initial physical attraction and that Minnie was never really described as a great beauty.  They really shared great chemistry and I actually felt the swoon for once in a romance novel.
That was a nice change.
I loved that both of them were damaged and that it effected their lives realistically.
What I didn't like was how the fallout of the revelations of their secrets and character development of the second half was done.
It just felt rushed to me.  The first half, I was more than a little impressed.  But the second half was more or less a disappointment.  While Robert did get some resolution, Minnie really didn't.  Oh, yeah, she got a happily ever after but it really didn't feel like to me she confronted all her issues. And whatever happened to the aunts?
Which is sad, because the first half of the book really felt like it was going more towards the road of character development which I liked.
Still though, I was pretty impressed with the book.  The sex scenes weren't awkward by any means or overwhelming.  A lot of the time I usually roll my eyes when there are like one hundred page sections-total-in a book devoted to the sex.  But there are only a few scenes in this novel, and it's done tastefully.
I will definitely be reading more of Courtney Milan's stuff in the future.  While The Duchess War wasn't a perfect book, there were a lot of things that keep my interest.  At the very least, it allowed me to use period gifs again and that's always a good thing.
Overall Rating: A B+