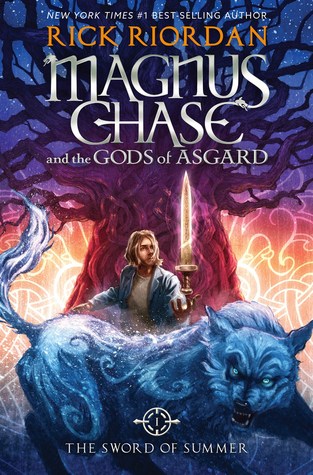 Magnus Chase has always been a troubled kid. Since his mother's mysterious death, he's lived alone on the streets of Boston, surviving by his wits, keeping one step ahead of the police and the truant officers.

One day, he's tracked down by a man he's never met—a man his mother claimed was dangerous. The man tells him an impossible secret: Magnus is the son of a Norse god.

The Viking myths are true. The gods of Asgard are preparing for war. Trolls, giants and worse monsters are stirring for doomsday. To prevent Ragnarok, Magnus must search the Nine Worlds for a weapon that has been lost for thousands of years.

When an attack by fire giants forces him to choose between his own safety and the lives of hundreds of innocents, Magnus makes a fatal decision.

Sometimes, the only way to start a new life is to die . . .

Source: GoodReads
Bookish Confession: I never read a Riordan book before.
I don't know why, I know they're extremely popular, but they've sort of flown under the radar for me.
I picked this one up though, mainly because I am interested in learning more about Norse mythology and have just had such horrible luck finding such a book that's decent.
Grant it, the one series I read with Norse mythology in it was The Witches of East End (ugh, Uncle Arthur and Freddie) and that series pretty much blows, so anything has to be an improvement on it.
I actually liked The Sword of Summer quite a bit.  Magnus was an interesting main character, and the book didn't fall to many pitfalls that other books in the genre did.
I think what I liked the best about it that it wasn't romance heavy at all.  In fact, there was no romance there.  And sometimes, just sometimes I want a romance free novel and this is it.
I think if I was to describe this book it would be like a buddy flick with some Thor thrown in.  It's just pure fun.  To be fair though, I don't know if it handles it's source material with that much accuracy.  Then again to be fair, it just might.  My recollection of Norse myths are pretty bleak.  Ask me about Greek mythology and then I can get picky.  So if I knew more about Norse mythology, I might've not had liked it as much as I did.
The characters are all fleshed out.  The main character was delightful and felt surprisingly realistic, despite his circumstances.  The actual plot, while using the typical quest formula didn't feel old to me like it usually does in these sorts of books.  I also liked how there were humor in this book.  It's so hard to find humor-at least entertaining humor in YA these days.
The thing is, even though I enjoyed The Sword of Summer, it was hardly a perfect book.  It was a little bit on the cheesy side, and I could see the series quickly going down hill, but right now I enjoyed it for what it was.
Overall Rating: A solid B+ a nice start to the start of a series especially if you're a Norse or Riordan neophyte like yours truly.