It's time to see if I epically failed or succeeded in my 2015 reading goals.  Expect another post with my 2016 reading goals in the near-ish future.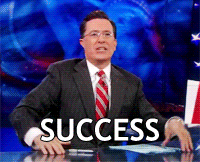 2015 Goals:
1) I want to read about seventy-five books next year.  A realistic goal, I think given the fact my work schedule can be unpredictable and sometimes I need a breather.  It's a little bigger than last year's goal which I finished ridiculously early.]
Win.  I already have read 107 books at the draft date of this post.
2) Try to save more $.  Yeah, probably not going to happen.  I intend to continue my TBR pile feature, to sort of weed out preorders.  My library's website now features a new release request tab and I'm exploiting it to the fullest. Oh, and I'll continue to use Netgalley and Edelweiss too.  Though both those sites can be hit and miss-especially Edelweiss.
Fail.  I probably spent more in books this year since I moved and my new local library sucks major ass.  Though, the good news is that I am being more selective in my picks so that's sort of a win.
3) Go to a book signing.  My eyes are set on the Marissa Meyer signing this winter, since I have nothing signed by her and she's supposed to do a signing that's like thirty minutes from where I live-which is better than the hour I usually have to drive to signings.  Also, it's sort of a retry of a failed goal of 2014.
Win.  Went to the Marissa Meyer signing way back in February.  Here's a recap here.
4) Try to get into more YA adaptations.  Movies, TV shows, etc.  And try to find good ones-this might be harder than it looks .
Fail.  Really, didn't have that much time for TV this year.  Plus, none of the adaptions they make really are my speed.  Seriously, what's wrong with turning The Mediator into a TV show or making a Lunar Chronicles or Anna and the French Kiss movie?
5) Be more forgiving to myself.  If I hate a book or series, I shouldn't guilt myself into reading x amount of pages before giving up.  If it doesn't work, it doesn't work.
Win.  I loosened up my DNF policy a little bit and surprisingly I think I DNF'd a little less this year than in years past.
6) Try to limit drunk reviews.  I'm sure they're going to happen, but I really don't want to do any drinking game series this year.  Rather, I want to binge read series I actually like.
Win (for the most part).  I didn't drunk review any series, but I did read a Collen Houck book or part of one and that sort of bumped me down a little bit.
7) Try not to get  sucked up by it's like so and so.  Remember, it's more than likely not going to be like so and so.  Don't buy a book just because it's like so and so.  If it does mention fandoms your obsessed with, but it has a lot of bad reviews……library it.
Um, sort of fail.  Honestly, blurbs still get to me.  But I've ben a little bit more skeptical about them so that's a plus.
8) Princess Diaries Challenge. Since I'm going to be reading the adult princess diaries book this spring, I need to binge read on the series to catch up.  And that includes the half books.  I also plan on rereading the Mediator series later this year-early next year-since a sequel to that book is coming out as well.
Win.  Already finished both binge reads-though Mediator reread series will continue to be posted next year.
9) Read for Fun. Sometimes I think I read too much to review than just to read.  I think I'm going to try to change.
Win.  I started reading more historical romances after a burn out and that's not what this blog is really intended for.  So I'm counting it a win.
10) Try to do more innovative reviews.  Yeah, it's sort of a lame goal.  But still, I always want to make each review more and more creative and still informative.
I really don't know if I succeeded on this one or not.