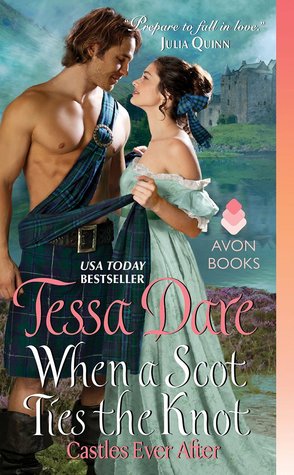 On the cusp of her first London season, Miss Madeline Gracechurch was shyly pretty and talented with a drawing pencil, but hopelessly awkward with gentlemen. She was certain to be a dismal failure on the London marriage mart. So Maddie did what generations of shy, awkward young ladies have done: she invented a sweetheart.

A Scottish sweetheart. One who was handsome and honorable and devoted to her, but conveniently never around. Maddie poured her heart into writing the imaginary Captain MacKenzie letter after letter … and by pretending to be devastated when he was (not really) killed in battle, she managed to avoid the pressures of London society entirely.

Until years later, when this kilted Highland lover of her imaginings shows up in the flesh. The real Captain Logan MacKenzie arrives on her doorstep—handsome as anything, but not entirely honorable. He's wounded, jaded, in possession of her letters… and ready to make good on every promise Maddie never expected to keep.

Source: GoodReads
If this book would've been written twenty or so years ago, I would've hated it.  That being said, I'm okay with it, but I didn't love it like several people did on GoodReads.
I sort of blame the tropes that were used more than the writing and characters themselves.
I mean, come on it's the blackmail trope.  You're going to sort of get a dick hero with this trope-I mean, dude (albeit hot dude in kilt) blackmails mousy rich English lady with property into marrying him.
I sort of wanted to castrate Logan at that part, but the more I read the book, I found I couldn't hate Logan.  If this would've been a late 80's Catherine Coulter book, I'm sure I would've found plenty of reasons to hate him-Coulter's blackmail trope usually consists of multiple abuse and rape scenes-but Logan really wasn't that abusive and actually had some charm about him despite the rather sketchy move.
And I could sort of (if I squint) get his motivations for blackmailing Maddie.
Though, even though he had good natured intentions it was still a dick move.
I really did like Maddie though.  I thought she was a well formed MC with some quirks.  I could so identify with her anxiety, I hate attending social gatherings myself and am a major introvert at that.  I liked that despite not liking parties and dancing, she's not an outright hermit and has interests of her own.
The supporting cast could've used some fleshing out, but  for the most part they were enjoyable enough (I guess).  I really liked Maddie's aunt, and from what I saw of Logan's men they were interesting enough.
Overall this was quick romp that was fun to read.   While I originally wasn't a huge fan of this couple, I warmed up to them.
Overall Rating: A B.