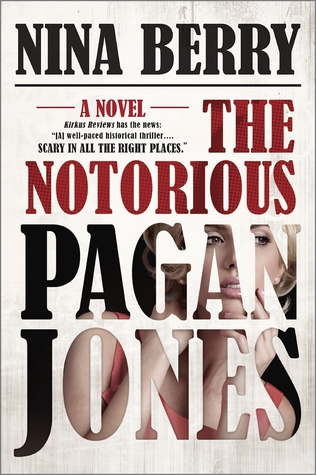 Pagan Jones went from America's sweetheart to fallen angel in one fateful night in 1960: the night a car accident killed her whole family. Pagan was behind the wheel and driving drunk. Nine months later, she's stuck in the Lighthouse Reformatory for Wayward Girls and tortured by her guilt—not to mention the sadistic Miss Edwards, who takes special delight in humiliating the once-great Pagan Jones.

But all of that is about to change. Pagan's old agent shows up with a mysterious studio executive, Devin Black, and an offer. Pagan will be released from juvenile detention if she accepts a juicy role in a comedy directed by award-winning director Bennie Wexler. The shoot starts in West Berlin in just three days. If Pagan's going to do it, she has to decide fast—and she has to agree to a court-appointed "guardian," the handsome yet infuriating Devin, who's too young, too smooth, too sophisticated to be some studio flack.

The offer's too good to be true, Berlin's in turmoil and Devin Black knows way too much about her—there's definitely something fishy going on. But if anyone can take on a divided city, a scheming guardian and the criticism of a world that once adored her, it's the notorious Pagan Jones. What could go wrong?

Source: GoodReads
It's been a DNF week.  I do not lie about that.  The one good thing about DNF'ing things left and right is that I am sort of catching up on my GoodReads reading challenge.  Though some people might find that a bit of a cheat, but I don't.  And that's all that matters.
With Downton Abbey ending I have been craving period pieces.  I've had The Notorious Pagan Jones in my TBR pile for what seems forever.  The premises intrigued me enough, but with the bar and everything else I just sort of forgot about it.
The Notorious Pagan Jones takes place in the 1960's at the height of the Cold War.   Pagan is a fallen film star, think Lohan but with manslaughter added to her record.
Honestly, I didn't like Pagan.
I like imperfect heroines, but I like them to own their fuckups.  Pagan really doesn't seem to think she deserves to be in jail, she tried to escape, despite killing her entire family.
To be fair though, if this was 2016 she'd probably have a pretty good defense using the affluenza card.  Though in 1960, being a poor little rich girl couldn't get you off on manslaughter.  It could though get you out of jail for free if you had the right connections and you were THE only actress who could play some minor film role.
To be honest, I think the book planned on expanding this point further, but as previous mentioned I DNF'd the book because 200 pages in, I still couldn't see where they were going with this.
Pagan, obviously, wasn't a very sympathetic character and other than her the only character were given any sort of details of was her guardian/love interest, Devin Black, and I didn't care for him too much either.  The fact that he's her nineteen-year-old guardian-who has no blood relation to Pagan (tell me exactly how that happens-current hypothesis is he's a vampire or something that's really a lot older than nineteen much like Edward Cullen) and sort of has a thing for her has me dumbfounded.  Much like the fact that a judge would allow a convicted felon to go to a foreign country to shoot a movie.
I did like that Berry was going to explore this era in history, but honestly with what I saw I lost interest.  Having a Ethan Couch/Lindsay Lohan hybrid who just mopes and complains about her circumstances is just really not that endearing to me.  All I wanted to do was shake her and tell her than she killed two people and that she is a horrible person because she doesn't realize the severity of her circumstances or at least attempts to repent.
Overall Rating: DNF.  Construction wise, I think it fails becuase the characters are just flat beyond belief and the pacing is horrid.