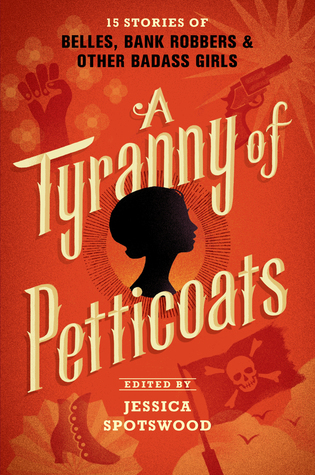 From an impressive sisterhood of YA writers comes an edge-of-your-seat anthology of historical fiction and fantasy featuring a diverse array of daring heroines.

Criss-cross America — on dogsleds and ships, stagecoaches and trains — from pirate ships off the coast of the Carolinas to the peace, love, and protests of 1960s Chicago. Join fifteen of today's most talented writers of young adult literature on a thrill ride through history with American girls charting their own course. They are monsters and mediums, bodyguards and barkeeps, screenwriters and schoolteachers, heiresses and hobos. They're making their own way in often-hostile lands, using every weapon in their arsenals, facing down murderers and marriage proposals. And they all have a story to tell.

With stories by:
J. Anderson Coats
Andrea Cremer
Y. S. Lee
Katherine Longshore
Marie Lu
Kekla Magoon
Marissa Meyer
Saundra Mitchell
Beth Revis
Caroline Richmond
Lindsay Smith
Jessica Spotswood
Robin Talley
Leslye Walton
Elizabeth Wein

Source: GoodReads
I was excited about this one to say the east, I mean look at that title and cover and little descriptive blurb "15 stories of belles, bank robbers, and other badass girls".    That has to be awesome, right?
Well, not so much.
To be honest, I almost stopped reading the collection after the first three or four stories.  They weren't really that bad ass, more lame ass and a little poorly written.
Le sigh.  Luckily, I kept on and there were some good ones amongst the muck.  Reviewing short story collection is always a difficult thing to do, because if I do a thorough review every story the review becomes a bit of an omnibus.  On the other hand if I just review it as a whole it sort of falls flat.  What I'm going to do here is review the best and the worst stories in the collection and the ones that were so so.  If you want to know more about one of the stories leave a comment after the review and I'll do my best to get back to you (wait, that was basically blogger voice mail).
The Good
The Red Raven Ball (Caroline Tung Richmond): This one was fun and could be continued on.  I really want some more YA set in the Civil War era.  There is a lot to explore in said era, and I liked that Richmond dealt with Lady Spies.
Pearls (Beth Revis): Oddly enough, I liked this one.  Which surprises me because I haven't exactly been a huge fan of the author's previous work.  I don't even think I finished her sci fi series.
Gold in the Roots of the Grass  (Marissa Meyer): It's by Marissa Meyer it has to be golden, right?  Actually what made me love this one was the fact that Meyer was able to write outside of her Lunar Chronicles series.  I love the set up for this one and it has the tiniest shades of The Mediator which is always a good thing.
Bonnie and Clyde (Saudra Mitchell): Maybe my favorite in the entire book.  Very engaging and I would very much like to see something like this developed into a larger story.
City of Angels (Lidsay Smith):  I liked the light Casabanca connection.  The story was easy enough to follow and the relationship was realistic with the page count and the constraints of the time period.
The Bad
Mother Carey's Table (J Anderson Coats): It was interesting enough, but confusing and what disappointed me the most about this one was that it barely touched the surface in what could've been an interesting story.
The Journey (Marie Lu): Boring.  Then again, I wasn't exactly a fan of Alaska survival stories.
El Destinos  (Leslye Walton): Confusing as hell.   I know that the writer was trying to use magical realism or whatever, but it just didn't work for me.
High Stakes (Andrea Cramer): This one was just a headache.  A lot of it doesn't make sense and unlike other authors who employed paranormal elements quite effortlessly with the page count they were given this one just has random vampires, jinn, and random anything else that was popular in 2006.
The Forgettable
The Legendary Garrett Girls (YS Lee) This one wasn't bad and it might be more interesting to me upon reread but I was just sort of blah about it.
The Color of the Sky (Elizabeth Wein): This one read like a textbook to me.  The premises looked so exciting, but blah.
Hard Times (Katherine Longshore): This one wasn't bad it was just that nothing happened.  The character development was decent though and I liked the character interactions.
Pulse of the Panthers (Kekla Magoon): This one just seemed like there was a fictional character witnessing history and I really didn't pay attention.
The Whole World is Watching (Robin Talley): The pacing was ridiculous.  Had this been a full novel, it might've worked better.  As it was though, eh.
Overall the collection squeaks by with a C+ from me.  There were some stories I really liked and then there were some stories I really did not like.