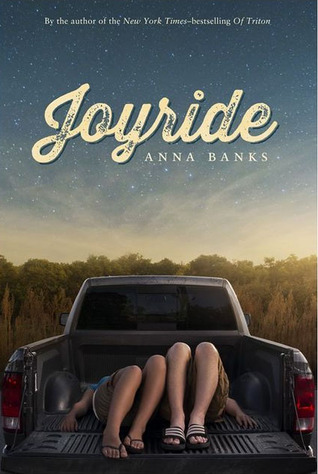 A popular guy and a shy girl with a secret become unlikely accomplices for midnight pranking, and are soon in over their heads—with the law and with each other—in this sparkling standalone from NYT-bestselling author Anna Banks.

It's been years since Carly Vega's parents were deported. She lives with her brother, studies hard, and works at a convenience store to contribute to getting her parents back from Mexico.

Arden Moss used to be the star quarterback at school. He dated popular blondes and had fun with his older sister, Amber. But now Amber's dead, and Arden blames his father, the town sheriff who wouldn't acknowledge Amber's mental illness. Arden refuses to fulfill whatever his conservative father expects.

All Carly wants is to stay under the radar and do what her family expects. All Arden wants is to NOT do what his family expects. When their paths cross, they each realize they've been living according to others. Carly and Arden's journey toward their true hearts—and one another—is funny, romantic, and sometimes harsh.

Source: GoodReads
Another DNF!
Party time.
I really hate DNF-ing things.  I think I've discussed this several times already.  But man, I really wanted to love this book.
The premises looks like it's going to discuss a really divisive issue-immigration.  God knows there needs to be a few books that discuss it especially YA books.  Immigration issues are not only a US issue but a world issue, and I was excited to read a book that was going to discuss them in such a way that would be applicable to real life (full disclosure: I studied and did a little work in Immigration law).
Skip this book.  It is a cliche.
So much that after a whopping sixty pages I DNF the book.
The book more or less was another YA cliche romance where The Mouse (female protagonist) falls in love with Mr. Tarnished Golden Boy (male protagonist) and each of them help deal with their various real life melodrama.
Barf.
The thing is, had the book been less of a cliche, I would have enjoyed it more.   The premises made it look like it was going to be more about the characters' personal struggles than their romance.  But as soon as Arden set his eyes on Carly he was like-damn, she is a fine piece of spunky ass and all of his problems were secondary.  Much like with Carly, I didn't really feel her dilemma becuase her focus was more on her relationship with Arden.
The structure of this novel is off putting.  It is duel points of view, which I have no problem with, but what made it confusing was that one point of view was written in first while the other was in third.  This made reading the book jarring and honestly I couldn't connect as much with Arden since his part of the story was in third and it was a distant third at best.
This actually saddens me, because I would like a really powerful book about this subject matter especially with the harsh, xenophobic attitudes that certain people seem to exhibit these days.  There are so many different problems and issues that immigrants face, and so many issues that people who aren't immigrants do not know about (just see a Trump rally, if you need an example if you need any other proof of ignorance).  Unfortuantely, this is not the book.
Overall Rating: A DNF.  The writing itself wasn't the best and it just made me even more displease to see what could be an interesting and relevant topic to explore be condemned to YA cliche-ness.