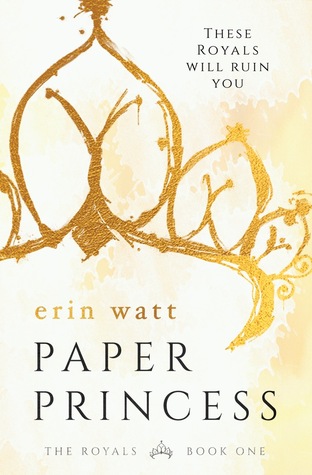 From strip clubs and truck stops to southern coast mansions and prep schools, one girl tries to stay true to herself.

These Royals will ruin you…

Ella Harper is a survivor—a pragmatic optimist. She's spent her whole life moving from town to town with her flighty mother, struggling to make ends meet and believing that someday she'll climb out of the gutter. After her mother's death, Ella is truly alone.

Until Callum Royal appears, plucking Ella out of poverty and tossing her into his posh mansion among his five sons who all hate her. Each Royal boy is more magnetic than the last, but none as captivating as Reed Royal, the boy who is determined to send her back to the slums she came from.

Reed doesn't want her. He says she doesn't belong with the Royals.

He might be right.

Wealth. Excess. Deception. It's like nothing Ella has ever experienced, and if she's going to survive her time in the Royal palace, she'll need to learn to issue her own Royal decrees.

Source: GoodReads
Note: Paper Princess is a complete guilty pleasure read.  I really don't know why I like it.  I shouldn't.  To be honest, I didn't care for the male lead, but there was something about this book that charmed me.
For one thing, it was well written for what it was.
This is a trope filled book.  It sort of reminds me of those Diamond Sisters books that Michelle Madow wrote.  But a better version of said books.   You have the Cinderella (our main character is aptly named Ella) storyline where she's pulled from the slums and becomes basically an American princess overnight.
Is it the best book ever, hell no.  As I said before, I didn't like the romance at all.  But the main character was charming and complex and I am picking up the next installment just because I want to read about her.
Not the romance.
And maybe that's why Paper Princess didn't get a higher rating from me, because I just couldn't like this ship as much as I knew I was supposed to.  I just don't do douches, even reformed/douches who really aren't douches.  I'm just past them in all forms of romance, and the main character really deserved better.  Plus, I think their attraction was a little too fast.
Still though, super, super, fun book.  It is definitely more NA than YA, even though the characters are still technically in high school.  I sort of like that it takes more of a mature approach at YA.  Often YA books are skewed towards more inexperienced characters, and I think authors and publishers tend to forget that there are several people who were very experienced in their high school years.
I also liked that this book had a character that wasn't your stereotypical protagonist.  While riches to rags tales are common, usually a character who comes from Ella's background and has her looks is often slut slammed.  Having a character like this as a main character dealing with being ridiculed because of her looks and the things she did to survive, was sort of an interesting spin to things.
Again, I loved Ella as a character.
And I liked the introduction to the plot in this one.  I feel like there are so many directions that this series could go in and I look forward to reading future installments.  But is it the best thing ever…no.
If you want a quick escape that sort of is like General Hospital meets Princess Diaries then read this one.  It's not going to be high brow reading by any means, but it is enjoyable.
Overall Rating: A B+