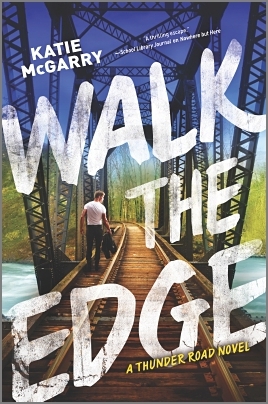 One moment of recklessness will change their worlds.

Smart. Responsible. That's seventeen-year-old Breanna's role in her large family, and heaven forbid she put a toe out of line. Until one night of shockingly un-Breanna-like behavior puts her into a vicious cyber-bully's line of fire—and brings fellow senior Thomas "Razor" Turner into her life.

Razor lives for the Reign of Terror motorcycle club, and good girls like Breanna just don't belong. But when he learns she's being blackmailed over a compromising picture of the two of them—a picture that turns one unexpected and beautiful moment into ugliness—he knows it's time to step outside the rules.

And so they make a pact: he'll help her track down her blackmailer, and in return she'll help him seek answers to the mystery that's haunted him—one that not even his club brothers have been willing to discuss. But the more time they spend together, the more their feelings grow. And suddenly they're both walking the edge of discovering who they really are, what they want, and where they're going from here.

Source: GoodReads
I loved Katie McGarry's first two books, but after those books I have felt like there ahs been a progressive downside in the quality of books that she has since produced.  The first book in the Thunder Road series, I was less than enthralled about.  However, Walk the Edge wasn't a complete disaster.  In fact, it was sort of an improvement.
The biggest improvement the "Big Secret" was moved to being a subplot rather than the main plot.  This was nice break on the usual McGarry formula.  That doesn't mean that a "Big Secret" didn't exist in this book, but it took a backseat on this book rather than being the whole premises of the book like in many of McGarry novels.
I also liked the character.  I could easily identify with Brianna.  While I don't have a photostatic memory like her, I can remember being isolated in high school for being different and trying to hide who you really are.  I think she's probably one of my favorite McGarry heroines next to Beth and Echo.
The male lead Thomas (I deplore his club name Razor) isn't bad either.  He does have his registed YA foulness moments, but it's nothing compared to other male characters in McGarry books.  Though, I still like Ryan and Noah the best-again, I go back to those first two released McGarry novels.
FYI, those books are why I keep reading her stuff despite it growing a bit repetitive.
I will say though, that Walk the Edge has a nice enough plot to it.  I am never going to be a complete fan of the Thunder Road premises.  Motorcycle clubs just don't interest me-blame my cousin Bert for that.  And the really stupid names that McGarry gives the members of the club in this book.  Oh, and add the fact that the club is a boy's only club that collects it's "women's" bras which leaves a very sexist taste in my mouth.  If I can look past that, and that is a huge if, the story is good enough.  Here it borderlines on whether or not it would be considered good enough.  There were lots of elements of the story that worked, but there were some that didn't.
To be honest, the whole "murder" investigation fell rather flat.  While there were problems with the cyber bullying story, it served more or less as a subplot to have the characters work on their relationship and their relationships with their families.
Also, I wish McGarry would've explored Razor's relationship with his dad more.  It still felt rather flat after the entire book was over.  Brianna's relationship with her parents also felt a bit unresolved.  Honestly, I felt her parents were horrible people who really needed a lesson in birth control and were fairly irresponsible by expecting their older children to raise their younger children.  But that might be too much Duggar TV for me.
However, despite these issues I still enjoyed Walk the Edge.  Maybe it's because I've been craving YA contemporaries lately, but it fit what I was looking for.  Was it a perfect book: hardly.  But it did make for an enjoyable rainy Friday night.
Overall Rating: A solid B.