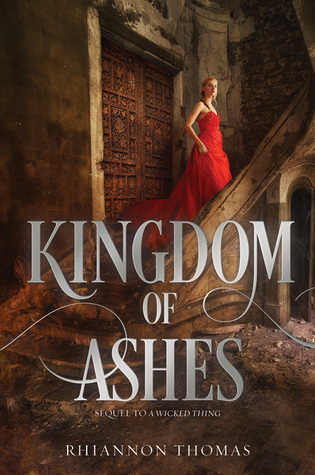 Asleep for a hundred years, awoken by a kiss. Aurora's life was supposed to be a fairytale.

But since discovering that loyalty to the crown and loyalty to her country are two very different things, Aurora knows she can only dream of happily ever after. Once the enchanted princess, savior of her people, she is now branded a traitor.

Aurora is determined to free her home from the king's tyrannical rule, even if it means traveling across the sea to the kingdom of the handsome and devious Prince Finnegan—someone who seems to know far more about her magic than he should. However, Finnegan's kingdom has perils of its own, and any help he gives Aurora will come at a price.

As Aurora and Finnegan work together to harness her power—something so fiery and dangerous that is as likely to destroy those close to Aurora as it is to save them—she begins to unravel the mysteries surrounding the curse that was placed on her over a century before…and uncover the truth about the destiny she was always meant to fulfill.

Brimming with captivating fantasy and life-threatening danger, the sequel to A Wicked Thing takes Sleeping Beauty on an adventure unlike any she's ever had before.

Source: GoodReads
After reading A Wicked Thing, I was a little more than tepid about continuing with what I'm assuming is going to be a trilogy but in the end I decided to give it a chance.  I liked a lot of the ideas that Thomas threw out in the first book and I was interested in seeing this one develop.  I figured this would be a either make it or break it book for me when it came to this trilogy.
In the end though, I'm still on the fence about the whole thing.
And I hate that I feel so bloody confused.
I think a lot of it has to deal with the writing itself.  There is just something that seems so shut off about the narration that I felt like I was only halfway reading the book, when obviously I was not.
This was one of the reasons I don't think I'll ever fully get into this series.  Which is sad, because I really like the themes that it has, and I think the ship that was introduced more fully in this installment has potential.
Side note, I am glad that the other two ships have been completely dropped.  Not that there was really that much build up anyway for at least one of those two ships, but I am really glad that there is only one potential ship now and that it has been relegated to a background plot rather than a central plot-though at times it did seem pretty centric, now that I think about it.
But really the ship isn't the central focus.  While not as introspective as the first book, at its heart the book is still about Aurora and that is sort of cool.
Especially since there are lots of feminist over and undertones.
Note, put feminism in a book and it's always going to get an instant plus from me.
The thing is, while I liked how there were these  feminist themes through the book, I thought they weren't fully developed.  And sadly that was how a lot of the book was.
There was just this disconnect that did not only extend to the narration, but the plot, the themes, and the characters as sell.  Even the ship that I sort of liked was only half baked.
Which leaves me at do I want to continue?
It's only three books, BUT I just feel as disconnected and as lost as I did after the first.  And oh so disappointed.  While the book isn't exactly bad, I'm not going to be rooting for it anytime soon.
Overall Rating: A solid C.