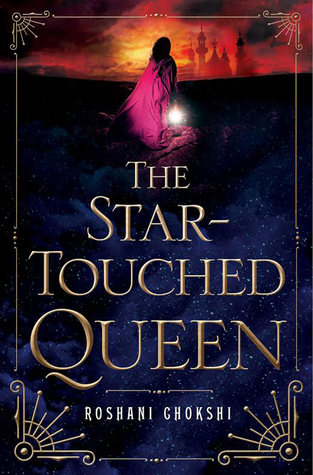 Fate and fortune. Power and passion. What does it take to be the queen of a kingdom when you're only seventeen?

Maya is cursed. With a horoscope that promises a marriage of death and destruction, she has earned only the scorn and fear of her father's kingdom. Content to follow more scholarly pursuits, her whole world is torn apart when her father, the Raja, arranges a wedding of political convenience to quell outside rebellions. Soon Maya becomes the queen of Akaran and wife of Amar. Neither roles are what she expected: As Akaran's queen, she finds her voice and power. As Amar's wife, she finds something else entirely: Compassion. Protection. Desire…

But Akaran has its own secrets—thousands of locked doors, gardens of glass, and a tree that bears memories instead of fruit. Soon, Maya suspects her life is in danger. Yet who, besides her husband, can she trust? With the fate of the human and Otherworldly realms hanging in the balance, Maya must unravel an ancient mystery that spans reincarnated lives to save those she loves the most…including herself.

Source: GoodReads
I loved this book.
Was it perfect, no.  The syntax was off at times and it had some disgusting purple prose, but it wasn't too over powerful to deprive the book from its wonderful characters and story.
The Star Touched Queen incorporates a lot of things I like and it is different from a lot of the fare in YA, yet in a weird way it reminded me of A Court of Thorns and Roses (I think in the fact that this was one sexy and sensual book-and it had  mysterious dude takes girl to his castle trope in it as well).
The book world is inspired by Indian folklore and mythology and the Greek myth of Persephone and Hades with maybe a little bit of the Psyche and Cupid story thrown in there for good measure.  It was a very enjoyable book.
And it wasn't ridiculously long either.  Which was nice.  I think one of the reasons I get so bogged down with YA fantasy is it's so long.  Give me a contemporary and I can finish that puppy in a good couple of hours max.  With fantasies it usually takes me four or so hours.  But not this book.  I read it in the course of about three hours and I liked it a lot.
The story is also self contained.  While the author did mention that she planned on writing about other characters in this universe, Maya and Amar's story is clearly done in this book and I was glad.  No need dragging this book out longer and it ended on a perfect note.
The thing is even though I liked The Star Touched Queen and will be recommending it a lot on this blog for probably at least the next six months or so, it was not free of problems.  Like I previously mentioned the language at times was a bit purply.  Also, while I did appreciate the short length of the story, I did think that some parts of the book could've been expanded on.
Still though, I think it's one of my favorites that I've read so far for 2016.
Overall Rating: An A.  Yeah, maybe it should be an A- but I really enjoyed this one flaws and all.  It had tropes I enjoyed and the book was so much fun.