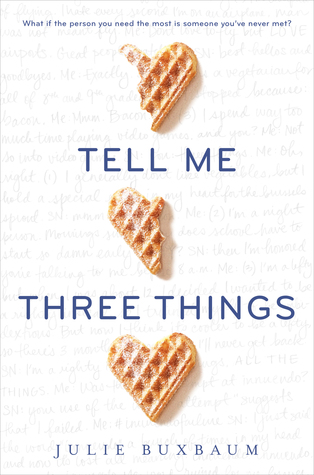 Everything about Jessie is wrong. At least, that's what it feels like during her first week of junior year at her new ultra-intimidating prep school in Los Angeles. Just when she's thinking about hightailing it back to Chicago, she gets an email from a person calling themselves Somebody/Nobody (SN for short), offering to help her navigate the wilds of Wood Valley High School. Is it an elaborate hoax? Or can she rely on SN for some much-needed help?

It's been barely two years since her mother's death, and because her father eloped with a woman he met online, Jessie has been forced to move across the country to live with her stepmonster and her pretentious teenage son.

In a leap of faith—or an act of complete desperation—Jessie begins to rely on SN, and SN quickly becomes her lifeline and closest ally. Jessie can't help wanting to meet SN in person. But are some mysteries better left unsolved?

Julie Buxbaum mixes comedy and tragedy, love and loss, pain and elation, in her debut YA novel filled with characters who will come to feel like friends.

Source: GoodReads
This was a pleasant surprise.  When I first started this book, I liked it but I didn't love it.  Mainly, because I kept comparing it to Simon Vs the Homosapien Agenda and it's sort of hard to beat that book (sorry).
But as the story progressed, I found myself liking this one enough to give it four stars on GoodReads.  It's really a feel good adorable book, much like it's cover-love the waffle theme and it actually connects to the book.
It's also a nice feel good book.
And when I let go of the Simon comparisons I could enjoy it.
The main character, Jessie, isn't that bad.  Yes, she has problems that happen to her and at times can be a bit on the melodramatic side, but her melodrama is perfectly age appropriate and I did not want to slap her for 85% of the novel like I want to do to other YA characters.
The romance was also adorable as well.  I'll admit, I'm a little partial to books like this because I love You've Got Mail.  Of course, this is not a Meg Ryan movie and after the onslaught of The Boyfriend from the Internet movies from Lifetime, I was weary that this wasn't going to be cute.
But don't fear.  That does not happen in this book.  In fact, there are notes made about Jessie being weary that this could be that sort of relationship.
I think my biggest complaint about this book is that there was a little bit of the Mean Girl and Slut Slamming trope in this book.  Not enough where I groaned all the time, but enough where it made me weary about the book initially.
However, despite that the book wasn't ruined for me.  I did enjoy that while there was a love story in this book, it discussed other issues such as lost, issues that teens have with parents, moving issues, etc.  It was a pretty nice contemporary.
If you want something light and fluffy that's in the vein of Simon vs the Homosapien Agenda read this one.  I might like Simon better, but this book grew on me despite the girl hate.  And the waffle cover is just adorable.  I'm planning on keeping it for my shelf awhile, though I might loan it to my sister when I visit Texas in a couple of months.
Overall Rating: What the heck, and A-.