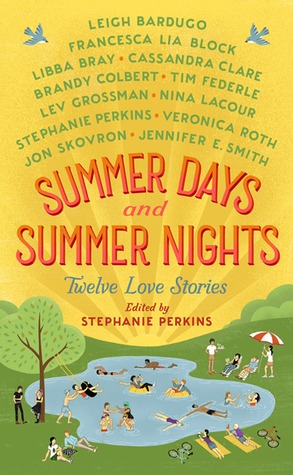 Maybe it's the long, lazy days, or maybe it's the heat making everyone a little bit crazy. Whatever the reason, summer is the perfect time for love to bloom. Summer Days & Summer Nights: Twelve Love Stories, written by twelve bestselling young adult writers and edited by the international bestselling author Stephanie Perkins, will have you dreaming of sunset strolls by the lake. So set out your beach chair and grab your sunglasses. You have twelve reasons this summer to soak up the sun and fall in love.

Featuring stories by Leigh Bardugo, Francesca Lia Block, Libba Bray, Cassandra Clare, Brandy Colbert, Tim Federle, Lev Grossman, Nina LaCour, Stephanie Perkins, Veronica Roth, Jon Skovron, and Jennifer E. Smith.

Source: GoodReads
Usually when I review anthologies I breakdown the stories for you guys and tell you what I liked and what I didn't like of each one.
I didn't like this collection period.  True there were stories that were more tolerable, but it's not like any particularly stuck out for me as wonderful.  Even Stephanie Perkins (whose on my top ten list of authors) story I didn't really feel and it was  a sequel to her story in My True Love Gave To Me.  I think a lot of my issues with this book was I thought this was going to be something other than what it was.
The collection I thought took itself way too seriously.  With a title like it had, I was expecting some of the stories to be light but most of them weren't.  I mean, yeah, some of them dealt with love and relationship, but none of them handled it in the light cotton candy type of way I wanted save for a couple of stories.  A lot of the stories were more literary in nature and were way too serious.
Also, it bothered the hell out of me that a lot of these short stories were more than a little bit on the long side.  It might the Creative Writing undergrad major in me, but I kept workshopping these stories in my head and feeling that most (if not all) of them could be cut by several pages or expanded into either full novellas or novels.  As it stood a lot of them were an awkward amount of pages or the story was just nonsensical in general.
Again, I'm not going to do a point by point review like I normally would because I quite honestly didn't  love any of these stories.  Even Stephanie Perkins story which I loed in the original collection seemed cumbersome at best.
The one thing I do have to give this collection is that its pretty diverse.  There were multiple QUILTBAG couples in the collection, and there were several characters that came from diverse backgrounds as well.  So, that was a plus.
However, overall, the collection didn't work for me.  I know this is a relatively short review, but I don't want to sound repetitive in my criticisms and quite frankly I could be pretty negative in reviewing most of these stories and I don't want that since most of my criticisms involve the subject matter that I had previously discussed.
If you like stories that try to be literary but aren't quite reach the caliber needed to be assigned by your grumpy Creative Writing TA, this might be the collection for you.  As for me, I just rolled my eyes at its wannabe pretentiousness and found myself perpetually bored.
Overall Rating: A C.  It might not be for me, but some people might like it.