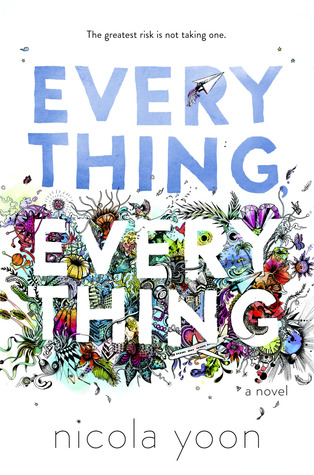 My disease is as rare as it is famous. Basically, I'm allergic to the world. I don't leave my house, have not left my house in seventeen years. The only people I ever see are my mom and my nurse, Carla.

But then one day, a moving truck arrives next door. I look out my window, and I see him. He's tall, lean and wearing all black—black T-shirt, black jeans, black sneakers, and a black knit cap that covers his hair completely. He catches me looking and stares at me. I stare right back. His name is Olly.

Maybe we can't predict the future, but we can predict some things. For example, I am certainly going to fall in love with Olly. It's almost certainly going to be a disaster.

Source: GoodReads
Everything, Everything was read by pretty much every blog I followed last fall.  And it had an array of reactions, some people loved it and some people hated it.  I, of course, put it off because I don't usually do sick lit for personal reasons, but something about this one drove me to buy it (Curious Cat Syndrome) and it sat on my shelf.
However, during Memorial Day Weekend I decided that I needed to clean out some old stock to make way for the new (cough, I looked at my June TBR list, cough) and this one was read.
The good news, I didn't hate it which is a big thing for a Sick Lit book from me.  The bad news is that I hated the twist at the end of the book.  I am not going to go into that many details because of spoilers, but I have to say it was predictable and contrived.  Then again, I think any way you would've gone with this book the ending would have been vomit inducing.  The thing that bothered me so much with the twist is it was revealed and then there was very little follow up.  I feel like the fall out deserved more pages than it got.  After all, if you're going to pull that sort of twist go big or go home.
There were other things that bothered me about Everything, Everything besides the repugnant twist.  The whole Hawaiian getaway plot made no sense to me from a schematics point.  Anyone who goes to a US airport knows that you're forced to show some kind of ID.  I didn't understand how a certain character who lives a certain lifestyle would have an ID—and no, a credit card that you get despite having no credit is not sufficient.  I guess there could've been some excuse fluffed over, but I still had to wonder about how the issues surrounding a certain character's care weren't brought out either.  After all, nurses are not dumb and neither are insurance companies.  I'm sure they were paying a pretty penny for someone's care and that they would require certain things to be done to ensure that they weren't being ripped off.
Little Life Lesson: You don't mess with the insurance company.
I don't think this book learned this lesson.
There was something that felt unnaturally fake about this book in general.  The romance was rushed, and it felt packaged—later checked and it was produced by Alloy, surprise surprise.
The thing is even though I am mentioning a lot of faults within Everything, Everything, I've read worse.  Way worse.  I enjoyed the little drawings and inserts of documents in the book, and I liked Yoon's voice.  That being said, the book doesn't deserve the hype it's been getting.  Is it an okay book—yeah, I guess.  If you don't overthink it, it's a very easy read and if it wouldn't have had that boneheaded twist, I would dare say it was enjoyable.
But that twist—oy.
Overall Rating: I ended up giving it a B- (meaning I rounded up the star count to three stars on GoodReads).  I enjoyed most of this one despite its faults, but at the end of the read I was left with a bad taste in my mouth.  If you tend to overthink things like yours truly, or are familiar with how health insurance in the US works you'll want to avoid this one.