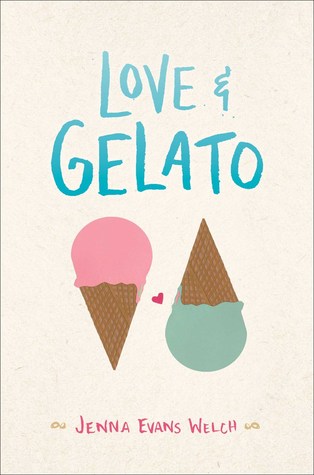 Lina is spending the summer in Tuscany, but she isn't in the mood for Italy's famous sunshine and fairy-tale landscape. She's only there because it was her mother's dying wish that she get to know her father. But what kind of father isn't around for sixteen years? All Lina wants to do is get back home.

But then Lina is given a journal that her mom had kept when she lived in Italy. Suddenly Lina's uncovering a magical world of secret romances, art, and hidden bakeries. A world that inspires Lina, along with the ever-so-charming Ren, to follow in her mother's footsteps and unearth a secret that has been kept from Lina for far too long. It's a secret that will change everything she knew about her mother, her father—and even herself.

People come to Italy for love and gelato, someone tells her, but sometimes they discover much more.

Source: GoodReads
Who doesn't like reading about Europe in the summer?
If you are raising your hand you've lost major points with me and can make it up by making me some delicious gluten free bake good.  But you're like MJ there's no good delicious gluten free bake good.
That's right, reader, my good opinion of you is lost forever because you don't like reading summer Euro trips.
Mwhahaha.
Now, that blog reader shaming is over.  It's time to talk about Love and Gelato. 
The plot just says, MJ love me.  But here's the thing I didn't love Love and Gelato because if Lina would've had a couple of brain cells, she would've finished her mother's journal and known everything that the stupid mystery plot that wasn't needed had.
Really, it was a dumb plot.
And while I tried to enjoy the ship in this book, I couldn't.  I just kept shaking my head and was like this is too unrealistic.
What did this book have that I liked—I think it incorporated the Italy setting enough.  The glimpses of Florence that we got were interesting.   I also liked the development between Lina and her father, Howard.
There's a What a Girl Wants vibe to this story, not that the storyline is familiar to that movie.  Nope.  And not that I imagined Howard as Colin Firth—I wish.  Rather, the father daughter relationship in this book is stronger than the romantic interest plotline.  And that's okay.  However, I didn't exactly like the way the mystery resolved.  The way a certain character was brought in and acted was bad.  So bad.  I really wish that this character didn't end up being who he was.
I was like please let there be a contrived twist here because this character is so horrible, and I really wanted the other character to end up being…
Stopping for spoiler purposes.
Again, not a horrible book but the main arc could've been solved with finishing the journal in one setting and those things just sort of annoy me.
Overall Rating: C+ cute but with some major issues.