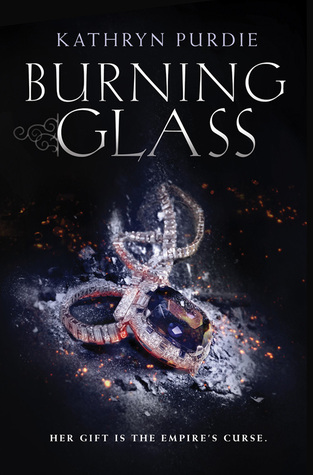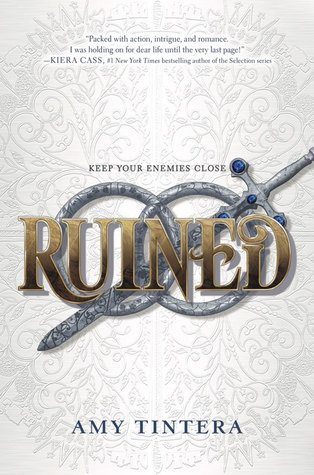 A double review, yay?
No, it's not a yay guys because I think at this point I am totally burned out of YA fantasy and these two books exemplify why this popular genre annoys the shit out of me.
To be fair, there are still some good YA fantasies out there.  I adore The Winner's Curse, for example.  I know, I know, haven't read the last book but I just don't want it to end (yes, I know I sound like a whiney fan, but still).
I was feeling fantasy this weekend after reading a shit load of contemporaries the past week.  To be honest, I think I'll be returning to my contemporaries after these two burn outs because really, really, publishers is it really that difficult to purchase the rights to more original YA fantasies?
I get that the same thing happened to paranormal books, dystopia books, BUT BUT it's fantasy there are lots of ways you can explore said YA universe.
Deep breaths.
Before I proceed with my mini-reviews because combined I probably only read about 150 pages of these books, I'll discuss why YA fantasy has been boring the hell out of me.  Because they usually follow one of two formulas or a combination of formulas:
The Long Lost Princes: MC is a long lost princess/queen and doesn't know it.  This of course leads to a trilogy where she must get her kingdom back.  Or is a peasant impersonating a royal that's really a royal but doesn't know it or something to that degree and is trying to either ruin a kingdom and ultimately ending up reforming it.  Insert random bad assery, that more often than not does not come off as bad ass but allows them to reclaim their kingdom even though they should get stabbed with a sword or whatever.
The Secret Special Power: MC is an impoverished ill educated chit who lives in a dysopian fantasy world where there's some sort of magic.  Magic plays an important role into how the society works, may it be enslaving those who has magic or making them super royals.  Of course, MC has secret power.  Also, note this trope also sometimes relies on giiving one gender-especially females-a power that is often tailored agianst them and then the author of said trilogy can claim it's either a retelling of The Handmiden's Tale or at least do a blurb comparison.
And now it's time for my mini-DNF reviews.
1) Burning Glass
Sonya was born with the rare gift to feel what those around her feel—both physically and emotionally—a gift she's kept hidden from the empire for seventeen long years. After a reckless mistake wipes out all the other girls with similar abilities, Sonya is hauled off to the palace and forced to serve the emperor as his sovereign Auraseer.

Tasked with sensing the intentions of would-be assassins, Sonya is under constant pressure to protect the emperor. But Sonya's power is untamed and reckless, and she can't always decipher when other people's impulses end and her own begin. In a palace full of warring emotions and looming darkness, Sonya fears that the biggest danger to the empire may be herself.

As she struggles to wrangle her abilities, Sonya seeks refuge in her tenuous alliances with the charming-yet-volatile Emperor Valko and his idealistic younger brother, Anton, the crown prince. But when threats of revolution pit the two brothers against each other, Sonya must choose which brother to trust—and which to betray.

Source: GoodReads
This one was really more or less a longer and painful version of Shadow and Bone complete with the Russian inspired world.
I think publishers know that if you put Russia in the middle of the blurb, some people are bound to buy it.  The thing is I felt like I was reading slightly heated leftovers and it made me sad.
Maybe part of it is the fact I read a lot of these books. But I really feel, especially with YA fantasy, the story is often pigeon holed and that's what this one was.  There was nothing really usual about it.  Even the set up was similar to Shadow and Bone.  Okay, there was no annoying Solider Boy best friend, but still super secret powers hidden for a long time and the MC then has to report to the government.
Snooze fest.
Overall Rating: Didn't read enough to really rate but DNF. I gave it a one star on GoodReads rather than the two stars that I sometimes give to DNF books because I think for anyone who reads a lot of these books wouldn't be impressed.
2) Ruined
A revenge that will consume her. A love that will ruin her.

Emelina Flores has nothing. Her home in Ruina has been ravaged by war. She lacks the powers of her fellow Ruined. Worst of all, she witnessed her parents' brutal murders and watched helplessly as her sister, Olivia, was kidnapped.

But because Em has nothing, she has nothing to lose. Driven by a blind desire for revenge, Em sets off on a dangerous journey to the enemy kingdom of Lera. Somewhere within Lera's borders, Em hopes to find Olivia. But in order to find her, Em must infiltrate the royal family.

In a brilliant, elaborate plan of deception and murder, Em marries Prince Casimir, next in line to take Lera's throne. If anyone in Lera discovers Em is not Casimir's true betrothed, Em will be executed on the spot. But it's the only way to salvage Em's kingdom and what is left of her family.

Em is determined to succeed, but the closer she gets to the prince, the more she questions her mission. Em's rage-filled heart begins to soften. But with her life—and her family—on the line, love could be Em's deadliest mistake.

Soruce: GoodReads
This one follows the Princess trope to a T.  Though to be fair, one goes more of the route of Red Queen than Throne of Glass.
Like with Burning Glass, I was completely bored with this one and by about page 100 with very little interaction between the two main view points-and a sneak peak at the end of the book confirming my fears.  I DNF'd it.
I want to yell at these YA fantasy writers to stop being so bloody predictable, to try to have a bit of originality but it would be useless because the same crap keeps getting published and sold.  Popularity in other popular series makes the newer series want to immolate it and it just comes off as being poor and sucky.
To be honest, I actually liked the beginning of Ruined.
I liked how the MC was a merciless killer within six pages, but then the plot just got stupid.  She doesn't even look remotely like the princess she's impersonating save for the fact they have dark hair.  I really don't even know how the family she's marrying into wouldn't realize this save for the fact  that they might've gotten an Anne of Cleves portrait but whatever.
The point is this one didn't work for me it was a logic fail and then when the MC got to the palace you knew she was going to get moony eyes over her new hubby and ruin the whole thing.  Or at least moony eyed over a pretty dress once it fit.
Overall Rating: DNF