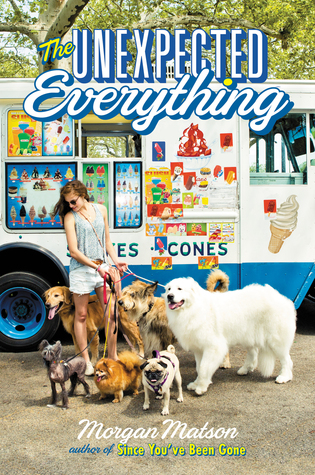 Andie had it all planned out.

When you are a politician's daughter who's pretty much raised yourself, you learn everything can be planned or spun, or both. Especially your future.

Important internship? Check.

Amazing friends? Check.

Guys? Check (as long as we're talking no more than three weeks).

But that was before the scandal. Before having to be in the same house with her dad. Before walking an insane number of dogs. That was before Clark and those few months that might change her whole life.

Because here's the thing—if everything's planned out, you can never find the unexpected.

And where's the fun in that?

Source: GoodReads
Finally, a decent book.
This week has not been a good reading week for me, if you keep on this blog.  Thankfully though, I was able to read something to end the slump I was having—I mean, really three DNF's in a roll and then a book that would've been a DNF if I wasn't tired of DNF-ing things.
Anyway, I had my eye set on The Unexpected Everything by Morgan Matson for a while, and for a lot of different reasons.
First and foremost, that blurb is practically written for me.  Dogs, political scandal, summer romance, I am so in.  Also, I had been wanting to try Morgan Matson's books out for a while.  I've heard a lot of nice things about them, though most of them involve a recent death subplot—and um, no, a little too close and depressing to home for me.
For the most part, The Unexpected Everything lived up to my expectations and then some.  I really loved how all of the relationships were handled in this book—from Andi's relationship to her father, to her friends, to her relationship with Clark.  They all seemed rather realistic and  were developed fairly nicely.
Yes, her friends weren't glorified ship cheerleaders.  They actually had their own life and problems besides Andi's—and yes, their subplot might've been a little too much for this already jammed pack story and was abruptly resolved, BUT I appreciate the effort and it wasn't terrible.  However, the clunky feel of this plotline was what bumped down this book from getting a perfect score.
Other aspects of the novel, besides character building were well done.  I thought there might've been more to the plot in why Andi suddenly couldn't attend her medical program, but with almost  500 pages I was okay that the book didn't focus on this plot more.
I'm also glad that the political scandal took a backseat, so that Andi's relationship with her father could be built up a little bit.  That was nice.  While I was interested in who was behind everything, and what was going on.  This story wasn't focused on the scandal so much as the father and daughter relationship, and I really love it when YA books focus on family.
Overall, if you want a cute contemporary to read this summer give this one a try.  It is good, though maybe a tad bit long with some unnecessary subplots.
Overall Rating: A-