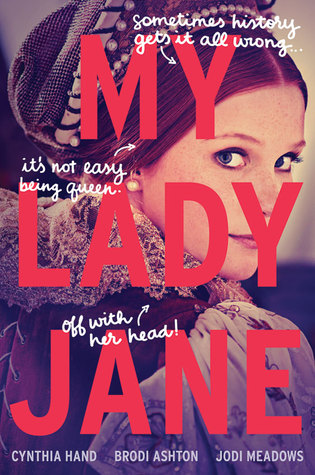 The comical, fantastical, romantical, (not) entirely true story of Lady Jane Grey. In My Lady Jane, coauthors Cynthia Hand, Brodi Ashton, and Jodi Meadows have created a one-of-a-kind fantasy in the tradition of The Princess Bride, featuring a reluctant king, an even more reluctant queen, a noble steed, and only a passing resemblance to actual history—because sometimes history needs a little help.

At sixteen, Lady Jane Grey is about to be married off to a stranger and caught up in a conspiracy to rob her cousin, King Edward, of his throne. But those trifling problems aren't for Jane to worry about. Jane gets to be Queen of England.

Source: GoodReads
I love it when I can write a positive review.  While negative reviews give you an opportunity to vent or be creative, I like the fact that when I write a positive review I can actually recollect on a great reading experience which My Lady Jane was.
This book was written by three known authors in the YA community: Cynthia Hand, Brodi Ashton, and Jodi Meadows that write very different books, but oddly the mash up worked.
To be honest when I saw that this was going to be a retelling of Lady Jane Grey's sad tale I was sort of like bummer because IRL Jane was more or less a pawn with a tragic ending.  But the three authors managed to take what was a rather depressing event and make something of it.
I don't think I've mentioned it, but I am obsessed with the Tudor period.  I think it's just because it was such an interesting period in history from many different perspectives and all the Tudors had their own little quirks about them— side note, I would love if there was a pseudo sequel or prequel to this book, either starring Elizabeth or Anne Boleyn.  The authors here took the history and made it somehow their own.
One of the things that scared me the most about My Lady Jane was that there was a blurb comparing it to The Princess Bride.  You just don't do that.  While I love the movie version of The Princess Bride, the book is like ten times better.  It was one of the few books I remembered I liked reading in High School English AND that I've reread since being in high school English.  Actually, I think my copy has been defaced to the point where I need to get another one.
Anyway, very dubious about the blurb until I read the book and was like—yeah, it sort of has that style about it.  Is it as good as the aforementioned work—laughs.  Sorry, I enjoyed My Lady Jane, but that book/movie is a masterpiece so it's sort of hard to beat it, but My Lady Jane stands on it's own.  There is also a lot of meta and fourth wall references as well throughout the novel.  If you were a movie buff from films from the late 70's to early 90's you're going to be referencing some of these things.  There's actually a couple of lines they ripped right out of Monty Python and the Holy Grail, and the whole bear incident vaguely reminds me of the rabbit incident.  Likewise, there are plot devices that are oddly like Lady Hawke as well.
As I said, it's really more or less a hoge podge of things that surprisingly work.
The romance aspect works well enough.  Well, really the romance between G and Jane.  The side romance I was sort of meh about.  I'm glad that that romance necessary wasn't declared true love or anything like that,  but I really didn't care about it more or less.
The world building was intriguing enough.  It wasn't overly complicated by any means, and I liked how it sort of was a nice allusion to the whole Catholic/Protestant mess that the country was in at the time without being ghastly boring.
My Lady Jane was a treat.  I really loved this book and don't have any qualms about giving it an A.  It made me laugh which is something we need desperately in YA these days.