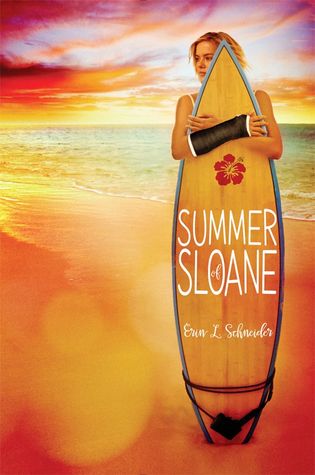 Warm Hawaiian sun. Lazy beach days. Flirty texts with her boyfriend back in Seattle.

These are the things seventeen-year-old Sloane McIntyre pictured when she imagined the summer she'd be spending at her mom's home in Hawaii with her twin brother, Penn. Instead, after learning an unthinkable secret about her boyfriend, Tyler, and best friend, Mick, all she has is a fractured hand and a completely shattered heart.

Once she arrives in Honolulu, though, Sloane hopes that Hawaii might just be the escape she needs. With beach bonfires, old friends, exotic food, and the wonders of a waterproof cast, there's no reason Sloane shouldn't enjoy her summer. And when she meets Finn McAllister, the handsome son of a hotel magnate who doesn't always play by the rules, she knows he's the perfect distraction from everything that's so wrong back home.

But it turns out a measly ocean isn't nearly enough to stop all the emails, texts, and voicemails from her ex-boyfriend and ex-best friend, desperate to explain away their betrayal. And as her casual connection with Finn grows deeper, Sloane's carefree summer might not be as easy to find as she'd hoped. Weighing years of history with Mick and Tyler against their deception, and the delicate possibility of new love, Sloane must decide when to forgive, and when to live for herself.

Source: GoodReads
I love traveling books and Hawaii is one of those places I'd like to read more about.
And Summer of Sloane had some good things going for it when I first read the opening of the book.  All that shit that hit the fan in the first three or four chapters made the book pretty damn compelling to and then it just got-ugh.
What bothered me about this one?
Well, it was so damn cliche and cheesy and there was a rampant amount of girl hate in it.
I will give credit though where it's due, the ending wasn't a cookie cutter complete happy ending for all parties involved with cheating gate.  Some friendships and relationships were permanently broken and while there was talks of forgiveness it was more or less about moving on than forgiving which was a nice change for once.
That being said, I felt like the character Mick was the author's punching bag in every regard.  This character is beyond degraded to the point where she feels pathetic.
Look, I'm not a fan of cheating stories. It's not something I really like reading about because I know how hurtful it can be for all parties involved and how complicated it can be.   The beginning of the story had nice bones where I thought the story could develop from.  I loved how Sloane punched Tyler's nose within the first few chapters of the story.  Then, well, it turned into a wash with cliches thrown here and there and everywhere.
Tyler was the dumb flop.  Mick was the vixen in disguise of the sweet best friend.  And Sloane was, well, she just had to get a new sassy hair cut and of course on her first night out in Hawaii she'd run across Mr. Perfect.
Rolls eyes.
Honestly, I didn't mind Finn that much or wouldn't have minded the romance that much if it seemed more organic.  Right now, he was more or less inserted in the story for pure fantasy purposes and it showed.
Really, that's what this book read was like a fantasy for a woman scorned.  There was just something innately cheesy about it.  Like I said, there were good bones here.  I think had the Finn/Sloane relationship grown more organically and Sloane grew as a person rather than constantly patted on the back and told how evil her ex and bestie were I could've liked her ever.
Instead, I just felt like the character was too judgmental.
The biggest factor why I read this book-Hawaii-played more or less a backseat.  Based on how the book was written, if you ex-nayed the airport shuttle system and introduction of leas, this book could've taken anywhere in the United States that had a decent beach.  There was nothing about the culture or area-save for a waterfall kiss-that was given any thought.  Honestly, I wouldn't even know the character was a quarter Hawaiian if she didn't keep telling us that.
Despite my grievances, this wasn't a total failure.  While it might've read a bit like a scorned woman fantasy, there were parts I liked.  But honestly, it really wasn't that good.
Overall Rating: A C as in cliche.