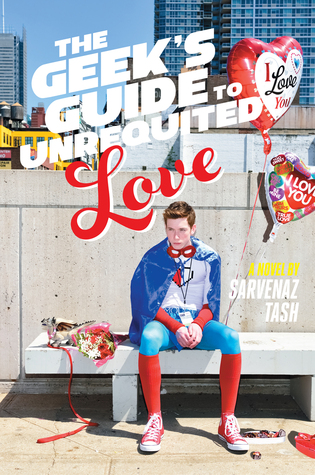 John Hughes meets Comic Con in this hilarious, unabashedly romantic, coming-of-age novel about a teenager who is trying to get his best friend to fall in love with him from the author ofThree Day Summer.

Peter Parker and Gwen Stacy…
Archie and Veronica…
Althena and Noth…
…Graham and Roxy?

Graham met his best friend, Roxana, when he moved into her neighborhood eight years ago, and she asked him which Hogwarts house he'd be sorted into. Graham has been in love with her ever since.

But now they're sixteen, still neighbors, still best friends. And Graham and Roxy share more than ever—moving on from their Harry Potter obsession to a serious love of comic books.

When Graham learns that the creator of their favorite comic, The Chronicles of Althena, is making a rare appearance at this year's New York Comic Con, he knows he must score tickets. And the event inspires Graham to come up with the perfect plan to tell Roxy how he really feels about her. He's got three days to woo his best friend at the coolest, kookiest con full of superheroes and supervillains. But no one at a comic book convention is who they appear to be…even Roxy. And Graham is starting to realize fictional love stories are way less complicated than real-life ones.

Source: GoodReads
Geek lit is very big in YA contemporary this summer.  I think I've read three or four YA geek themed books in the past month alone.
Sadly, I have been underwhelmed by most of them and this one is on continues the pattern.
I will say this, when I started this book I was really worried that Roxy was going to be a MPDG (manic pixie dream girl) and while she has some of these qualities she thankfully isn't a full blown MPDG.  That doesn't make her a decent character though.
She's pretty bland and not really that present throughout most of the book.  I really didn't see why Graham had a thing for her TBH.
Graham's pretty bland too.  I feel a tad bit sorry for him, but at the same time I don't like this character.  I think it's because he just seems a little whiney and I feel like I don't know a lot about him.  Sure, there were moments where Tash  I thought started doing some great character development but then…blah.
It disappears with Graham whining about something or another.
I get teenagers can be whiney but all it is with this character is Roxy doesn't love me-whine, whine, whine.  My mommy is dead-whine, whine, whine.  I'm a ginger-whine, whine, whine.  You get the picture.
So yeah, a lot of whining gets on my nerves fast and then there's that ending.
It was so depressing.  Realistic, yes.  But depressing beyond belief.  And it was the most cop out ending ever, sorry.
I didn't end up rating this one a total failure though if only because I think a lot of my hate might've been subjective for it.  Still though, I don't think it was really a good book so I sort of gave it a meh rating of a D.