Occasionally, I get annoyed with reading YA.  After a slew full of meh reads with a few good ones thrown in, I decided it was time to hit the historical romances.  I think I read like seven or so Lisa Kleypas novels in the past week.  I had a stack of them stockpiled and thought now's the time to get through them.  Honestly, I might continue this binge of Kleypas reading because I am still not completely ready to be YA-ing it again.   It's almost a universal truth that historical romances (even those that aren't exactly perfect will get me in a better mood)
Rather than doing full reviews to all the books I've read, I thought it would be better if I did  mini-reviews.  For this first series of mini-reviews I'll be looking at Kleypas Wallflower series.
Series Overview: There are four main books in the series and a prequel of sorts (which I've already reviewed) and Christmas special which I haven't read yet but have on order since I only found out about it partially through the read through.  The book focuses on a group of girls self dubbed the Wallflowers.  However, each one of the is ridiculously attractive and end up latching on to some rich guy with little effort.   So,  I really don' t know why they call themselves the Wallflowers only that-hey, series title and it sort of connects them together.  I don't really mind that much though because these books are highly entertaining and unlike Judith McNaught's historicals it's not like every character gets together with a duke.  A lot of the heros are self made men.
Four young ladies enter London society with one common goal: they must use their feminine wit and wiles to find a husband. So a daring husband-hunting scheme is born.

Annabelle Peyton, determined to save her family from disaster, decides to use her beauty and wit to tempt a suitable nobleman into making an offer of marriage. But Annabelle's most intriguing–and persistent–admirer, wealthy, powerful Simon Hunt, has made it clear that while he will introduce her to irresistible pleasure he will not offer marriage. Annabelle is determined to resist his unthinkable proposition . . . but it is impossible in the face of such skillful seduction.

Her friends, looking to help, conspire to entice a more suitable gentleman to offer for Annabelle, for only then will she be safe from Simon–and her own longings. But on one summer night, Annabelle succumbs to Simon's passionate embrace and tempting kisses . . . and she discovers that love is the most dangerous game of all. 

Source: GoodReads
This one was okay.  Yes, most of the conflict could've been avoided if Annabelle wouldn't have been such a snob.  But you sort of get where she was coming from based on the period.  But still….dear lord, Simon for putting up with that crap.
Aside from being a snob, Annabelle isn't too bad though she does borderline Mary Sue since we're told how perfect looking she is and that he only reason she's a Wallflower is because she's so poor.
Awww.
Honestly, I couldn't help but get a little annoyed with Annabelle.  Also, for someone who is destitute she lives a pretty good life full of ladies maids and the like.
I do like the fact that the book focused on friendships.  Especially female friendships.  You don't get a lot of that in historical romances so that was refreshing and each of these girls do seem to have a personality.
In all I didn't mind this one, and snobbery aside there is some nice chemistry between Annabelle and Simon.
But was it Darcy in the Lake worthy, hardly.
Overall Rating: A B
Four young ladies enter London society with one necessary goal: they must use their feminine wit and wiles to find a husband. So they band together, and a daring husband-hunting scheme is born.

It happened at the ball…

Where beautiful but bold Lillian Bowman quickly learned that her independent American ways weren't entirely "the thing." And the most disapproving of all was insufferable, snobbish, and impossible Marcus, Lord Westcliff, London's most eligible aristocrat.

It happened in the garden…

When Marcus shockingly—and dangerously—swept her into his arms. Lillian was overcome with a consuming passion for a man she didn't even like. Time stood still; it was as if no one else existed… thank goodness they weren't caught very nearly in the act!

It happened one autumn…

Marcus was a man in charge of his own emotions, a bedrock of stability. But with Lillian, every touch was exquisite torture, every kiss an enticement for more. Yet how could he consider taking a woman so blatantly unsuitable… as his bride?

Source: GoodReads
This was the book that made the series.  Think of a hotter version of Pride and Prejudice where Elizabeth comes from a family like Lady Cora and you get this book.  I loved this book and the characters.  I liked the verbal foreplay between the characters, and Westcliff is up there for historical men I've read about.
I could've done less with the ending though, especially considering that Kleypas went on to use that character heavily in one of the sequels to this book.  But overall very, very, solid and I liked how the two characters relationships evolved.
It also made me want to review the prequel to this whole series because I wanted more Marcus.
The cameos from the prior cast were just enough too.  Again, I loved he book for the most part until the ending.  And I don't think the ending would've bothered me that much if the villain wouldn't have been used in the next book.  It's just too hard to be redeemed for that and I couldn't help but thinking that wallflower was sort of  a shitty friend considering what almost happened to Lilian.
If you're a fan of Pride and Prejudice-y novels give It Happened One Autumn a try you won't regret it.
Overall Rating: A-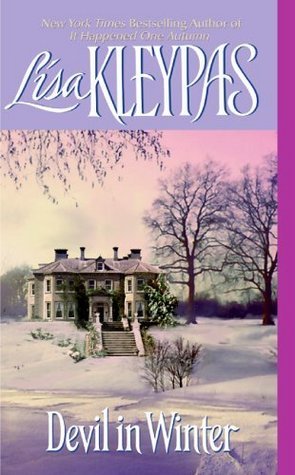 Four young ladies enter London society and band together to each find a husband. Has the third "Wallflower" now met her match?

A Devil's Bargain

Easily the shyest Wallflower, Evangeline Jenner stands to become the wealthiest, once her inheritance comes due. Because she must first escape the clutches of her unscrupulous relatives, Evie has approached the rake Viscount St. Vincent with a most outrageous proposition: marriage!

Sebastian's reputation is so dangerous that thirty seconds alone with him will ruin any maiden's good name. Still, this bewitching chit appeared, unchaperoned, on his doorstep to offer her hand. Certainly an aristocrat with a fine eye for beauty could do far worse.

But Evie's proposal comes with a condition: no lovemaking after their wedding night. She will never become just another of the dashing libertine's callously discarded broken hearts—which means Sebastian will simply have to work harder at his seductions… or perhaps surrender his own heart for the very first time in the name of true love. 

Source: GoodReads
This one was probably my least favorite in the series.  I just couldn't ever love the hero based on his actions in the previous book.  I was like-no.  And it wasn't like there weren't other options for this MC.  Personally, I had a fan fic written out in my head how she'd get with one of the supporting characters while married to the hero and….yeah, didn't happen.
Though to be honest, that character deserved more than this drip.  And yes, I saw Evie as a drip.   Because while I know she couldn't help some things-like her stuttering-it wasn't like she did a lot to help herself.  In the beginning I had hope, what she did was pretty ballsy then she just got meh-
I never even saw how a relationship developed between her and the so called hero because-no, no, no.
While I enjoyed the nods to Kleypas Gambling series, I didn't enjoy the fact that this plot seemed to fall apart in lots of ways.  There was so much potential here and the ultimate story-well, it was cliche and predictable.  And whatever happened to the mean evil relatives, they certainly gave up pretty fast after that one attempted kidnapping.
The best part about this book was the cameos made by Lilian and Marcus.  But again, why would you be friends with these people after ****spoilers*****
It just wasn't my cup of tea.
Overall Rating: A C+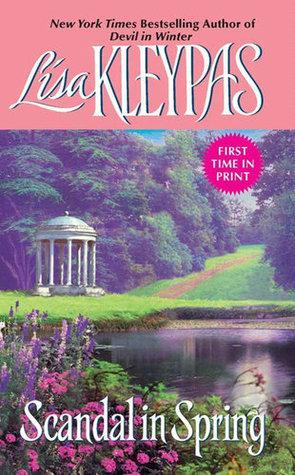 After spending three London seasons searching for a husband, Daisy Bowman's father has told her in no uncertain terms that she must find a husband. Now. And if Daisy can't snare an appropriate suitor, she will marry the man he chooses—the ruthless and aloof Matthew Swift.

Daisy is horrified. A Bowman never admits defeat, and she decides to do whatever it takes to marry someone… anyone… other than Matthew. But she doesn't count on Matthew's unexpected charm… or the blazing sensuality that soon flares beyond both their control. And Daisy discovers that the man she has always hated just might turn out to be the man of her dreams.

But right at the moment of sweet surrender, a scandalous secret is uncovered… one that could destroy both Matthew and a love more passionate and irresistible than Daisy's wildest fantasies.

Source: GoodReads
I sort of have mixed feelings about this book.  I liked it, but it didn't full out go into detail on the hero's secret past as I'd like it too.  It's a shame too because 200 some odd pages into the book, I was fairly bored.  Yeah, there was nice chemistry BUT there was really no plot other than the father was a dick who wanted the MC (Daisy) to marry a guy that was supposedly horrible but experience a physical and personality makeover in the time that they were a part.
Not the most exciting plot line, but then you have the backstory of the hero and I'm like….why couldn't the whole book go into the angst on that?
It really is a shame because out of all the wallflowers I related the most to Daisy, even though Lillian is undoubtedly my favorite.  The love story ended up being just incredibly dull especially since there were hints and teases in the previous book that the hero was going to be way more interesting-he will be getting his own story though which I am interested in reading.
In the end, I didn't HATE Scandal in Spring BUT it could've been better.  Out of all the Wallflower books this potentially had the most interesting set up but….B-