Another week of Kleypas binging.  Yay!  Yeah, yeah, I know as a book blogger I'm supposed to be responsible and fair to all authors break up my reading accordingly and I do have a bunch of YA books I need to get too.  But God, I really needed a break from YA and I forgot how fun historical romances can be.
So to my reading schedule….
Seriously, I really do love historicals, guys.  And I am glad I have a stockpile of Kleypas books because honestly her books are really what I love from HR without getting all gross and rapey a la Catherine Coulter-one of these days I am really going to have to do a R&R of those.  I think though for the sake of my liver it might be awhile though.  Also, I need to go to my mom's house and dig them out of my shelves there since I sort of am eerie about checking out said books at the library (don't even know if they have them at the pathetic library I am now privy to).
Series Overall: The Hathaway series is a series of five books that follow a very large and unconventional family in the early Victorian era-the late 1840's to late 1850's England.  The series slightly overlaps with the Wallflower series which was why I decided to binge on it next because once a reader starts reading about Lord Westcliff they cannot stop.  Honestly, I liked this series better than the Wallflowers because all of  the family plays an important role in the books while some of the Wallflowers all but disappered when it wasn't their respective book.  Also, Cam Rohan which gives Westcliff a nice run for his money.
When an unexpected inheritance elevates her family to the ranks of the aristocracy, Amelia Hathaway discovers that tending to her younger sisters and wayward brother was easy compared to navigating the intricacies of the ton. Even more challenging: the attraction she feels for the tall, dark, and dangerously handsome Cam Rohan.

Wealthy beyond most men's dreams, Cam has tired of society's petty restrictions and longs to return to his "uncivilized" Gypsy roots. When the delectable Amelia appeals to him for help, he intends to offer only friendship—but intentions are no match for the desire that blindsides them both. But can a man who spurns tradition be tempted into that most time-honored arrangement: marriage? Life in London society is about to get a whole lot hotter…

Source: GoodReads
I really loved this book.  It did annoy me when I read the summary and I saw the "g" word being used.  But luckily Kleypas did not diminish the Romani culture throughout the book and I actually felt like you got to learn about things in the period and the culture which was nice.
And God knows, I love the character Cam.  Like I said in my series overview, I think Cam ranks right up there with Westcliff.  Though, while Westcliff is fairly your conventional historical romance hero, Cam isn't.
He's not a viscount.  Yes, he has money, but he doesn't even like being rich.   He also isn't a complete cad or an egomaniac.  He is just a nice guy, and I liked his relationship with Amelia.  It is a book I will be re-reading.
Amelia is your fairly typical mother hen type character but I thought she was fairly formed.  She wasn't terrible and I liked how strong the character was despite how fucked up her family was.
If I was being more critical I could comment about the plot.  There were some things that were a bit overdramatic and were never given full explanation in the series, BUT I'm letting it go.  Honestly, it's a problem with a lot of Kleypas's books.  The whole plot climax with the villain is fairly poorly done in all of these books that after reading God knows how many of them I sort of ignore it, and in this case the added bonus of that ghost or whatever it was just made things weirder.
Again, though overall not bad at all.  I really liked it.
Overall Rating: A-
He has tried hard to forget her.

Kev Merripen has longed for the beautiful, well-bred Winnifred Hathaway ever since her family rescued him from the brink of death when he was just a boy. But this handsome Gypsy is a man of mysterious origins—and he fears that the darkness of his past could crush delicate, luminous Win. So Kev refuses to submit to temptation… and before long Win is torn from him by a devastating twist of fate.

Can she remember the man he once was?

Then, Win returns to England… only to find that Kev has hardened into a man who will deny love at all costs. Meantime, an attractive, seductive suitor has set his sights on Win. It's now or never for Kev to make his move. But first, he must confront a dangerous secret about his destiny—or risk losing the only woman he has lived for…

Source: GoodReads
Okay, so I am liking this one a bit more after sitting on it but I don't love it by any means.
I think I was hoping that there would be more shades of Paradise in this one which there were not.  I mean, there were bits and pieces of the angst that I felt, but Kev acted like a jerk towards Win for a lot of this book.  And while there was motivation towards it, if he would've stopped being a dick towards her and at least stopped himself from practically molesting her when they first met.
Grant it, I guess it was common for single men  to hire prostitutes back then.  But it was still a little tactless.  Claim you loved a girl so much that she's the only woman you could love and then not recognize her and think she's a call girl?
Again, to be fair Kev does have a lot of angst but the one who should've been angst-ing more in some regards was Win.  She was a fucking invalid and this book is all about Kev's past-yes, horrible- BUT she was a fucking invalid whose life was practically on hold for several years and rather than telling her you loved her you dicked around.
Again, it's a historical romance.
But.
But.
The thing that saved this one for me was the relationship between Cam and Amelia.  They're secondary characters and they have a lot of sexy times together in this book.  That was good.  What wasn't good was Kev the dick.
Overall Rating: A reluctant B.  It was originally lower, but upon reflection I can see myself maybe revisiting this one in the future.
He was everything she'd sworn to avoid.

Poppy Hathaway loves her unconventional family, though she longs for normalcy. Then fate leads to a meeting with Harry Rutledge, an enigmatic hotel owner and inventor with wealth, power, and a dangerous hidden life. When their flirtation compromises her own reputation, Poppy shocks everyone by accepting his proposal—only to find that her new husband offers his passion, but not his trust.

And she was everything he needed.

Harry was willing to do anything to win Poppy—except to open his heart. All his life, he has held the world at arm's length…but the sharp, beguiling Poppy demands to be his wife in every way that matters. Still, as desire grows between them, an enemy lurks in the shadows. Now if Harry wants to keep Poppy by his side, he must forge a true union of body and soul, once and for all…

Source: GoodReads
In this book it's the Hathaway that's boring and the love interest that's interesting.   In the other two books both of the characters have been interesting but Poppy is just dull.  The most interesting thing about her is that she's pretty and, well, nice.  But she is so dull.
I think what Kleypas wanted to do was to sort of do a Beauty and the Beast thing and she succeeded with Harry Rutledge.  In most novels, he would've been the villain.  He did some rather horrible things and was unashamed about them, just to get between the sheets with Poppy.
In a weird way their relationship reminded me of the Rumbelle relationship on Once Upon a Time (a show that I have very mix feelings about), EXCEPT Poppy isn't stupid enough to expect him to change.  Although, she does issue a couple of ultimatums but it's not like she expected Harry to totally change.  She knows he still has evil ways.
I think that's one of the reasons I tolerated her even though she was dull as dishwasher (much like Belle on Once Upon a Time).
Honestly, in comparison to the rest of these books this one is a little bit on the dull side.  Sure, it has it's cluster fuck of a climax which I'm like-why about.  Because really it should've ended with their romp in Hampshire where everything was hunky dory again than that stupid kidnapping plot.
Because really.
But again, at this point I don't even try to hold the climaxes against Kleypas.  You want a decent climax with background plot, read a Judith McNaught novel.  Kleypas though has the romance bits down to a science.  While Poppy was dull, I really did like the turn with Harry's character so it wasn't like this book totally stuck out.
Overall Rating: A B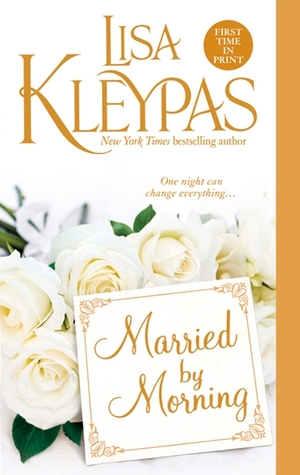 He is everything she wants to avoid…

For two years, Catherine Marks has been a paid companion to the Hathaway sisters—a pleasant position, with one caveat. Her charges' older brother, Leo Hathaway, is thoroughly exasperating. Cat can hardly believe that their constant arguing could mask a mutual attraction. But when one quarrel ends in a sudden kiss, Cat is shocked at her powerful response—and even more so when Leo proposes a dangerous liaison.

She is not at all what she seems…

Leo must marry and produce an heir within a year to save his family home. Catherine's respectable demeanor hides a secret that would utterly destroy her. But to Leo, Cat is intriguing and infernally tempting, even to a man resolved never to love again. The danger Cat tried to outrun is about to separate them forever—unless two wary lovers can find a way to banish the shadows and give in to their desires…

Source: GoodReads
After the first book in this series, this one is probably my favorite.
Oh, Leo.
The character has evolved throughout this series from a sad SOB who grossly neglects his family to a reformed cad.  He has really came into his own and it's nice for him to finally have his own story.   And I can't complain that much about Catherine-though her backstory was a bit melodramatic.
And really, why does everyone this family marries into have to be related?
That being aside, I did like that Catherine wasn't your stereotypical poor little governess that the hero swoops up.  These two HATE each other at the beginning of the novel, and its nice to see how their hatred evolves into something more.
And I love the little ferret that is in this book too.  There is so much humor in this installment and enough cameos from the other Hathaways to make me smile.
Do we get another over the top climax (obviously).  But at least here, there is some build up which didn't exactly happen in the other books.
Overall Rating: I'm giving it A- same as the first book.  I feel like this one and the first are both the strongest in this series but for different reasons.
She harbors a secret yearning.

As a lover of animals and nature, Beatrix Hathaway has always been more comfortable outdoors than in the ballroom. Even though she participated in the London season in the past, the classic beauty and free-spirited Beatrix has never been swept away or seriously courted… and she has resigned herself to the fate of never finding love. Has the time come for the most unconventional of the Hathaway sisters to settle for an ordinary man—just to avoid spinsterhood?

He is a world-weary cynic.

Captain Christopher Phelan is a handsome, daring soldier who plans to marry Beatrix's friend, the vivacious flirt Prudence Mercer, when he returns from fighting abroad. But, as he explains in his letters to Pru, life on the battlefield has darkened his soul—and it's becoming clear that Christopher won't come back as the same man. When Beatrix learns of Pru's disappointment, she decides to help by concocting Pru's letters to Christopher for her. Soon the correspondence between Beatrix and Christopher develops into something fulfilling and deep… and when Christopher comes home, he's determined to claim the woman he loves. What began as Beatrix's innocent deception has resulted in the agony of unfulfilled love—and a passion that can't be denied.

Source: GoodReads
This one is NOT terrible.  But I just don't think Beatrix comes off as realistic.  Or for the fact this relationship.
Yes, her thing with the animals is cute and all but really a grown ass twenty-three year old would not randomly come up to people and be like, "Oh, yes.  You're a Beagle because you like to eat a lot and are a red head who talks a lot about herself on her semi-regular blog column for her owner."
Okay, Beatrix doesn't exactly compare anyone to Patty Beagle but she does compare them to animals and she's in her twenties and it's viewed as cute and all of that.
Rolls eyes.
She's like the manic pixie dream girl of the 1850's ya'll.
The hero-Christopher-was kind of a wash compared to the other guys in this series he's nice and tortured enough but compared to Cam, Leo, Harry, and even Kev he's just sort of meh.
The plot in this one, was sort of meh as well.  I like the idea of love letters written by someone you don't expect.  It's a cute idea, but I thought Christopher accepting it was Bea really fast and declaring his love for her equally fast was a little jarring.
It just wasn't a book I expected from Kleypas.
That didn't mean it was bad though.  I just…I just think Beatrix would've been better off with the eighty year old vet.
Overall Rating: B-