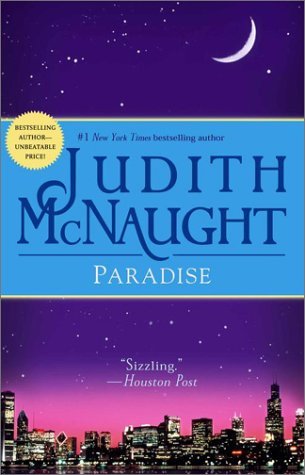 Corporate raider Matthew Farrell had come a long way from the poor, scruffy kid of Indiana's steel mills. A long way from the country club where, feeling like an outsider, he had dared to fall in love with a beautiful blonde named Meredith Bancroft, and known a once-in-a-lifetime passion and betrayal that sill haunted his memory… Now world leaders courted him, the media watched his every move, and he was ready to move in on the Bancroft empire.

A cool, poised executive in her family's legendary department store chain, Meredith had once defied her father for the sexually magnetic, intense Matt Farrell — and their brief, ill=fated marriage was the disastrous outcome. Now, as the Bancroft firm is threatened by a hostile takeover, Meredith is forced to confront Matt. As tensions build between them, bittersweet memories rise to the surface, leaving them suspicious, restless, and uncertain. Will they be able to believe in each other — and grasp the tender miracle that is before them?

Source: GoodReads
This is probably my favorite romance novel of all time, though it's companion sequel-Perfect-is a close second.  This book contains a lot of my favorite tropes and is the king of angst.
It's over 700 pages so McNaught has plenty of time to torture her characters, and torture is what she does to them here.
I have read Paradise maybe a couple of times in the past twelve or so years that I have known about it.  This is the first time I've read it in several years though, and it has surprisingly held up well.  While I do think the fat book could've been cut down a little bit-because no one really likes reading about mergers and acquisitions it is still a good book.
And after going to law school, I am able to pick up on thins that sixteen-year-old me didn't understand.
Yay me!
The characters are pretty well formed.  Initially it might seem like Meredith is a bit of a Mary Sue, she is described as a Grace Kelly look alike BUT McNaught fully forms her with flashbacks starting from the time she's 14 to when she turns 30.
Matt Farrell is drool worthy and not a complete ass, which is a problem that a lot of McNaught's men have.  Yes, he does have jerkiness moments, but as far as moments of asshole-ness go his asshole-ness has motivations.  And in the end–sigh.
The one character that I had issues with upon reread was the father character.  God, did I hate this SOB.  I really don't understand why McNaught gave him as happy as an ending as he got, he needed his ass kicked and then some.   But instead he is basically given a slap on the wrist.  After causing eleven years of angst for our leads, you'd really think McNaught would allow us readers to have moment of sweet vengeance.
But no.
It amazes me how always quick of a read this one is.   Like I said, over 700 pages but I can usually finish it within a day or so-this time it took me three days but I was doing work, chores, and errands during all of it.
There are parts of the book that do feel a little dated.  It was written in the early 1990's after all.  Many of the fashions, decorations, etc. described as being extremely modern by McNaught are now fairly garish.  But still…
This book is worth it's weight in paper.  It always will be a favorite of mine, though the flaws are more apparent.  Paradise still holds well and will always be the bar I set for reconciliation stories.
Overall Rating: A freakng plus.