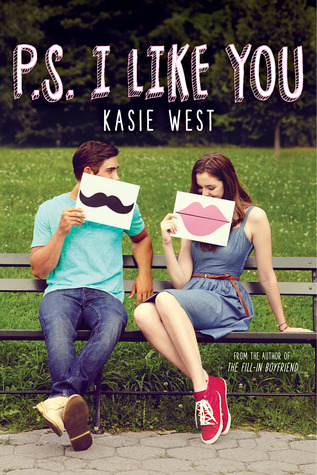 Signed, sealed, delivered…

While spacing out in chemistry class, Lily scribbles some of her favorite song lyrics onto her desk. The next day, she finds thatsomeone has continued the lyrics on the desk and added a message to her. Intrigue!

Soon, Lily and her anonymous pen pal are exchanging full-on letters—sharing secrets, recommending bands, and opening up to each other. Lily realizes she's kind of falling for this letter writer. Only, who is he? As Lily attempts to unravel the mysteryand juggle school, friends, crushes, and her crazy family, she discovers that matters of the heart can't always be spelled out…

Source: GoodReads
My mom is in love with the movie, You've Got Mail and I'll admit I like it too.  But because of her I have seen it maybe one too many times, but whatever.  Still seeing the premises of this book gave me a nice flashback to the day's of 90's product placements, where Meg Ryan didn't have bad plastic surgery, and Tom Hanks was…well, Tom Hanks.
I like that movie and I like this book.  Was it the best book ever-well, no.  But it suited it's perfect now and rather than directly being a blow by blow to the movie, like A Week of Mondays was to Groundhog Day, I was pleasantly surprised.
The main characters were decent enough.  Lily was memorable enough with her song lyrics, I guess and I liked that it wasn't obvious who the male lead was going to be at first.  That was one of the best changes made from You've Got Mail.
The one thing that annoyed me, if anything in this book was Lily's family. This if anything solidified the fact that if I ever have children I don't want more than two tops.  I hated how irresponsible these parents were having all these kids-though to be far it's only four hardly Duggar level-and then not having stable and sustainable jobs where they can't buy their fucking daughter a spool of thread.  Plus, the brothers getting into her room and not really even getting reprimanded for it and Lily being told to forgive and all that bullshit without even having them having to compensate her for her damage property….
Bad parent central.
Though, maybe it's not bad parents so much as my parents raised me to understand personal and private spaces.  This just really annoyed me.
That aside though, fun book.  I did think after the reveal that the book did drag a bit, but other than that and the annoying family I say give it a try.  If you like that movie or like any story where there's a mystery romance this will be a fun read.
Overall Rating: An A- very enjoyable with minor flaws that are mostly personal.