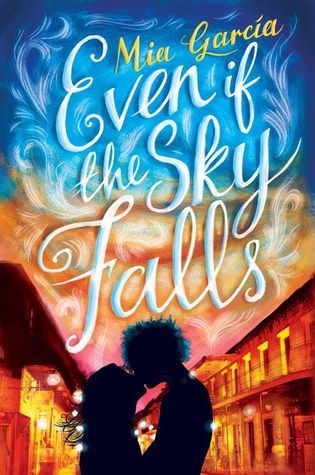 All she needs is one night to be anyone she wants.

Julie is desperate for a change. So she heads to New Orleans with her youth group to rebuild houses and pretend her life isn't a total mess. But between her super-clingy team leader and her way-too-chipper companions, Julie feels more trapped than ever.

In a moment of daring, she ditches her work clothes for DIY fairy wings and heads straight into the heart of Mid-Summer Mardi Gras, where she locks eyes with Miles, an utterly irresistible guy with a complicated story of his own. And for once, Julie isn't looking back. She jumps at the chance to see the real New Orleans, and in one surreal night, they dance under the stars, share their most shameful secrets, and fall in love.

But their adventure takes an unexpected turn when an oncoming hurricane changes course. As the storm gains power and Julie is pulled back into chaos she finds pretending everything is fine is no longer an option.

Source: GoodReads
Immersion contemporaries are one of my favorite genres of books.
What is immersion contemporary?  It's a term that I just came up with that features contemporaries set in vacation destinations.  When I found out about this book and that it took place in the French Quarter I had to read it.  Since moving to Louisiana, I've been to the Crescent City quite a few times.  And while it's not my favorite city, I could see why it would be interesting to set a book there.  The city itself has a rich, vibrant history and past that would be fun to play around with. And it's in a great location.  I mean, come on, even Disney appropriately exploited it in The Princess and the Frog.
This book though doesn't do that.
Instead, it focuses on mid summer Mardi Gras and the hoopla-or randomness for better of a word that surrounds it that doesn't include getting plastered and falling on your ass on Bourbon Street-an event that is very common in NOLA.
The getting plastered part that is.  The randomly walking around in fairy wings and falling in love with a random guy doesn't happen.  Save for in this book, and I'm still trying to figure out how it happened because this book just felt…well, random.
And I get where Garcia was trying to go with this.  I think she wanted to encompass the spirit of Mardi Gras in the tone of her book-though why the book is set in mid summer Mardi Gras, rather than regular Mardi Gras I do not know.
Full disclosure, ever go to NOLA in the summer and it stinks so, so, so, bad.  It's bad in the winter too, but the smell in the summer is just God awful.  Which might be why I wasn't charmed by Garcia's descriptions of the architecture in the French Quarter, I was just like where are the bums, the drunk people, and the sometimes good but lots of times bad street performers.
Okay, after writing that paragraph I realized just how cynical it sounded, but you know what…that's my experience of New Orleans. And maybe Garcia's is of noting how gorgeous the architecture is then buying tutus and cheap fairy wings from those cheap tourist shops that they have near Cafe Du Monde-or at least that's where I imagine her getting them.
Maybe if I continued the book, it would've explored the city more but after meeting "Miles" the designated lover boy of the book and getting that good old annoying insta love feeling I had to say goodbye.
It just wasn't my cup of tea.  With immersion contemporaries, I want something that makes the city as much as a character as the characters in the book.  Not so much here.
I think this book wanted the narration to work in part with the story, however the choppiness and randomness of it really failed to me which was why I didn't finish the book.