Tina Chen just wants a degree and a job, so her parents never have to worry about making rent again. She has no time for Blake Reynolds, the sexy billionaire who stands to inherit Cyclone Technology. But when he makes an off-hand comment about what it means to be poor, she loses her cool and tells him he couldn't last a month living her life.

To her shock, Blake offers her a trade: She'll get his income, his house, his car. In exchange, he'll work her hours and send money home to her family. No expectations; no future obligations.

But before long, they're trading not just lives, but secrets, kisses, and heated nights together. No expectations might break Tina's heart…but Blake's secrets could ruin her life. 

Source: GoodReads
Ah, New Adult a genre that I have spent a ridiculously long time bitching about on this blog. But I have to admit there are a couple of NA books I liked, such as Trade Me.
I think a lot of it has to do with the fact that this book is a Courtney Milan book. She has an interesting style to her writing that always keeps me engaged. I think it's because her books are what I consider smart fluff. You have a lot of swoon like moments there, but there are other things about the book that keep you reading and her books don't feature dummies.
Still, when I read the premises of Trade Me I was a little bit cynical. Golly geez, another trading places story. I haven't seen that a thousand times in Disney movie of the weeks before. The thing is, the whole trading lives aspect plays a very small almost minimum role to the book. The book also touches on a lot of issues and we don't have that cringe you should be happy with what you have scene that Disney movies seem to go for a lot.
Setting Blake's wealth in a technology company was interesting. I'm always fascinated to read about tech giants, so I liked that part of the plot and the side character that was Blake's father—Adam Reynolds was a well thought out character. Save for the time that was spent developing Tina's friends and family. The development in character did not lack in this one, and I think that's a reason it worked.
Also, the angst wasn't painfully drawn out. Sure, there was some there. I think there has to be in New Adult books otherwise it's not going to be New Adult, but it felt realistic and wasn't overly dramatic like it is in a lot of New Adult books. It also helped that I could understand and relate to the schism that was going on with the two characters and it just didn't seem to appear for plot purposes.
The technology company, as I mentioned before, was interesting and well thought out. I chuckled when I read about Tina's idea for micro machines considering that a Nobel prize was recently rewarded for such a similar idea and concept.
I think if I was going to complain about anything with this book it was that I just felt like we only scratched the surface with the relationship between the two characters. They went from not being together, to being pretty much steadily together—save for brief misunderstanding. I understand that Milan plans to publish another book in the series featuring these two and maybe that will help resolve some of my issues with the development.
Overall, if you're a skeptical reader that sometimes gets pushed into the world of New Adult despite your better judgment you might want to give this one a try.   While there are a few of the nauseating NA tropes here—such as angst—their not played to the degree where you want to rip your hair off. Also, Milan creates smart characters with complex problems and lives which is also something you don't see a lot of in NA. As I said before, the only real issue I have with this book is that we didn't get a lot of scenes with the leads in a relationship, but hopefully that will change in the future.
Overall Rating: A solid B+, almost moved this one into A- territory.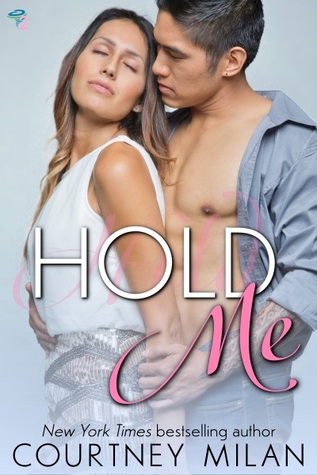 Jay na Thalang is a demanding, driven genius. He doesn't know how to stop or even slow down. The instant he lays eyes on Maria Lopez, he knows that she is a sexy distraction he can't afford. He's done his best to keep her at arm's length, and he's succeeded beyond his wildest dreams.

Maria has always been cautious. Now that her once-tiny, apocalypse-centered blog is hitting the mainstream, she's even more careful about preserving her online anonymity. She hasn't sent so much as a picture to the commenter she's interacted with for eighteen months—not even after emails, hour-long chats, and a friendship that is slowly turning into more. Maybe one day, they'll meet and see what happens.

But unbeknownst to them both, Jay is Maria's commenter. They've already met. They already hate each other. And two determined enemies are about to discover that they've been secretly falling in love…

Source: GoodReads
I didn't love Hold Me as much as I loved Trade Me, and I was sort of weirded out by that because on paper I should've technically liked Hold Me a lot more.
The books not bad. The characters are pretty good. Though I like Maria a lot more than I liked Jay.
Oh, Jay. I sort of had a hate hate relationship with him. Yeah, his online persona was charming, I guess. But as a real life human being, I couldn't help but sort of hate him throughout the entire story. I get that this book is sort of supposed to have a You've Got Mail set up, but I really thought Jay IRL was more douchey than Tom Hanks character was in that movie. And that's saying something.
Like I expected, I found Maria's character to be interesting. I was glad that this book didn't focus on her being trans. Rather, it just happened to be the love story of a transwoman. Which was nice, because while I do think the occasional issue book is good one of the things I want to see more is books featuring diverse characters where the character's plot isn't about them being a diverse character. Rather, it's about them living their life and finding happiness and that's what's going on here.
The diversity in this book—really series—is quite excellent. Maria, as I mentioned is a Hispanic transwoman. Jay is part Thai/Chinese and he's bi.   There are even several minor characters that came from diverse backgrounds and it was woven effortlessly throughout the story.
I think that's one of the best thing this series has to offer. Besides Adam Reynolds of course.
The Adam Reynolds character in himself makes the series, to the point where it appears that he's getting his own fucking book. And I can see why.
He was sorely missed in this book.
Really, when I think of Hold Me, I think of the potential that the story could've had and what ended up being lukewarm leftovers with a ship I didn't exactly dig.
Overall Rating: C+ there are some nice things about this one, but compared to Trade Me it is more than a little lackluster.