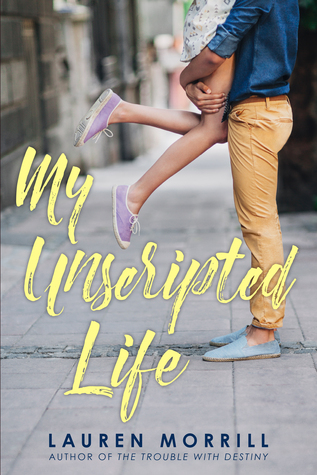 Perfect for fans of Jennifer E. Smith and Huntley Fitzpatrick, you'll love this funny and sweet contemporary romance about a Southern girl ready for a ho-hum summer until she meets the boy of her dreams who happens to be an international pop star.

Sometimes love stories go off script.

Another sultry Georgia summer is about to get a lot hotter. Dee Wilkie is still licking her wounds after getting rejected by the precollege fine arts program of her dreams. But if she'd gone away, she wouldn't have been around to say yes to an unbelievable opportunity: working on the set of a movie filming in her small Southern town that just happens to be starring Milo Ritter, the famous pop star Dee (along with the rest of the world) has had a crush since eighth grade.

It's not like Dee will be sharing any screen time with Milo—she's just a lowly PA. And Milo is so disappointingly rude that Dee is eager to stay far away from him. Except after a few chance meetings, she begins to wonder if just maybe there's a reason for his offensive attitude, and if there's more to Milo than his good looks and above-it-all Hollywood pedigree. Can a relationship with a guy like Milo ever work out for a girl like Dee? Never say never. . .

Source: GoodReads
Dear Ms. Morrill:
I think you and I were never meant to be. You're intended audience obviously isn't me but Justin Beiber or One Direction fangirls. I've tried three of your books and only sort of like one of them because of figure skating. Because I'm always up for a good Hollywood romance, I thought why not and gave My Unscripted Life a try.
I quit after sixty pages though because I just could not handle it. Like how everything for the MC works out because of conveniences ya'll.
I cringed with how easy it was for Dee to get her job working as a PA. I cringed at how immature Dee was for a sixteen-year-old. I get that I'm a few years older than the intended audience, but come on I don't remember being that dumb when I was a teenager.
I feel like your books should be geared towards the lower age bracket in YA or middle grade which isn't exactly a bad thing it just makes older readers not so happy with the reading experiences. And to be fair, even if this marketed towards the Disney Channel sect, I don't know if they would exactly like this book.
It's pretty cliché. And yeah, I know any book that deals with celebrities will have their brunt of clichés, but this one…there's nothing really original about it.
The characters are bland. The story is plain drivel. There's every YA token you can think of—average but not really average MC, token diverse bestie who only has two lines, fabulous guy that would normally not look MC's way that's a movie star. And yeah…
So Ms. Morrill, rather than forcing myself to get through this thing, I stopped reading it about 68 pages. I just don't think we're meant to be.  And even if you're premises look promising, I think I'll be passing on your books in the future.
Sincerely,
MJ
Cantankerous Book Blooger at Howdy YAL
Overall Rating: DNF