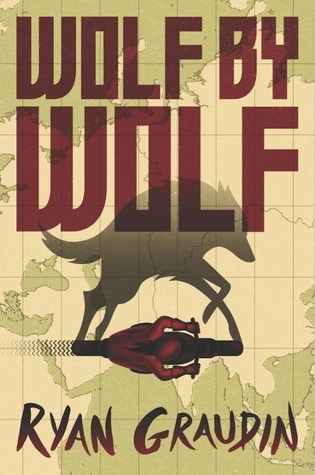 Her story begins on a train.

The year is 1956, and the Axis powers of the Third Reich and Imperial Japan rule. To commemorate their Great Victory, Hitler and Emperor Hirohito host the Axis Tour: an annual motorcycle race across their conjoined continents. The victor is awarded an audience with the highly reclusive Adolf Hitler at the Victor's Ball in Tokyo.

Yael, a former death camp prisoner, has witnessed too much suffering, and the five wolves tattooed on her arm are a constant reminder of the loved ones she lost. The resistance has given Yael one goal: Win the race and kill Hitler. A survivor of painful human experimentation, Yael has the power to skinshift and must complete her mission by impersonating last year's only female racer, Adele Wolfe. This deception becomes more difficult when Felix, Adele twin's brother, and Luka, her former love interest, enter the race and watch Yael's every move.

But as Yael grows closer to the other competitors, can she bring herself to be as ruthless as she needs to be to avoid discovery and complete her mission?

From the author of The Walled City comes a fast-paced and innovative novel that will leave you breathless.

Source: GoodReads
Alternative history is sort of a thing of mine.  And I really find the World War II period scary interesting to study which meant Wolf by Wolf seemed like a perfect book for me.  Oh, and did I mention it involved a very long trans continental race and I'm sort of got a weird obsession with trans continental travel-seriosuly, I've read all about the Mongol Rally.  And then I read this blog about traveling from Alaska to the tip of Argentina.  And then, you get the point.
Also what peeked my interest about this one was that someone compared it to one of my favorite movies, The Great Race.  Only thing is it really didn't remind me of that movie-much.  Yes, with the big race but that movie was so much light hearted then this book.
To say the least, this book gets dark and heartbreaking.
I think the most strongest parts about this one were the flashbacks.  They were just heartbreaking.  So, so, heartbreaking.
And they were what made the book.  The actual race didn't intrigue me as much as I wanted it too.  The locations weren't very atmospheric and honestly I don't like reading about Nazis as love interests.   Even though I sort of knew that was coming since this was an AU world where the Nazis won and of course Nazis are going to populate the world.   And.
Yeah, I needed to insert that Captain Von Trapp gif in here.
The thing is, there was one character who I wished was more than an impact character.  Had he survived, he would've actually been an interesting love interest.  But…I didn't really read this book for the love story.
By the time Wolf by Wolf was over, I really felt that it was only starting.  There was so much potential with this book, but it just didn't live up to what I wanted.  The ending is a cliff hanger and I'll talk about how it resolves in my review of Blood For Blood, but I got to say right now that I really think the two books could've been convinced into one.
Overall Rating: A B- an interesting premises, but it was sort of illy placed and really didn't utilize its setting to its fullest.  The flashbacks though were fantastic.
There would be blood. Blood for blood. Blood to pay. An entire world of it.

For the resistance in the Third Reich, the war may be over, but the fight has just begun. Death camp survivor Yael, who has the power to skinshift, is on the run: the world has just seen her shoot and kill Hitler. But the truth of what happened is far more complicated, and its consequences are deadly. Yael and her unlikely comrades dive into enemy territory to try to turn the tide against Hitler's army, and there is no alternative but to see their mission through to the end, whatever the cost.

But in the midst of the chaos, Yael's past and future collide when she comes face to face with a ghost from her past, and a spark with a fellow rider begins to grow into something more. Dark secrets reveal dark truths and one question hangs over them all—how far can you go for the ones you love?

Source: GoodReads
In a lot of ways I liked Blood For Blood, better than Wolf by Wolf.  Blood For Blood is better paced than its predecessor.   However, it does have flaws.
AKA Nazi love interests.
Again, I just can't.  Though, I get why the author did it but still.  And for one Nazi, I wanted more revenge than we got.  He deserved to get beaten and then some and I thought got off pretty lightly.   The ending was sort of depressing in a lot of ways, but then I guess this book was sort of going to end that way.
Wolf by Wolf ended on a cliff hanger Blood For Blood, picked up soon afterwards.  And Blood For Blood does not stop once it gets started.  There are so many twists and turns to this story it makes the book hard to put down.
Did I like everything that occurred with Blood For Blood?  No.  There were lots of things that annoyed me.  I already mentioned the romance and the whole resolution seemed a little off to me.  It seemed too fast, too neat.  But at the same time I really enjoyed the book.  I never grew bored with it.  There was always some sort of twist and turn that kept my interest in it.
So yeah, I do recommend it.
But with reservations.
Do not read this book for the romance.
Again, I'll repeat myself do not read it for the romance.  It is a fairly interesting take on an AU history.
Overall Rating: A B.
Series Rating: I'm going to give it a B.  Overall, this one was interesting and had some good moments but there were some things that really didn't work-like the romance.  We really, really, didn't need it.