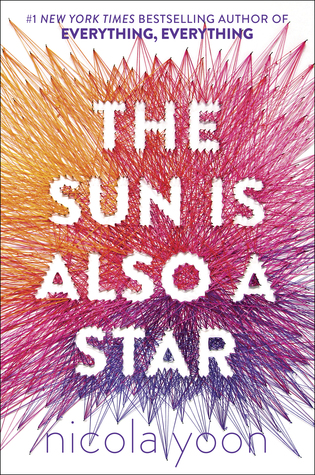 Natasha: I'm a girl who believes in science and facts. Not fate. Not destiny. Or dreams that will never come true. I'm definitely not the kind of girl who meets a cute boy on a crowded New York City street and falls in love with him. Not when my family is twelve hours away from being deported to Jamaica. Falling in love with him won't be my story.

Daniel: I've always been the good son, the good student, living up to my parents' high expectations. Never the poet. Or the dreamer. But when I see her, I forget about all that. Something about Natasha makes me think that fate has something much more extraordinary in store—for both of us.

The Universe: Every moment in our lives has brought us to this single moment. A million futures lie before us. Which one will come true?

Source: GoodReads
I think Nicola Yoon's stuff is overrated.
Don't get me wrong, I found Everything, Everything to be okay but it was contrived.  The Sun is Also a Star is even more contrived than her previous efforts (though it probably didn't help that I skipped to the end and wasn't impressed at all with how things resolved themselves.
I think the thing that was supposed to be innovative about this one is its style.  And I'll give it this, I did like the style.  Though I hardly found it unique or innovative.  Side character POVs aren't exactly a new thing.  So that really didn't give it any sort of leg up.
The overall story arc is pretty weak.  I did like that both characters were from diverse backgrounds though, Ill give it that.  But the thing is, maybe it's being an attorney who has actually taken an Immigration law course and dealt with some immigration cases I knew how the book was probably going to end before it started AND when Natasha just showed up at the UCIS office, I just shook my head knowing that this was not going to end well.
There's not a lot of twists you can thrown in when you decide to deal with immigration law, and actually go through the motions of stating that they exhausted all of their options.
Yeah, sort of makes the story suck.
And God knows, I wish Natasha was a little bit more of a compassionate character than she was.  From the pages that I read, I really didn't like or care for her.  She was hateful and seemed to blame everyone for her situation.  Plus,  I still couldn't get over the fact she went to the UCIS alone as a minor.    Or that she actually thought she had a chance after the appeal options had been exhausted.  And the fact she was bemoaning over the fact that she wasn't able to use that stolen SSN her mom got her.
Yeah, identity theft is really going to endear me to a character.
And yes, I know she's undocumented and has to deal with some terrible shit that's not her fault.  But come on, you're talking about stealing someone's social security number.  That is so wrong.
Daniel, the love interest, was just as whiney in a lot of ways.  But I sort of got where he was coming from more.  Again, he hadn't exactly been exploited that much in narration so maybe I would've hated him had I continued.
Again, I don't think The Sun is Also a Star is the worst book I've ever read, but it was blase and something I honestly didn't want to finish it which is why I DNF'd it.