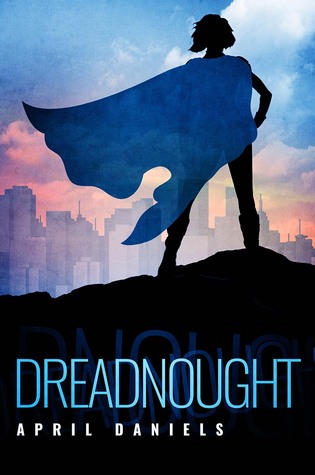 Danny Tozer has a problem: she just inherited the powers of the world's greatest superhero. Until Dreadnought fell out of the sky and died right in front of her, she was trying to keep people from finding out she's transgender. But then her second-hand superpowers transformed her body into what she's always thought it should be. Now there's no hiding that she's a girl.

It should be the happiest time of her life, but between her father's dangerous obsession with curing her girlhood, her best friend suddenly acting like he's entitled to date her, and the classmate who is secretly a masked vigilante, Danny's first weeks living in a body that fits her are more difficult and complicated than she could have imagined.

She doesn't have much time to adjust. Dreadnought's murderer, a cyborg named Utopia, still haunts the streets of New Port City. If Danny can't sort through the confusion of coming out, master her powers, and stop Utopia in time, humanity faces extinction.

Source: GoodReads
Out of all the books I had in my January TBR list, I think I was the most excited for Dreadnought which was a superhero book featuring a trans main character.  That in itself had so much potential and it was an #ownvoices book which made the prospect of it feel even better.  The sad truth of it was, when it came down to it Dreadnought just wasn't  a good book.  So much, I DNF'd it.
Before I go into my criticisms though I want to praise the book for what it did do right: the premises.
The premises was just awesome.  A trans character being a superhero and fighting crime, talk about empowering.  I had great hopes for this one especially since it's not often we have a book featuring a non-WASP character that isn't an "issue" oriented book.
However….well, this book didnt' focus that much on superheroes.
Mostly it was about Danielle coming out as trans in probably one of the most awful ways possible-her body changes in the first chapter of the story so she's sort of forced to reveal her true self like it or not.  And unfortunately, pretty much everyone acts like a MAGA asshole.
I kid you not.
Her father is transphobic and her mother is just an enabler.  Which would be fine for the book if there was anyone that Danny could talk too.  But her best friend is a perverted dick and other than a new girl where I think-hope-something might be brewing between those two she really has no one to talk to and it sucks becuase girl needs to have someone to lend an ear too.
And I get it, trans people often are isolated it's a sad reality which why having books like this is important, but it just angered me so much and I really wanted there to be some mentor or someone else Danny could talk too.  Even a trans support group would be nice.
But nope.
The superhero aspect of the book was extremely weak.  The powers and origin stories are explained in paragraphs at most and there's really not much to them.  Even fighting crime is sort of boring.  And of course, we get the obligatory asshole superhero transphobic character too.
Really, I would say that a good 80% of the cast in this book were transphobic or pervy.
It is not good.
The vague world building with hodgepodge to non-existent plot made the book hardly enjoyable to the point where I reluctantly DNF'd it.
Which I'm actually sort of upset about because again that premises.
Sigh.  I feel like this book might be interesting enough if you're not trigger sensitive to extreme bigotry but really everything is only halfway done.  It really would've been nice had this book lived up to half of the potential that it had.
Overall Rating: A DNF.